Ulaanbaatar On a Budget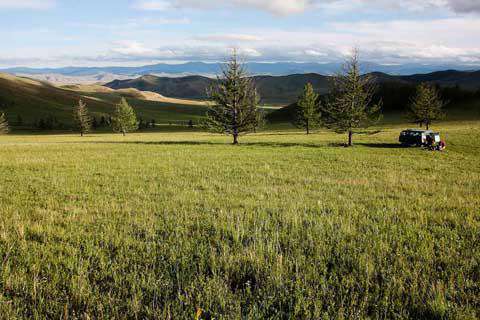 Ulaanbaatar is Mongolia's capital city. It has a population of slightly over two million people, or about sixty percent of the country's entire population. You are likely to arrive in Ulaanbaatar either by train, coming from China or Russia, or by plane. Many people use Ulaanbaatar as a stop off while doing the Transsiberian Railway. The city is a great place to organize a tour of the surrounding countryside. It's also good city to relax, so make sure you allow yourself a few days to recover from your tour, enjoy some of the great food options, and see some of the fascinating cultural sights around town.
Ulaanbaatar sits at about 1,350 meters above sea level. The higher elevation and high latitude make it the coldest national capital in the world. The summers are short and warm while the winters are cold and dry. The lows in January can drop to -40 degrees Celsius. Rain is most common between June and September. The average annual temperature is 31 degrees Fahrenheit.
Sights
If you have a few days in Ulaanbaatar, there are some interesting sights worth visiting. Head to the
Gandan Monastery
or Choijin Lama Monastery. Gandan Monastery is the main monastery in the city and about 5,000 monks live here. There are services at 10:00 every morning. Choijin Lama Monastery has a museum that has religious art on display. It's really quite impressive. Also make sure you check out
Bogd Khaan Palace Museum
, Zaisan Memorial, the International Intellectual Museum, and the Zanabazar Museum of Fine Arts.
Neighborhoods
As a tourist, you're likely to stay on or around Peace Avenue. This is the city's main street that passes through the center of town. There's plenty of shopping along the street, as well as many restaurants. Chinggis Square is at the center of the city. This is where you'll find the tourist information office and several famous statues including a seated statue of Chinggis Khaan and his sons and generals.
There are a small handful of hostels in Ulaanbaatar that are quite affordable. Most will arrange tours of the country for you, but do read reviews ahead of time. You'll find it challenging to find a mid range hotel, but there are some more high end, western chain hotels around town as well. During peak season you should definitely make reservations in advance.
Activities
Naadam
is the largest festival in Mongolia. The event takes place between July 10th and 12th and includes the three traditional Mongolian sports of wrestling, horse racing, and archery.
Also make sure you see a cultural show, which is quite interesting with its music and very impressive contortionists.
A hike in the Bogd Khaan Uul Strictly Protected Area is also enjoyable. The area is just south of Ulaanbatar.
If you're looking for souvenirs to purchase, head to Peace Avenue and the Circus area. The State Department Store has a few interesting paintings, but this is the best place to stock up on supplies for your tour. If possible, it is best to pick up some fresh fruit and snacks before you head out, as the food provided on the tours is highly variable.
Food and Dining
Mongolia isn't really a foodie's destination, but the capital city does have a range for local and international restaurants. Most restaurants are reasonably priced and you can get a pizza for about US$3. It's worth eating some good food before you head out on your tour, as food options in the countryside are quite limited.
Most restaurants around town are either Korean or Chinese, but western restaurants are also easy to find. If you're on a tight budget, head to a local Mongolian eatery or cafeteria. Meals are cheap and the food is good and filling.
Transportation
Getting to Ulaanbaatar from China is how many visitors arrive. For one of the most affordable ways by bus and train from Beijing, see
China to Mongolia, the cheapest way
. Otherwise, many visitors arrive by air to the international airport in UB which has flights connecting to major cities in Asia and Europe.
Your main options for getting around Ulaanbaatar are by bus, taxi, or on foot. When you first arrive, particularly if you reach the city by train, a taxi is the best option to find your hotel. You'll likely be tired, as most trains are overnight, and while you may believe that you can walk to your hotel, you really can't as it's further than you realize.
Take a taxi
.
Buses are convenient as well, particularly after you've had some time to orient yourself with the city.
Related
Looking for a
hostel in China
?
Traveling alone to
Beijing
or
Hong Kong
or want to party in
Shanghai
?