It's a great hostel. I would always book it again. So clean and great atmosphere plus location. Although you're in a dorm you still kind of got privacy through the curtains which every bed has. It's so far my favorite hostel. - Jenn, Germany
What sets them apart?
Yes, this is a dream hostel! With fantastic new facilities in this renovated building that is perfectly located on the edge of Old Town Prague, this hostel has a great vibe for any budget traveler. Their bar and restaurant keeps you entertained while the staff makes everything fun.
Hostel Personality
Who's staying here?
Budget travelers of all types are welcome here, and with the numerous dorm options plenty of younger backpackers, students, solo travelers, flashpackers, couples and long term travelers stay here.
Insider Tip
Cook your own meals in the amazing new community kitchen or get some affordable food at the bar and restaurant. Also, bring your own padlock and towel or you'll need to buy them at the front desk.
Prague Dream Hostel
Brand new facilities and a great bar and restaurant, along with a fantastic location make this hostel truly a dream come true. Situated right on the edge of Old Town not far from Wenceslas Square and the main train station, you'll be perfectly positioned here to explore Prague's historical sights and amazing nightlife.
And with the fantastically renovated features of this hostel, along with the great amenities, everyone can find a comfortable place to stay. The common area is modern, hip, and designed for both travelers and locals as a freelance co-working space. The restaurant and bar serves up some great food, and the rooms have modern and convenient features. You really can't go wrong here.
The Facilities
Dorms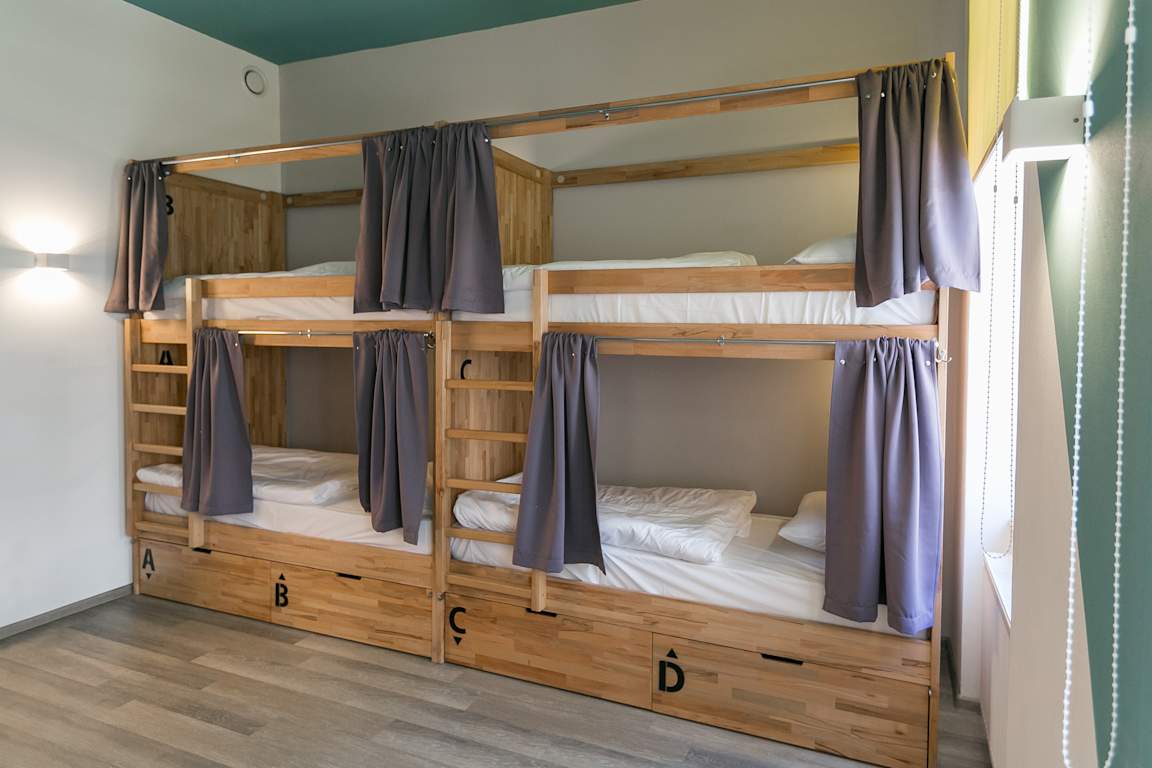 The new and well designed dorm rooms have modern custom-built bunk beds. Each bed has a locker (bring a lock), a curtain for privacy, lights, and plugs. Rooms also have coat racks, mirrors, and other conveniences. Rooms vary in size from 4 to 8 beds. An all-female dorm is offered, too. Some, but not all rooms have ensuite bathrooms.
Private Rooms
The private rooms here are terrific, and feel like modern budget-style hotel rooms. Some have private ensuite bathrooms while others use the shared bathrooms on the hallway. They are priced accordingly for everyone's desired range of budget and privacy. The double rooms are great for couples. They also have rooms that sleep 3 or 4 people which is great for small groups of friends or even families.
Bathrooms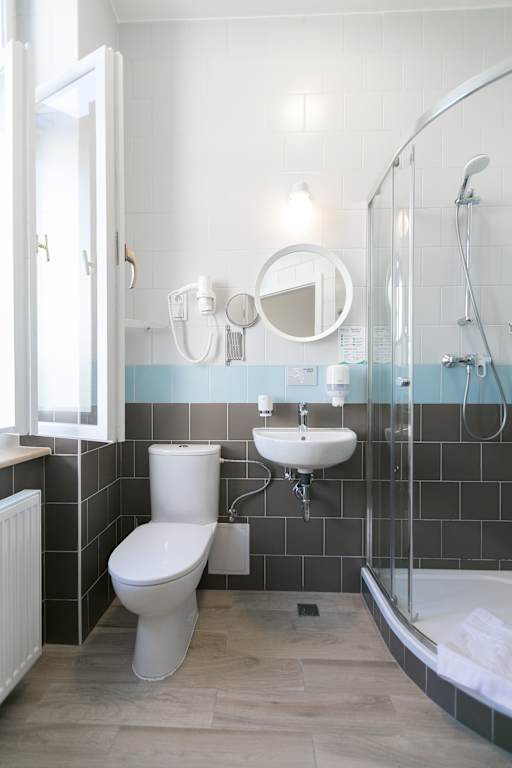 Modern is the theme here, as all of the bathrooms are newly renovated and well designed. They are probably nicer than your bathroom at home, as they are ultra-modern and kept very clean by the staff. While private rooms come with towels, bring your own if you're staying in a dorm.
Bar
The bar and restaurant on the ground floor is a great place to hang out, meet up with other guests, get some work done, or have a good meal. While it's not really a "party bar" kind of place, it's a great area to kick back and have a beer while chatting with some new friends before heading out to explore Prague's nightlife.
Restaurant
The restaurant serves up some great meals, and the affordable and filling breakfast is a nice way to start the day.
Common Areas
The main common area is a lounge with plenty of comfortable seating on sofas and at tables. Designed as a co-working space, everyone can relax and strike up a conversation here with other guests or freelancers doing work. Grab a coffee or a bite at the counter or cook up a meal in the amazing new kitchen located just off of the common area.
Outdoor Space
A spacious garden-style patio can be found here at the Dream Hostel. This is a great place to relax during the warmer months. Have a beer, read a book, get on the internet, chat with friends, or make your plans to explore Prague in this beautiful and comfortable setting.
The Location
Stare Mesto (Old Town)
What's Nearby?
Located just on the edge of Old Town near Wenceslas Square and the train station, the Dream Hostel is in a perfect place to explore everything in the city center. The Astronomical Clock, the Jewish Quarter, various museums, and the Charles Bridge are all within walking distance. And don't forget about the numerous bars, restaurants, shops, museums, and theaters that are all nearby.
Nearby Transportation
The nearest metro station is at Wenceslas Square and is only about 2 blocks away. Otherwise, hop on the nearby trams to catch a ride all over central Prague and out into the further neighborhoods for more bars and restaurants.
Amenities
In addition to the previously mentioned facilities, this hostel also offers free Wi-Fi, laundry facilities, an elevator, tour bookings, key-card access, and more.
Staff
The staff is super-friendly, helpful, and professional. They are working hard to make this relatively new hostel one of the best in Prague, and it shows.
Heads Up
Some guests have said that this hostel is too quiet for their taste, while others have enjoyed the atmosphere.
Prague Dream Hostel
Do you have a favorite hostel that you would like to review? Let us know!