Prague On a Budget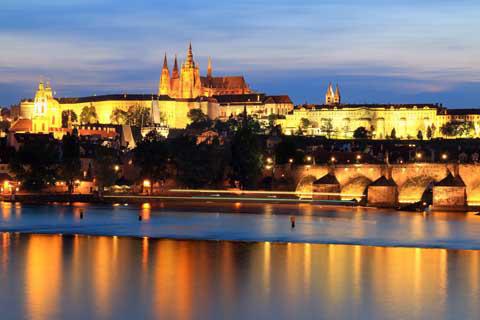 Prague is the capital city of the Czech Republic. It is also the largest city in the country and one of the largest cities in Central Europe. Prague has long enticed travelers for its beautiful architecture, impressive bridges, detailed cathedrals, and fascinating history. Prague is unique in that is remained almost completely undamaged during World War II. The medieval city center still feels like you've stepped back in time. Despite this historic atmosphere, there is still a lot of vibrant energy and you'll find many different live music venues, art galleries, modern restaurants, and unique festivals throughout the year.
Prague is also a top tourist destination in Europe. Although prices used to be quite low, Prague is no longer a budget travel destination. Prices are comparable to most other cities in Europe. That being said, there are countless free activities you can take advantage off, and budget accommodation is still available, so it is possible to save money during your time here.
Prague's climate is considered temperate year around. It does snow during the winter, giving the city a magical glow, but the snow usually melts quickly. Spring is a good time to visit because the weather is mild, the flowers begin to bloom, and the crowds are still not at their peak. Tourism is at its peak during the summer months and the crowds can be somewhat overwhelming. Rain is more common during this time and prices increase during the summer months. Fall is cool in temperature, but beautiful. Bring warm clothes and you'll enjoy a less crowded city and shoulder season prices.
Sights
Prague has countless impressive sights spread throughout the city center. The
Prague Castle
is probably the most famed and photographed sight in the city. This is the biggest ancient castle in the world and it sits dramatically above the city with breathtaking views.
Charles Bridge connects the Old Town with Lesser Town. This bridge dates back to the 14th century and is a beautiful structure. It is often lined with musicians, artists, and vendors selling their goods.
Other popular sights throughout the city include the Infant of Prague, Loreta, Strahov Monastery, Vysehrad, and Prague Dancing House.
Neighborhoods
Prague has several different naming schemes for its neighborhoods. This can be confusing, as names often overlap or refer to completely different sections. The system described below is the "old" system, which divides the city into ten districts, labeled 1 through 10.
Praha (Prague) 1 is the historical part of the city. This is the original "Town of Prague" and is likely where you will spend most of your time as a tourist. There are also some important historical sights found in Praha 2. Praha 1 can be divided into smaller districts. These include the Castle area, which is the highest point on the left bank, and visible in many photographs of the city. This is mostly contained in Praha 1, but it does stretch into Praha 6.
Around the Castle is the Lesser Town, which is where many government buildings are located. Old Town is the oldest part of the city along the right bank. New Town is adjacent to Old Town and was established during the 14th century. Jewish Town is within Old Town and is the old Jewish ghetto. Vysehrad is where you will find the old Vysehrad castle.
Activities
There are many different ways to explore Prague. There are a
variety of organized walking or biking tours
. These offer guided trips around some of the city's most interesting highlights. Other activities within Prague include live music venues, opera, theaters, river cruises and more. Festivals are also popular throughout the year. Prague Spring is the most famous classical music festival in the country and
Prague Folklore Days
is the biggest folk dance festival in Central Europe. If you're looking for more ideas, check out this
guide for what to do in Prague in 2 days
.
Food and Dining
Traditional food in Prague is delicious but very filling. The dumplings are quite dense and hearty, so come with a good appetite. Lunch is usually the largest meal of the day, and this is when most restaurants become crowded. Both lunch and dinner may require reservations at the more popular restaurants.
If you're on a tight budget, there are plenty of fast food and street food options available in the squares around Old Town and New Town. They often have Czech style hot dogs and mulled wine. There are also some western style fast food restaurants around.
Tipping is generally around 10%. Some touristy restaurants have a "cover charge". This should be indicated on the menu. They will likely charge for all items brought to the table as well. Everything from ketchup to bread may be considered an add-on. Ask about all itemized prices before you pay the bill to ensure that the pricing is fair.
Transportation
Public transportation is very convenient throughout the central part of Prague. The historic center is very compact and walkable. This is your best option if you're staying in the city center. Do note that the streets are generally cobblestoned and uneven, which can make them difficult for the elderly or disabled.
There is also an excellent
tram and metro system in Prague
. The metro has three lines and the tram has many lines. There's also a regional train within Prague if you're traveling for significantly greater distances.
The bus system it good, but if you're staying outside of the historic center, do note that buses cannot enter that area. Instead, you must transfer to either the metro or the tram.
Related
Traveling alone to
Prague
or
Budapest
?
Looking for a party and need a
hostel in Prague
or
Budapest
?
And finally, check out these
amazing photos of Prague
to get a better idea of what to expect when you arrive. And finally, here's another great
guide to Prague: the City of a Hundred Spires
.