The Seychelles On a Budget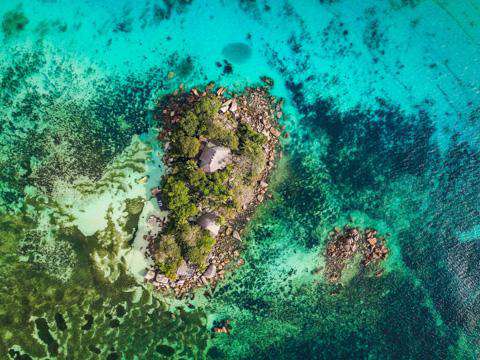 The Seychelles is an archipelago nation consisting of more than 100 islands, with only a few being inhabited. It is located in the Indian Ocean off the coast of East Africa and is a prime vacation destination for its sandy beaches, aqua-blue waters, and stunning island landscapes.
At a Glance
The archipelago is generally divided into the Outer Seychelles and the Inner Seychelles. The Outer island groups are largely uninhabited, mostly coral, and are further divided into the Aldabra Islands, Amirante Islands, Alphonse Group, Farquhar Group, and the Southern Coral Group. The Inner islands are where most of the Seychelles population lives, largely consist of granite, and also house most of the country's resorts. Inner Seychelles is further divided into five main islands. Mahe is the largest, most populated island in the Seychelles, and is the location of the country's largest airport. It is also home to the nation's capital, Victoria, which is the only major port in the Seychelles. Praslin is the second largest island and site of the Vallee de Mai Nature Reserve, which is also an UNESCO World Heritage Site. La Digue is one of the smaller islands. It is quieter and more exclusive than the larger two, and best known for one of the world's top beaches, L'Anse Source D'Argent. The final two are the Inner Corallines and Silhouette Island, which are fairly remote and undeveloped, except for one luxury hotel on Silhouette Island.
As far as activities go, most visitors flock to Seychelles' beaches, which are mostly untouched and uncrowded. There is a beautiful coastal hike from Beau Vallon, the most popular beach on the islands, to Anse Major, which is a more private, secluded beach. These beaches are great for swimming and sunbathing, though this does depend on seasonal winds and any posted swimming restrictions must be obeyed. The warm Indian Ocean waters surrounding the Seychelles also make great opportunities for watersports. Visitors can explore on board a yacht, power boat, glass bottom boat, catamaran, or sailboat, as well as catch some seasonal wind with windsurfing, best in May or October. Other popular water activities include scuba diving, snorkeling, and fishing, and guests often catch sight of wildlife like tropical fish and sea turtles during excursions. Beyond the waters, there are additionally land activities such as golf, tennis, squash, badminton, horseback riding, bird-watching, walking tours, biking, and hiking. Some of the best-maintained hiking trails can be found on the two largest islands, Mahe and Praslin.
Top Tourist Attractions
In addition to sandy beaches, turquoise waters, and island scenery, the Seychelles also has a number of markets, shops, art galleries, and colonial plantation houses. The main island of Mahe, in particular, has a handful of museums, a botanical garden, and several national monuments. One popular place to visit in Victoria is the Arulmigu Navasakti Vinayagar Temple. This beautifully decorated temple is the Seychelles' center of Hinduism. It is open to visitors, but footwear must be removed and any photography must be discreet and respectful. Also in Victoria is the Seychelles Natural History Museum, which offers interesting exhibits on the nature and geology of the local islands.
For those more interested in having an ecotourism experience, the islands of the Seychelles are also prime for viewing wildlife and exploring natural habitats. On Praslin, for example, there is the Vallee de Mai Nature Reserve-a national park and UNESCO World Heritage Site. Here, visitors can see a variety of flora and fauna in their natural palm forest habitat, including the largest seed in the world: the coco de mer, or the sea coconut. Closer to East Africa, guests can also take a trip to the Aldabra Atoll to experience the habitat of a coral atoll. The atoll stretches about 22 miles east-west and encloses a tidal lagoon that is home to creatures like the giant land tortoise, tiger shark, and manta ray, among others.
Popular Foods
As an island nation, the Seychelles depends heavily on fish, seafood, and shellfish in its main dishes, which are cooked in a variety of ways-steamed, grilled, wrapped in banana leaves, baked, salted, and smoked. Seychellois cuisine, influenced by African, British, French, Indian, and Chinese cultures, also uses plenty of spices, including ginger, lemongrass, coriander, and tamarind. Coconut and local fruits like breadfruit, papaya, and mangoes are also widely used, as is curry and rice. Other ingredients include chicken, pork, dhal (lentils), and vegetables. A few local specialties also include:
Bat curry: Considered a delicacy in the Seychelles, this curry dish is made with fruit bat (yes, bats!).
Ladob: Can be eaten sweet or savory. The sweet version typically consists of ripe plantain and sweet potatoes boiled with coconut milk, sugar, nutmeg and vanilla until the fruit is soft and the sauce is creamy. The savory option calls for salted fish, cooked in a similar way as the dessert version, with plantain, cassava, and breadfruit, but using salt instead of sugar.
Shark chutney: Boiled, skinned shark, finely mashed, and cooked with squeezed bilimbi juice, lime, fried onion, and spices.