The Solomon Islands On a Budget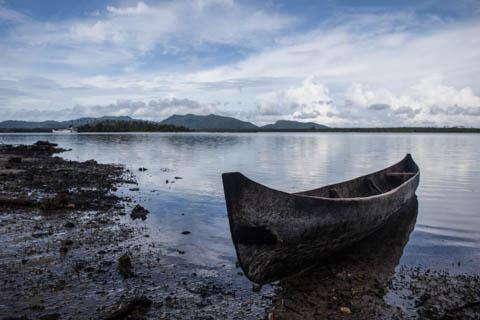 An archipelago nation in the South Pacific, the Solomon Islands are not a haven of resorts and pristine beaches, but a paradise for the eco-tourist with opportunities to explore island volcanoes, kayak through vast lagoons, trek deep into green forests, and snorkel amongst untouched reefs. There are many things to see and do for the outdoor adventurer with a smattering of traditional guesthouses and comfortable hideaways to spend the nights.
At a Glance
The main island of the archipelago is called
Guadalcanal
and is home to the nation's capital city of Honiara. The hills of the island were once the site of some fierce WWII battles, while the city has much to explore with a museum, gallery, and a central market where you can find handmade jewelry and crafts. The only international airport of the islands is also located here, and there are opportunities nearby for beach-going and hiking to waterfalls.
Choiseul is the northernmost area which also includes the Treasury Islands and Shortland Islands, while the New Georgia Islands consist of New Georgia plus a myriad of tiny island and atolls. Santa Isabel was where European contact was first made with the islands, while the Santa Cruz Islands lie remotely in the southeast, closer to Vanuatu than to anywhere else in the Solomons. Other islands include Malaita, Renell and Bellona, San Cristobal, and the Florida and Russell Islands.
Most of the activities on the Solomons consist of the outdoor adventure kind-snorkeling, scuba diving, surfing, hiking, trekking, kayaking, and more. There are plenty of emerald forests with cascading waterfalls, scenic trails and overlooks, as well as peaceful lagoons perfect for underwater sight-seeing. And if you are one for history, the islands are also home to a handful of museums like the Vilu War Museum outside of Honiara and the WWII Museum which consists of a dirt trail leading to 30 or more abandoned amphibious troop carriers located near Tetere Beach. You can also find a collection of WWII relics long-wrecked beneath the waves.
Related:
Looking for a party? Find a
hostel in Sydney
,
Melbourne
,
Cairns
, or along the
Gold Coast
.
Top Tourist Attractions
While each island has its own unique feel, there are a few identifying factors of the Solomons that remain the same throughout-abundant reefs, thick jungles and waterfalls, thriving marine life, and vibrant cultural villages. Some of the best attractions include:
Waterfalls: Mataniko Falls is a popular destination to hike to from Honiara. The trail begins in Lelei Village with a steep ascent to a ridge followed by a stretch of hills to the falls. They are a spectacular sight, water thundering down to the canyon below. Tenaru Falls is another one to hike to, cascading beautifully into the Chea River. Both have tranquil pools for swimming below.
Rennell Island: Located just south of the other main islands, Rennell is a paradise for the eco-tourist with all you could ask for in outdoor sightseeing. Lake Te'Nggano, designated a World Heritage Site, is the South Pacific's largest expanse of freshwater and acts as a habitat for abundant bird and marine life. The shores are dotted with a few small villages, while other sights in the area include Octopus Cave and Bird Island.
Honiara Central Market: A typical Melanesian city market, Honiara's Central Market boasts everything fresh-vegetables, fruits, and fish. There are also plenty of stalls selling handmade jewelry and crafts, perfect for picking up authentic souvenirs. Giza is another city with a waterfront market worth visiting.
Marova Lagoon: A great place to dive for all levels of experience, Marova Lagoon is thriving with reefs full of marine life from tropical fish and tiny bottom dwellers to manta rays and sharks. It is located in the New Georgia Islands region, though there are many other lagoons just as beautiful throughout the Solomons.
WWII Relics: While the jungles are littered with abandoned vehicles and equipment from WWII, the Solomon Islands are dotted with battlefields and memorials, as well as abandoned amtracks, a Sherman tank, Japanese field guns, and the remains of several US aircraft. Even below the waters you can find sunken wrecks, dozens warships and planes still lying at the bottom of the Savo Sound, now nicknamed "Ironbottom Sound." There are also a number of museums with WWII debris and memorabilia.
Popular Foods
Being surrounded by water, fish is the staple meat throughout the Solomon Islands. As fishing and agriculture provide most of the occupations, everything is fresh. Typically any meat dish is cooked and served with sweet potatoes, rice, taro roots, cassava, taro leaves, and a variety of many other vegetables. And as far as influences go, the Solomons received cattle from Spanish and a mix of various spices and produce from the Asians and Indians, plus some vegetables from the English colonies. Most cooking techniques involve baking, boiling, and frying. Typical foods of the island include:
Ulu: or breadfruit, from a type of flowering tree related to mulberry and Jackfruit family. Can be served with any dish.
Dessert: Bananas and other exotic fruits, wrapped in pearl cassavas and served with whipped cream or caramel.
Poi: a dish made with fermented taro roots, can be served with chicken or fish, or made like porridge. Usually served during any Solomonian celebration.
Also used a lot during holidays is tapioca or pearl cassava generally served like a pudding.