Swaziland On a Budget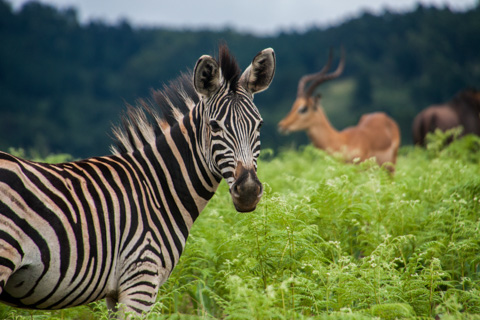 Known as Swaziland in English, the small, landlocked country of
Eswatini
sits in southern Africa with South Africa to its west and Mozambique to the east. Swaziland is one of the last remaining absolute monarchies in the world. In recent decades, this small nation has become a popular destination for tourists with several large safari-oriented game parks and reserves. The abundant wilderness is Swaziland's greatest asset, as well as its many cultural festivals held throughout the year.
At A Glance
The capital city of Swaziland is Mbabane. There are no major attractions here, besides a few small malls, a hotel, and some open markets. Nearby, however, there is the Mantenga Reserve, also known as the Swazi Cultural Village, where you can tour small huts that represent Swazi life in the 1850's. There is also a traditional Swazi singing and dancing troupe here that performs twice daily.
The Milwane Wildlife Sanctuary in Ezulwini Valley is also nearby and offers opportunities for hiking, horseback riding, and mountain biking. Some wildlife of the region that you may catch sight of includes monkeys, baboons, crocodiles, hippos, giraffes, and zebras. There are plenty of hiking trails in the surrounding mountains as well. One of the most travelled routes is the hike up to Sibebe, the second highest rock in the world after Ayers Rock. It has its start in Pine Valley and is marked by yellow arrows up and white dots back down, taking about 3-5 hours round trip.
Other destinations include Mkhaya Game Reserve which hosts guided jeep safaris, the Malolotja Nature Reserve which has ziplining, and the Mlawula Nature Reserve which has even more opportunities for guided tours, game drives, hikes, mountain biking, bird watching, and fishing. Other scenic areas include Pine Valley and Malolotja Falls.
Related:
Looking for a
hostel in Marrakesh
,
Cape Town
,
Nairobi
, or
Zanzibar
?
Top Tourist Attractions
As far as sights go in Swaziland, a well-rounded experience will have a visitor immersed in the beautiful nature and diverse wildlife of the country, show them a bit of traditional Swazi life, and give them a taste of the native culture that the inhabitants are so proud of. Given the number of parks and reserves in the country, one would have to make an effort not to snatch a glimpse of its beauty. You cannot go wrong with any one of them, each abundant with its own ecosystem of wildlife.
Hlane Royal National Park: In the Swazi language, "hlane" means "wilderness," and this one is the largest in the country. It is home to a diverse and abundant population of bird life, as well as lion, white rhino, zebra, elephant, and a variety of other native mammals.
Swazi Cultural Village: Also known as the Mantenga Nature Reserve, as mentioned above, is a great way to experience some of the more traditional Swazi culture. See life as it was in the 1850's, plus some local entertainment by a traditional Swazi singing and dancing troupe.
Incwala Kingship: An important religious Swazi ritual, meaning "Festival of the Fruits," begins in late December and continues on to the next year, lasting about eight weeks. It is an annual ceremony that unites the people of Swaziland to call for blessings from their ancestors.
Popular Foods
While many western foods are available in the city parts of Swaziland, to indulge in the native food of the country is all a part of the experience. Much of the traditional cuisine is maize or corn-based, like the dish below; however, other ingredients include things like beans, groundnuts, pumpkin, avocado and sour milk, plus dried and cooked local meats - some of which include antelope, often called "wild meat" by the locals. Roadside merchants usually market foods like sweet breads, fruits, and vegetables.
Mieliepap: A traditional porridge or polenta made from mielie-meal (a ground maize). Different variations have different consistencies and textures like the smooth slap pap, the thicker stywe pap, and the more crumbly phuthu pap. The pap is usually accompanied by savories like green vegetables flavored with chili, or served with meat and a kind of tomato stew. It is also a common breakfast staple, usually eaten with milk, butter, and sugar.
Chicken Dust: A kind of cheap local barbeque meal, where the chicken is grilled in the open and is served with a salad and mealie like the porridge-type stuff described above. Be wary that this is a kind of street vendor food.
As far as restaurants go, many good options can be found in Ezulwini. Some of these include Edladleni Restaurant serving traditional Swazi food, The Calabash Continental Restaurant serving excellent Swiss and German cuisine, The Boma Restaurant which is a more Africa-chic destination, and The Great Taipei which is a favorite for Chinese.