Tainan City On a Budget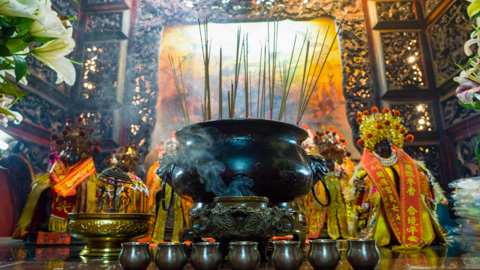 The oldest city in Taiwan, Tainan was once the nation's capital during imperial times and is today famous for its temples and historic buildings which speak to this distant past. Additionally Tainan has become known for its lively night markets and fantastic snack foods available from a large concentrate of street vendors located throughout the city.
Sights
For historical landmarks which resonate with the city's ancient and colonial past, Anping is the key district of interest. It is home to structures like the Eternal Golden Castle, a 19th century coastal fortress featuring a saltwater moat and earthen mound, as well as some replica canons. The ruins of the Anping Fort from the early 17th century mark the site of the Dutch Fort Zeelandia where European seafarers came to Asia to trade and develop colonial outposts. Another attraction of the district includes an old abandoned warehouse, known as the Anping Tree House due to the roots and branches of banyan trees which have enveloped the old structure. The town itself is reminiscent of a long history with winding alleys and traditional architecture at every bend.
TOGO Rural Village Art Museum is another unique attraction of the city. The museum transcends the traditional formats of artwork and museum, and instead regards houses, farms, products, and farmers as the exhibitions, canvas, crafts, and artists. It is a kind of art experience that emphasizes the local culture. Other popular attractions include the Chihkan Towers, National Museum of Taiwanese Literature located in a restored colonial-era Japanese building, the Confucius Temple surrounded by a small park, Luermen Matsu Temple, and Guanziling-one of Taiwan's best-known hot springs.
Neighborhoods
One of the most popular destinations in the Tainan area is the Anping District-the historical heart of the city. It is home to the Anping Old Fort and Anping Tree House as well as a number of restaurants and food stalls. Tainan is also the city where the Dutch colonialist East India Company located its Taiwan base, and built Fort Zeelandia (at today's Anping) and Fort Provincia (at today's Chickan Tower) to secure the entrance to the harbor. The forts are still located there today, though the land around them has changed since then.
Downtown Tainan centers on Beimen Road, which is lined with plenty of opportunities for shopping and dining as well as the main train station and all intercity bus terminals. There are also plenty of night markets located throughout the city featuring stalls selling clothing, shoes, jewelry, toys, food, drink, and more-some even have live entertainment. The Garden Night Market is the biggest and most popular with plenty of food stalls and game booths, usually open Thursdays, Saturdays, and Sundays (though it can get very crowded).
Activities
Best known for its temples, historic landmarks, and street food, a fulfilling visit to Tainan will include a sampling of it all. Spend some time exploring the attractions mentioned above, especially the historic district of Anping which offers a unique glimpse into Tainan's past. To experience hub of culture in Tainan today, visit any of the city's night markets, which occur in varying sizes all around the city. Get lost shopping for local goods and sampling Taiwanese flavors from the mass of street vendors who populate these markets. If the crowds of the city get to be too much, visitors can also escape to the trees, flowers, and peaceful pond of Tainan Park tucked into the central park of the city. There are also a number of mangrove reserves just outside of Tainan which can be toured.
Food and Dining
As far as cuisine goes, Tainan is sometimes called the City of Snacks due to the abundance of street food and vendors dominating the local markets. Guohua Street, between Minshen Road and Minzu Road, is one of these places lined with stalls and small restaurants of all varieties. Another popular food hub is the bustling night market at the corner of Hai-an and He-wei Roads. Some Tainan specialties include things like coffin toast (fried bread stuffed with varying ingredients, including chicken, beans, seafood, vegetables, and milk-based sauces), oyster omelet, oysters and thin noodles, rice cakes, dan zai noodles (with ingredients like shrimp, coriander, and garlic), fried eel, and shrimp rolls (or zhou-shi). Pearl milk tea (also known as boba or bubble tea) is a popular beverage in Tainan and can be made to order in a number of varieties.
Transportation
The nearest major airport is Kaohsiung International Airport, which is about 45 minutes to one hour from Tainan depending on mode of transportation. Train, bus, taxi, or rental cars are all available from Kaohsiung to Tainan.
Tainan also has good intercity bus connections with other cities in Taiwan. Trains are available as well-both high speed (HSR) and slow (TRA).
Related:
Looking for a
hostel in China
?
Traveling alone to
Beijing
or
Hong Kong
or want to party in
Shanghai
?