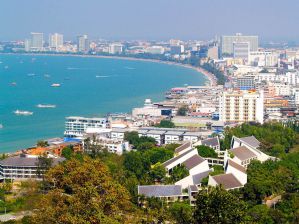 Pattaya is a popular seaside resort area in Thailand. It's popular with both domestic and international travelers and it's close proximity to Bangkok, which is about 150 kilometers away, makes it an easy beach destination. The city is very developed and there is little left of the natural beauty that was once there. The local authorities have tried to clean up some of the party hard reputation that this area has, but the beer bars and clubs remain a focal point of the city. Still, there has been a growing number of family friendly attractions that have popped up around town.
The most central beach, Pattaya Beach, runs for three kilometers along the city center. It's lined with hotels, restaurants, bars, and clubs and the area comes to life at night when there is music playing and tons of people out and about. There is no shortage of things to do in the area and Muay Thai, or Thai Boxing, is also quite popular.
Jomtien Beach appeals more to families. It's in the southern part of the city and it's a more relaxed place to visit. There's also a popular amusement park that kids enjoy visiting nearby.
The beaches in Pattaya stay very crowded and it's not uncommon to be harassed by hawkers selling any number of things. The sand is typically lined with beach umbrellas and there are all kinds of water sports and activities available including jet-skiing, water skiing, parasailing, windsurfing, and more.
The accommodation in Pattaya is as diverse as the tourists that visit. There are many upmarket hotels and there are a range of cheap guesthouses and hostels, as well as anything in between. Soi Buakhao is a popular area with longterm visitors because of its cheap guesthouses. There are also budget options along Soi LK Metro and Soi Honey Inn. Most of the budget options are not found on booking websites and it's really not necessary to book in advance. Cheaper guesthouses are often found above bars and massage shops so they're typically pretty loud. It's best to invest in some good earplugs if you're hoping for a good nights sleep. Most guesthouses also allow smoking in the rooms.
If you do decide to make reservations in advance, there are a couple of hostels listed below. You can book through hostelworld or any other booking website.