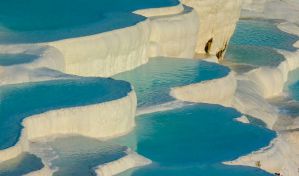 Pamukkale has been made eternally famous by the gleaming white calcite
travertines
(terraces) overrunning with warm, mineral-rich waters on the mountain above the village - the so-called 'Cotton Castle'.
Just above the travertines lies
Hierapolis
, once a Roman and Byzantine spa city founded around 190 B.C., which has considerable ruins and a museum, including a well-preserved theater and a necropolis with sarcophagi that stretch for 2km. The Antique Pool is famous for its submerged Roman columns, the result of an earthquake.
Unesco World Heritage status has brought measures to protect the glistening bluffs, and put an end to the days of freely traipsing around and swimming in the pools, but the travertines remain one of Turkey's single greatest experiences. While the photogenic travertines get busloads of day-trippers passing through for a quick soak and photo op, staying overnight allows you to visit the site at sunset and dodge some of the crowds. This also gives time for a day trip to the beautiful and little-visited ancient ruins of Afrodisias and Laodicea, and to appreciate the village of Pamukkale itself. With all of these fabulous attributes, Pamukkale is a great place to visit, and, luckily, there are some great, budget-friendly accommodations to use as a base for exploring.