Turks and Caicos Islands On a Budget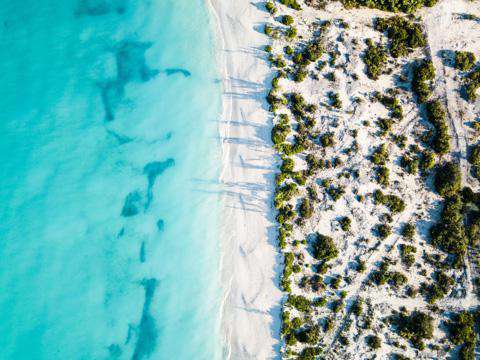 The islands of Turks and Caicos actually consist of over 40 separate islands and stretches over a 37 mile area. The country is located 550 miles south of Florida and is technically in the Atlantic Ocean, not the Caribbean. The population of the entire country is just 30,000, and there are hundreds of thousands of visitors by both plane and cruise ship every year.
The main eight islands in Turks and Caicos are Providenciales, East Caicos, Grand Turk, Middle Caicos, North Caicos, South Caicos, Grand Turk, West Caicos and Salt Cay. Providenciales is the most developed of the islands and East Caicos is the third largest, although it is uninhabited. Grand Turk is a destination for several cruise ships. They stop at the Carnival Cruise Terminal which is located near the south end of the island. Cruises to Turks and Caicos continue to grow in number, but there are still not more than two cruise ships docked at the port at a time.
Accommodation is available in all forms throughout the islands. High end luxury resorts are available for those who are looking for a hassle free, pamper filled holiday. There are also villas and vacation rentals available for those travelers who are looking for more space and are interested in cooking some of their own meals. Restaurants, specifically those geared toward tourists, can be expensive, so in-suite kitchens can be a real money saver. Accommodation prices in general can be quite high, but the beach access, quality, and security are all quite good.
There are many different activities available on the islands. Some of the most popular things to do include scuba diving, snorkeling, golfing, fishing, shopping, dining, and water sports. There are also many different spas and salons around which cater to visitors. Whether you're looking to be pampered or have a high adventure, Turks and Caicos likely has something you'll enjoy.
At A Glance
Turks and Caicos is drier than most islands in the Caribbean. During the summer months there is low humidity and temperatures rarely go much higher than the mid nineties. There is typically a breeze over the islands that helps to keep the temperature moderate and comfortable. Temperatures in the winter months are somewhat cooler, but still quite pleasant.


If you're arriving by plane from the United States, the most popular airline is American. Flights are offered regularly into Providenciales International Airport. US Airways also offers flights from cities such as Charlotte, NC.


Cruises are beginning to frequent the islands more than they have in the past. Cruise lines dock at the terminal in Grand Turk. Alternatively, you could take a smaller or personal vessel to the islands and dock at any number of places on a number of different islands.


Taxis and rental cars or motorbikes are the most popular ways to explore the islands. Taxi drivers often act as impromptu tour guides and can take you to less famous, off the beaten path places if you request it. Negotiate a price up front so you know exactly how far your going and how much you'll pay for it.


There are many different activities you can enjoy while you're in Turks and Caicos. Popular activities include everything from scuba diving, sailing, shopping, parasailing and more. Whatever your interest, you're sure to find something you enjoy in the area. Adventure sports, particularly water sports, are available almost everywhere.


If you're interested in shopping, there are many different options throughout the country. These range from high end boutique shops to local shops or vendors. The Saltmills plaza and Regent Village in Grace Bay on Providenciales is considered to be one of the best shopping areas.
Related:
Looking for a
party hostel in Costa Rica
or
Cancun
? Looking for a
budget hostel in Mexico
or
Costa Rica
?
Top Tourist Attractions
Grace Bay:
This long stretch of beach is stunningly beautiful with excellent sand and blue water. It is lined with posh hotels and fine restaurants. It can be crowded near some of the hotels, but is a great place to swim and catch some sun. Shopping in the area is also very popular.
Mudjin Harbor:
Located on Middle Caicos Island, this beautiful area is perfect to explore if you enjoy hiking or some peace and quiet. Pack your own lunch and plan to spend the entire day here. It can be somewhat challenging to reach, but it's well worth the effort if you're looking for peace and beauty.
Taylor Bay:
This beautiful beach area on Providenciales is the perfect place to watch the sunset. The water is blue and shallow and the beach is the perfect place to wander around.
Popular Foods
There are many different restaurants available in Turks and Caicos, but you'll find the greatest diversity on Providenciales. Many restaurants are designed specifically to cater to tourists, but if you look for them, there are some local restaurants around. It's best to get away from the resorts and hotels if you're looking for a traditional, local restaurant to eat at.
Fish and grits:
This combination is a very traditional meal in Turks and Caicos. The grits are often combined with dried conch or peas and the fish is served with local vegetables. This is prepared for either lunch or dinner.
Lobster and Butter Sauce:
Lobster is prepared for celebrations in the country. In particular, it is a popular dish for Christmas meals and is made with a butter sauce and lime juice. This meal can also be found in some of the high end restaurants around the island.
Rum:
Rum is the drink of choice for most occasions in the country. It's also included in many cake and dessert recipes and is a popular flavor in almost anything. It's also served at most celebrations and is included in a local Rum Punch.