The Ukraine On a Budget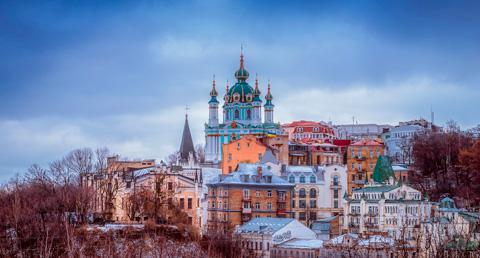 Ukraine is a large, Eastern European country that's bordered by Russia and the Black Sea. It is actually the second largest country in Europe. The majority of the country was once part of the Russian Empire, and was later part of the Soviet Union.
Today, the Ukraine makes for an interesting and unique destination in Europe. It has fortresses and mountains, as well as rural areas and cities all worth a visit. The country is relatively easy to navigate, but still offers a glimpse into old world Europe. There are times that you feel like you've stepped back in time and have stumbled upon an undiscovered part of the region. The country is divided into several different regions, each with their own vibe and atmosphere. Central Ukraine is where you will find the political, financial, and cultural heart of the country. It's also the location of the capital city of Kiev. Crimea is a peninsula that is home to one of Russia's favorite beach resorts. The Western Ukraine is most influenced by Central European cultures and as such you'll find a varying form of architecture, cuisine, and language. Eastern Ukraine has the strongest Russian influence which is apparent in the language and population which lives here. Southern Ukraine has the popular Black Sea coastline and also has the popular city of Odessa.
Train and bus are probably the two most popular options for travelers in the area. Do keep your passport handy as you are likely to be questioned several times by police while you're on public transportation.
It's a relatively cheap country, but there are some tricks that can help you keep costs even lower. In particular, travel outside of the capital city of Kiev as you will find prices dramatically less in the countryside, especially as you get closer to Russia. Also make sure you head to local restaurants that serve Ukrainian food. These will almost always be cheaper than international restaurants or chains. The dishes, like most Eastern European food, are quite hearty and filling. A small portion can usually go a long way. The meals can be very fatty and if you're a vegetarian you may struggle to find options that don't include meat. In some cases it may be worth it to go grocery shopping and prepare your own meals. This would also serve to cut down on costs and give you a little variety in your meal options. Grocery stores are abundant and easy to find.
At A Glance
If you're heading to the country from Western Europe it is best to get a ticket to the border and then buy an onward ticket after crossing the border. Even if you buy a through ticket you will have to wait several hours at the border while the trains change as there is a different rail gauge.


The most affordable way to travel into the Ukraine is often by bus. There are several low cost providers that make the trip, but you should be prepared for minimal comfort and quality.


Make sure you always travel between cities with your passport and any appropriate documents. Foreigners are regularly asked for these and if you do not have them you will have to pay a fine.


If you're buying train tickets it is usually a good idea to buy them in advance. Trains are a popular mode of transportation in the Ukraine and they often sell out. If you're hoping to avoid the long lines at the ticket counter, it is possible to buy an e-ticket online.


English is not widely spoken here. It is best to learn a little Ukrainian or Russian before your trip as most ticket tellers, vendors and shop keepers do not speak English. If you're in a crunch, find a local youth as English is taught in many schools and they are the most likely to be able to help you out.
Related:
Traveling alone to
Moscow
,
St Petersburg
,
Stockholm
or
Riga
and need a hostel?
Looking for a
party in Copenhagen
or
Tallinn
?
Looking for
budget hostels in Scandinavia
?
Find a
Contiki tour
to Europe.
Top Tourist Attractions
St Michael's Monastery:
A stunningly beautiful monastery with golden domes. It sits at the top of Andrew's Slope in Kiev and is one of the more popular travel destinations in the area.
Carpathian Mountains:
A beautiful natural setting with meadows, fields, and forests that is very popular with tourists. The Carpathian Mountains have wildlife which includes the brown bear, wolves, and lynxes.
St. Andrew's Church:
A very ornate and intricate church built in 1755, this church is in Kiev and is quite impressive in its detailed and ornate style.
Popular Foods
Borsch:
Borsch is a vegetable soup made from beets, cabbage, carrots, potatoes and other hearty vegetables. It is usually served with sour cream. It is often a deep red color from the beets, but in some places you'll find it made with tomatoes.
Pierogi:
This is a traditional boiled dumpling served with potatoes and cheese. It's sometimes filled with meat or cheese, and on occasion its made with fruit and is a sweeter variety.
Kotlety:
A fried minced meat dish that is coated in breadcrumbs, Kotlety often served with sides of potatoes and salads.