Located in Southern California, Big Bear Lake is a great year-round destination with a variety of activities that visitors can enjoy. Fishing, skiing, snowboarding, hiking, and mountain biking are all popular in the area. Big Bear Lake is the largest recreational lake in Southern California. There are also two ski resorts in the area, Snow Summit and Bear Mountain. Both are very popular in the winter because they have great ski slopes, nice snowboard areas, and a fun apres-ski atmosphere, too. Located just 2 hours from L.A. and 3 hours from San Diego, this is a fun and active weekend destination as well as a place to vacation for an entire week or more.
Vacation rentals and Airbnbs are popular at Big Bear, and they're particularly convenient for groups that want extra space and a kitchen so it's easy to prepare meals. A private cabin or mountain house is much better than a hotel for larger groups, as you also get multiple bedrooms, laundry, and some very convenient locations. There are a number of places to stay at Big Bear to choose from, and below we've listed some of the best cabins for groups on Airbnb.
Big Bear House for a Large Group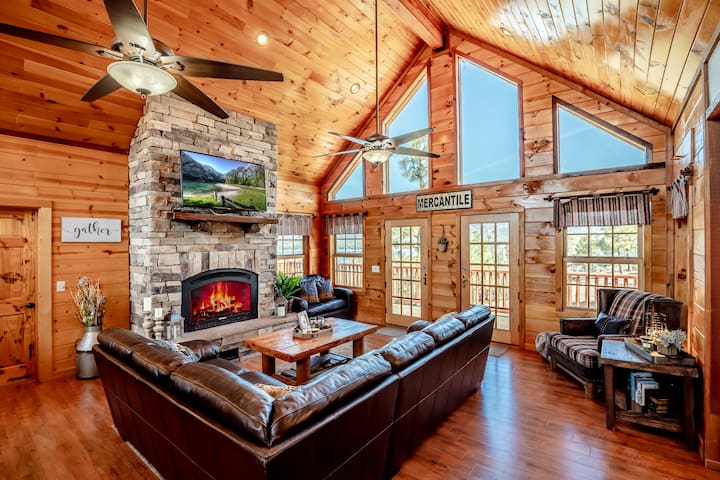 This large 5 bedroom home is a great option for larger groups of up to 12 people. It's a beautiful cabin style house that has 2 large decks, a hot tub, and a grill. The kitchen has stainless steel appliances and all of the furnishings your group might need. There's also a nice dining area and a separate downstairs space with a pool table, a second kitchenette area, a lower deck and bedrooms.
Luxury Mountain Retreat
This beautiful 3 bedroom cabin is a great option for groups of up to 7 people. The space is nice and there's comfortable furnishings and a quality kitchen where you can prepare meals. The cabin also has an impressive outdoor space with a hot tub, table, and swinging chair. There are also games you can enjoy during your relaxing time in. The house is located in Castle Glen Estates, which is a popular place to stay.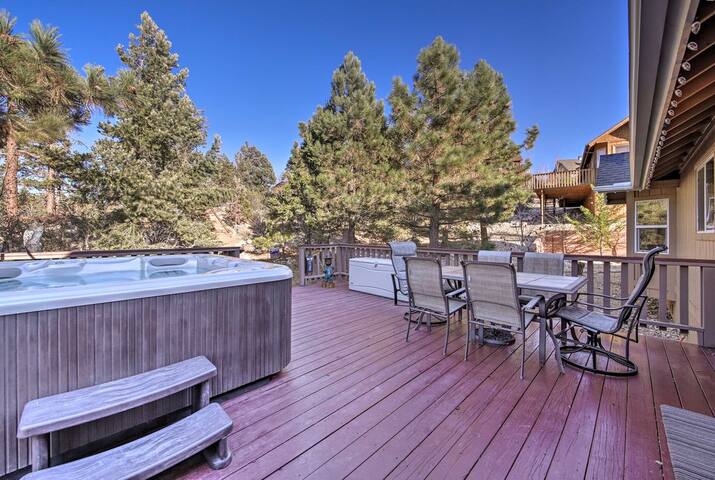 Big Bear A-Frame Cabin
This 3 story A-frame cabin has 2 bedrooms and can fit up to 10 people if you include the air mattress and couch. In one bedroom there's a king-sized bed and the other bedroom has a queen sized bed and bunk beds. There's also a space downstairs with a pool table, card table, and dart board. The property has a nice outdoor space with a deck, grill, and outdoor seating.
This house is just one minute from the resort and golf course. It's about 6 minutes from Snow Summit and the lake and less than 10 minutes from the village.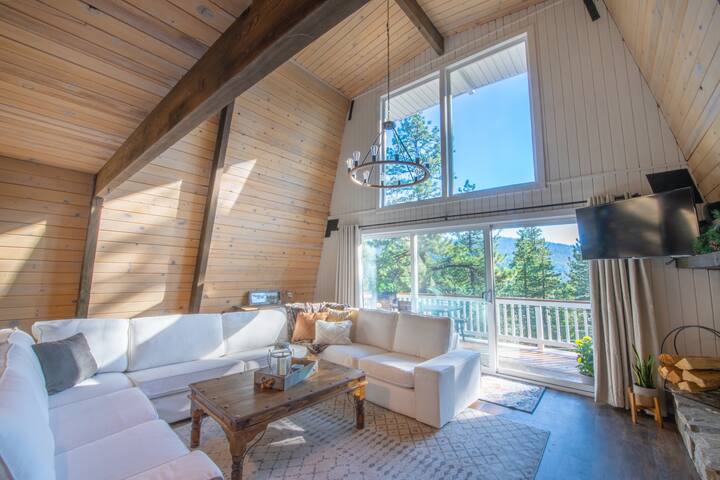 3 Bedroom Cabin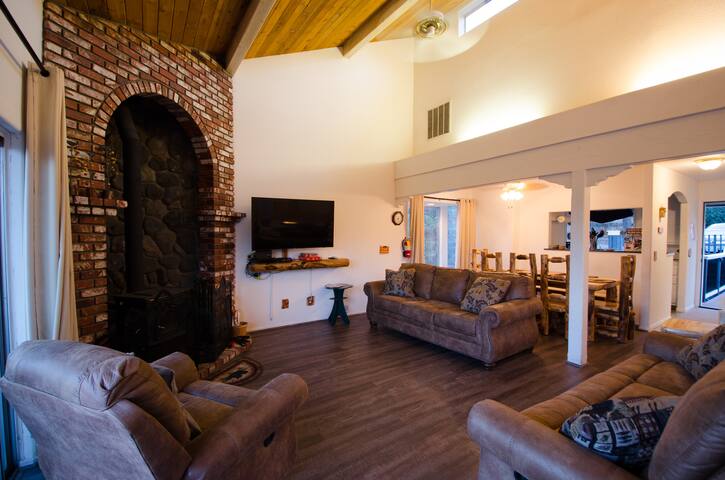 This 3 bedroom house is a nice option for smaller groups of up to 8 people. It's very clean and well maintained and is conveniently located about 2 miles from the ski slopes. It's also 3.5 miles from the village. It's in a quiet and peaceful residential area and has a large rock fireplace, 2 decks, and a hot tub. The kitchen is well stocked and there's a sledding hill that kids will love. This is a nice property for groups that want to escape the city and hang out in a peaceful setting.
Alterra House
This 3 bedroom classic A-frame house is a great option for smaller groups. Do take note that it's not an appropriate choice if you're traveling with kids age 2 or under. The property has a convenient location near dining options, shopping, skiing in more. It's also in a quiet, family-friendly neighborhood and nearby you'll find many great hiking trails.
The cabin's kitchen is well furnished and open, which is great for socializing. There's also a gas grill and a nice dining area where the whole group can enjoy a meal together.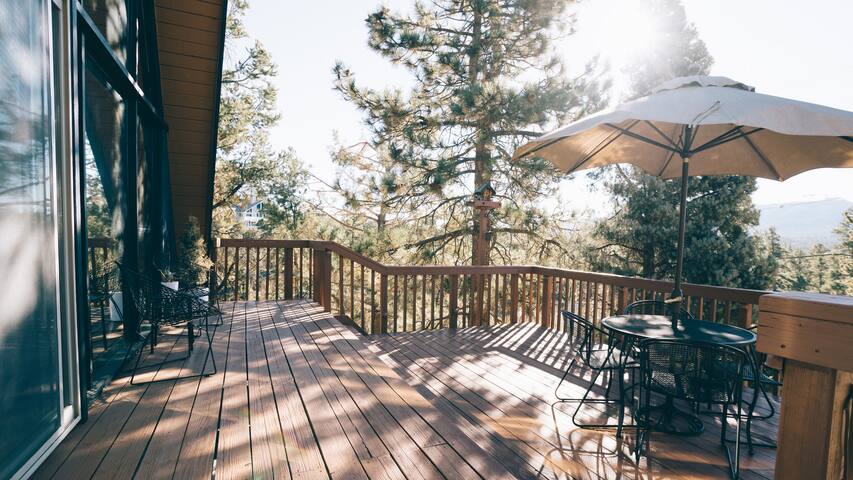 Mountain Chic Chalet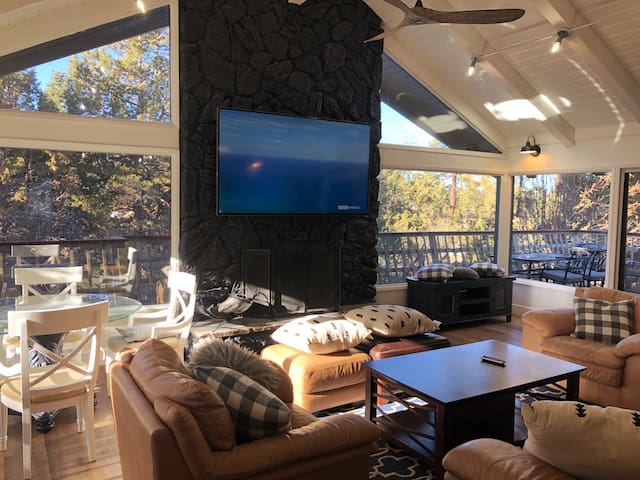 This 3 bedroom house can sleep up to 9 people including double bed bunk beds in the bonus room as well as a sofa bed. The property has an updated kitchen, nice fixtures, and high end appliances. There's also a pool table, foosball table, and more fun activities that are great for the whole group. Outside there's a backyard that's great for anyone that wants to enjoy the snow. There's also a hot tub that's large enough for up to 8 people.
The house is located less than a mile from the Bear Mountain Ski Resort and 1.5 miles from Snow Summit.
For more information on accommodation in Big Bear Lake, check out
The Best Romantic Places to Stay for Couples at Big Bear Lake: Affordable Airbnbs
and
The Best Family-Friendly Airbnb Cabins at Big Bear Lake, California
.