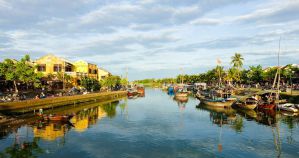 Vietnam has become a major travel destination for backpackers, budget travelers, and tourists who want to experience the country's rich culture, delicious cuisine, and impressive natural beauty. The country has an established tourist circuit that takes travelers through interesting cities such as Hanoi, Hue, Hoi An, Dalat, Nha Trang, and Ho Chi Minh City.
There is no shortage of hostels, hotels, and guesthouses in most Vietnamese cities. You can typically find the best deal at the newest accommodation. The newer establishments are trying to establish a reputation so their prices are often lower. They also typically have the newest and most modern facilities. Once a hostel or guesthouse is listed in a guidebook, they often raise their prices while the quality drops.
If you're looking for the newest and best deal, it's best to ask fellow travelers where they stayed. Many times, as you're traveling from one city to the next, guesthouse owners have connections and can make reservations for you in your next destination. Do be wary though, as they often get kickbacks and the quality of the facilities can't be confirmed until you arrive.
Like elsewhere in Southeast Asia, guesthouses frequently open, close, or change management in Vietnam. It can be difficult to predict how the quality of the facilities will change over time, but if you wish to make reservations in advance, the following hostels and guesthouses are of decent quality and listed on most booking websites.
How much do hostels in Vietnam cost?
You can find our comprehensive analysis of all hostel prices in Vietnam here. We've found the average prices of dorms and private rooms, as well as the typical prices of hostels with various amenities, too.