Zambia On a Budget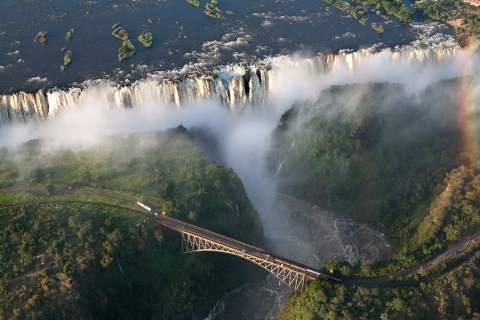 Zambia is a landlocked country in Southern Africa featuring a rugged terrain, diverse wildlife, many parks, and popular safari areas. The country is also known for Victoria Falls which is situated on its southern border-one of the World's Seven Natural Wonders and a UNESCO World Heritage Site.
Lusaka is the capital city of Zambia and the main way of entrance for visitors flying in internationally. It is not, however, a city of sights and is more popular in the evening for its nightlife. Livingstone, also known as Maramba, was the capital before Lusaka, and currently acts as the gateway to Victoria Falls. There are many outdoor adventure activities available here including rafting, bungi jumping, cruises, and helicopter rides-as well as opportunities for shopping in one of many local curio markets. The regions of Zambia are divided into the Northern Plateau, Eastern Zambia, Central Zambia where the capital is located, the Copperbelt industrial region, and the Zambezi Basin where most safaris are held.
Related:
Looking for a
hostel in Marrakesh
,
Cape Town
,
Nairobi
, or
Zanzibar
?
Top Tourist Attractions
Victoria Falls, by far, is probably the best known attraction of the area. One of the largest waterfalls in the world, it is twice as high as and several times longer than Niagara Falls. From the Zambian side, there is a footbridge below the falls that truly makes for a unique experience. To cross the border from Zambia to see the falls on the Zimbabwe side, you will need to pay at least $30 USD for a Zimbabwe single entry visa (depending on nationality), and if you want to return the Zambian side, you will need to pay an extra $20 USD for a multiple entry Zambian visa. It may be best to stay on the Zambian side or plan out visas ahead of time.
Some of the best and most sought after sights of Zambia, lie in its countryside, in the vast stretch of national parks. South Luangwa National Park, one of Africa's top safari destinations, is sometimes called the greatest wildlife sanctuary in the world. The park is centered around the Luangwa River and is home to one of Africa's largest concentrations of wildlife-lion, giraffe, zebra, elephant, leopard, waterbuck, buffalo, antelope, the lot. Kafue National Park, the largest in the country, is also popular, as is Blue Lagoon National Park.
Marketing itself as the "real" Africa, Zambia is becoming a must-do safari destination for experiencing the rugged countryside and all the wildlife you would hope to see on your visit to Africa-lions, giraffe, zebra, you name it. Self-driving is an option, but organized safaris are the way to go for a fulfilling experience. There are many operators with tours that last anywhere from a few hours to a few days. The River Safari Company is a popular operator, with overnight safaris and those by canoe as well. Most safaris are held in Zambia's national parks which are also some of the best parks in Africa. South Luangwa and Kafue are the main ones, though North Luangwa and the virtually inaccessible Luiwa Plains are worth mentioning too.
Popular Foods
Traditional Zambian food revolves around one staple grain called maize, which is served in one form called nshima. Nshima is a kind of thick porridge rolled into balls to be dipped in a variety of stews, commonly called relishes. The more specialty relishes include those of beef, chicken, or fish, while the more basic ones are made with beans, tiny dried fish (kapenta), peanuts, pumpkin leaves (chibwabwa), or other vegetables such as okra (ndelele), cabbage, and rape. Local restaurants generally serve nshima and relish for less than 5000K ($1 USD). The nshima is more watered down into porridge for breakfast, usually with sugar. While this is a popular native dish, pretty much any kind of food, including Western cuisine, can be found in the city areas, especially in Lusaka and Livingstone. Bakeries are common in just about every town, and fast food-burgers, pizza, and fried chicken-is popular throughout Zambia. Be aware that tap water in Zambia is generally not drinkable unless boiled first. Bottled water is mostly available in the city areas, so be sure to stock up before a safari in the wilderness.
Transportation
Zambia's main international gateway is the Kenneth Kaunda International Airport in the city of Lusaka. Lusaka remains well-served by flights from Johannesburg, Cairo, Dubai, Nairobi, Lilongwe, Addis Ababa, and London. British Airways remains the main intercontinental carrier that flies to Lusaka from Europe, with direct flights from London three times a week. South African Airways flies to Lusaka and Livingstone from Johannesburg with multiple flights per day. Other flights include Egypt Air from Cairo, Kenya Airways from Nairobi, Ethiopian Airlines from Addis, and Air Namibia from Windhoek.
By train, TAZARA trains run between Kapiri Mposhi, Zambia, and Dar es Salaam, Tanzania, on Tuesdays and Thursdays. Be aware that the trains can take 38 hours or more to reach Zambia and sometimes break down. The train ride between Dar es Salaam and Zambia is, however, very beautiful-a good way to see the countryside along the scenic route.
By car, vehicles drive on the left side of the road. There are a few international bus routes.
Be sure to research the visa policy before your trip as it can sometimes be confusing. Visa-free entry is possible for some nationalities, including Ireland, Malaysia, Singapore, Zimbabwe and South Africa. Generally, a 24-hour visa is available to all nationalities at $20 USD.