Zimbabwe On a Budget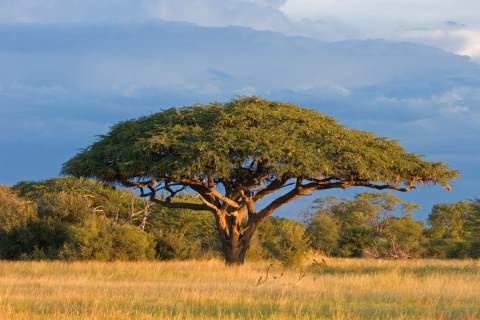 A landlocked country in Southern Africa, Zimbabwe is best known for its diverse wildlife, striking landscape, and safari opportunities. The country is also known for Victoria Falls which is situated on its northern border - one of the World's Seven Natural Wonders and a UNESCO World Heritage Site.
Harare is the capital city of Zimbabwe and the main way of entrance for visitors flying in internationally. It is also home to many preserved buildings, as there is a strong appreciation for the city's cultural and historical heritage. The National Gallery houses some of the more impressive cultural artifacts, while the National Botanic Gardens and The Mukuvisi Woodlands preserve the native flora and fauna of the city. Flea markets are a great way to purchase some local crafts and goods, most places accepting US dollars. Anything made locally is typically inexpensive. The city is abundant in food and dining as well, from local eats to internationally inspired cuisine (western included). Kariba is a city that sits on the border of Zimbabwe and Zambia, Bulawayo is known for its business and industry, and Masvingo boasts the Great Zimbabwe National Monument. The Eastern Highlands of Zimbabwe are more mountainous, while Southeastern Zimbabwe is home to the most wildlife and the Great Zimbabwe Ruins.
Related:
Looking for a
hostel in Marrakesh
,
Cape Town
,
Nairobi
, or
Zanzibar
?
Top Tourist Attractions
Victoria Falls, by far, is probably the best known attraction of the area. One of the largest waterfalls in the world, it is twice as high as and several times longer than Niagara Falls. Different views can be seen from the Zimbabwean and Zambian sides of the falls. To cross the border from the Zimbabwean side to the Zambian side you will need to pay at least $20 USD for a single day Zambian visa, and at least an extra $15 USD for a multiple entry Zimbabwean visa. From either side the views are impressive, continuously running in a white mist of unbroken rainbows.
Another sight unique to Zimbabwe is the site of the Great Zimbabwe Ruins, located in the vicinity of Masvingo. It is what remains of the Kingdom of Great Zimbabwe, one of greatest African civilizations after the Pharaohs. The ruins are a must-see for archaeology and history buffs.
Beyond the falls and ruins, national parks house some of the most stunning sights in the country. Hwange National Park boasts more than 100 different animal species and over 400 species of birds, Matobo Hills National Park is a UNESCO Heritage Site with its distinctive landscape and wildlife, Mana Pools National Park is another UNESCO site in a remote location popular for safari tours, and Nyanga National Park encompasses rolling green hills and rivers that attract many vacationers.
With so many national parks and remote natural areas, Zimbabwe is one of the number one destinations for safaris. Mana Pools National Park is a vast conservation area in northern Zimbabwe that has much opportunity for seeing stunning landscape and diverse wildlife including elephants, hippos, lions, antelopes, and other animals, plus over 350 bird species. Tours can be arranged ahead of time through operators like Safari Bookings. Antelope Park, located near Gweru, is another popular destination for game activities like horseback riding and swimming with elephants.
The Harare International Festival of Arts is a popular event, held annually at the end of April in Harare. Festivities include music, theatre, and other shows sponsored by foreign embassies, featuring top international and local artists. There is also a great art craft market during the festival.
Popular Foods
Local cuisine in Zimbabwe consists of sadza (corn paste) and tsunga (a kind of stew). The stew part is served over a thick ground corn paste, resembling a mix of polenta and mashed potatoes. The dish is inexpensive and very filling, a staple amongst locals for nearly every meal. The common way of eating is to take a portion of the sadza in one hand and knead it into a ball. Then make an indentation with your thumb to scoop a portion of the stew in its center, and pop it into your mouth whole. Be aware that tap water in Zimbabwe is generally not drinkable unless boiled first. Bottled water is mostly available in the city areas, so be sure to stock up before a venture into the wilderness. More dining options are generally available in the city areas. Harare, being the capital and largest city, has westernized restaurants that serve European and American style food, though native dishes are also abundant.
Transportation
By plane, Harare International Airport has a number of international flights, mainly to other African countries. When coming from Europe you can fly directly with Air Zimbabwe from London. You can also fly with South African Airways or Airlink via Johannesburg in South Africa.
Regular deluxe buses operated by Greyhound travel from Johannesburg to Harare. There are also a few that travel from Johannesburg to Bulawayo.
Be sure to research the visa policy thoroughly before your trip.