Best Party Hostels in Melbourne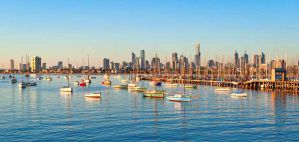 Melbourne is the second largest city in Australia and is the cultural capital of the country. There is no shortage of museums, sporting events, and entertainment options throughout the city. Like many destinations in Australia, it's a popular stop off for the backpacker crowd. Some people visit to attend a sporting event while others use it as a base for exploring the surrounding areas. There are plenty of party hostels for those looking to socialize and have a good time. You can consider any of those listed below.
How much do hostels in Melbourne cost?
| | |
| --- | --- |
| Average Dorm Price | $21 ($14 to $44) |
| Average Double Private Room Price (in a hostel) | $63 ($32 to $113) |
Dorm Bed:
$
28.00
Private Room:
$
44.50
Overall Rating:
77%
This is the most popular party hostel in Melbourne. It has an onsite bar, the Red Eye Bar, which has live music and DJs regularly. There are nightly events including free barbecues for guests, trivia nights, and ladies night. There are also meal nights that offer cheap dining options for guests.
Other amenities for the hostel include a travel desk with travel information, a large common area and television, a full kitchen for guests to use, secure lockers, 24 hour security, and a luggage storage area.
Females have access to the female only area where shampoo and conditioner is provided and free champagne is available from 6pm until 7pm among other things.
17 Carlisle St St Kilda
,
Melbourne
,
Australia
,
Dorm Bed:
$
25.00
Private Room:
$
49.50
Overall Rating:
76%
Nomads Melbourne offers all guests a free drink after they arrive to help them get their stay off to a good start. There's a great onsite bar and cafe that has a fun but funky vibe. There's also a cinema lounge, a kitchen for guests, a sun deck, and a range of room types to choose from. This is the perfect hostel if you're hoping to meet other travelers and make some friends while you're on the road.
It's also in a great location right next to the Queen Victoria Market. Many of the city's best attractions are close by, and public transportation is easily accessible.
The staff are also readily available to help you plan the rest of your trip. You can make arrangement for future travels, inquire about tours, or surf the web looking for online information.
196-198 A'Beckett st.
,
Melbourne
,
Australia
,
Dorm Bed:
$
19.59
Private Room:
$
26.53
Overall Rating:
85%
Located in one of the best parts of Melbourne, the Ritz is right in the middle of the beach suburb of St. Kilda. This is near some of the area's best nightlife and also close to many shops, restaurants, pubs, and cafes. It's just a short walk from the beach and there's a tram you can take into the city.
Just downstairs you'll find a British Pub that has nightly dinner specials and evening activities. You can also relax in the hostel's television lounge, play pool with other guests, or catch up with friends at the internet cafe.
There are regular activities going on including free wine and cheese nights, pool competitions and frequent party nights. They also offer discounted tours to guests. This is a great hostel if you're looking for fun and relaxation all in one place.
169 Fitzroy Street St. Kilda Beach
,
Melbourne
,
Australia
,
Dorm Bed:
$
19.67
Private Room:
$
28.68
Overall Rating:
78%
This hostel is popular because of its central location, fun atmosphere and excellent staff. There's a great onsite bar where guests enjoy hanging out. It's located in the central business district so it's near everything you could want to see in town. There's a travel shop where you can arrange tours and activities and there's free pasta and rice available all day, every day.
In addition to having large communal areas, there's a variety of amenities available to guests. These including free linens, free coffee, female only accommodation, a luggage room, pool table, a shared kitchen, vending machines and more.
2 Spencer Street
,
Melbourne
,
Australia
,
Share This Article