Best Hostels in La Paz, Bolivia for Solo Travellers and Backpackers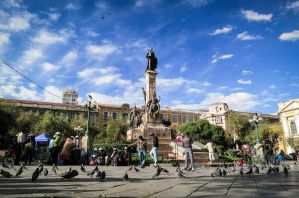 La Paz is the administrative capital of Bolivia. It was established in 1548 and is located at an altitude of around 4,000 meters in the Andes Mountains. The residential areas are slightly lower at around 3,000 meters above sea level. This is the highest national capital in the world.
There are a range of affordable accommodation options in La Paz. Several great hostels are found throughout the city and they are popular with young travelers, independent travelers, and budget travelers alike.
How much do hostels in La Paz cost?
| | |
| --- | --- |
| Average Dorm Price | $10 ($5 to $15) |
| Average Double Private Room Price (in a hostel) | $35 ($5 to $120) |
A good hostel for solo travellers, couples, groups, and families.
Private Room:
$
17.53
Overall Rating:
81%
Cruz de los Andes is a popular hostel in La Paz, Bolivia. It's an affordable and comfortable place to stay that is conveniently located right in the heart of the city. This hostel appeals to all types of travelers including backpackers, families, individuals, and tour groups. Whether you're a student, a couple, or traveling alone, you're sure to enjoy your time here. It's within walking distance to many things you'll want to see and do in the city including La Plaza San Fransisco, the witch's market, Calle Sagarnaga, and much more. There are also many great restaurants and pubs nearby. If you want to travel a little further out, public transportation is also conveniently accessible.
The hostel is well designed and decorated. The Rooms have beautiful murals that show different scenes from around Bolivia and each mural is painted by a local artist. There are private rooms that range in size and include singles, twins, doubles, and triples. Many rooms also have balconies, private bathrooms, cable television, and a telephone. Some rooms have wi-fi access.
Guests can enjoy all kinds of amenities such as a complimentary buffet breakfast that is available every morning. The breakfast includes fresh fruit, bread, cereals, tea, coffee, and more.
The staff here are friendly and multi-lingual. They work closely with Julius Tours Travel Agency, and can help you arrange any tours or excursions that you might be interested in.
216 Calle Aroma
,
La Paz
,
Bolivia
,
A good hostel for solo travellers, couples, groups, and female travellers.
Dorm Bed:
$
11.19
Private Room:
$
18.50
Overall Rating:
86%
Loki Backpackers is probably the most popular hostel in La Paz for backpackers and young travelers. It's part of the Loki hostel chain and is located right in the heart of the city in a large and modern building. It is about eight stories high so guests can enjoy nice views looking out over the city. It's a short walk from most of the tourist sights around town and it is a great place to base yourself during your time in La Paz.
The hostel has a fun and social atmosphere. Because it's a popular place to stay, you can be assured there will be other guests hanging out looking to meet other travelers. There's also a popular bar in the hostel that serves both drinks and food. There are several common areas including an internet room, a tv room, a gym, and a game area with a ping pong table. Breakfast is served every morning starting at 7am, but food is available well into the afternoon. The hostel also has a late checkout time of 1 pm for those who aren't early risers.
The staff here are amazing and they host regular events and activities that help guests get to know each other. Whether you're traveling alone or as part of a group, this is a fun and interesting place to stay. The staff can also help you organize any number of tours and excursions for a reasonable price.
There are both private rooms and dorms available. You can choose from twin or double rooms as well as four, eight, or ten bed dorms. Several four bed dorms are female only.
Av. Las Americas #120
,
La Paz
,
Bolivia
,
A good hostel for solo travellers, couples, and small groups.
Dorm Bed:
$
15.00
Private Room:
$
13.33
Overall Rating:
88%
3600 Hostel is another good option for backpackers in La Paz. The hostel is located in the traditional neighborhood of Sopocachi and it is located in a house that is over one hundred years old. The house has been impressively restored in a way that maintains much of its architectural character while offering a comfortable and relaxing place to stay. There's a central yard that is covered with Laja stones, that are common in the area.
The hostel has a total of eighteen beds that are cozy and comfortable. The main hall is a friendly place to hang out where you can enjoy delicious food and local beer. The staff are also friendly and will go out of their way to make sure you feel right at home.
The hostel has both private and dorm rooms available and dorms sleep up to six people. Both female only and co-ed dorms are available.
Av. Ecuador #1982, Zona de Sopocachi
,
La Paz
,
Bolivia
,
Share This Article