Bolivia On a Budget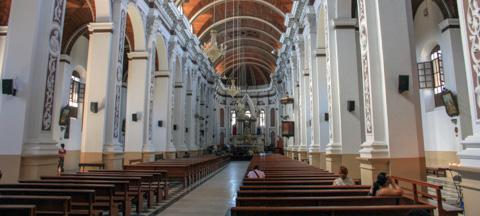 Bolivia is one of the most remote countries in the western hemisphere. Located in the middle of South America, it is one of only two completely landlocked countries on the continent (the other being Paraguay). It is also incredible diverse, both in terms of geography and population. Sixty percent of the popular is of pure Native American ancestry. Along with Peru, it claims Lake Titicaca, the world's highest navigable lake. A trip to Bolivia is unlike any other experience.
Because of the dramatic range of altitude, Bolivia's climate is quite diverse. You can experience almost any climate including humid and tropical or cold and semiarid. It can generally be said that winters are dry and summers are somewhat wet. Some major cities, such as La Paz, are located at high elevations, meaning they are cool year around. Because Bolivia is in South America, the summer runs from November through March and the Winter is between April and October.
Bolivia can generally be broken down into three regions. The Altiplano is the region of the Andes that falls above 3500m. It is also where you find La Paz. Sub-Andean Bolivia is the area that includes the highland valleys. It is located in the south central part of Bolivia. The Tropical Lowlands are in the eastern part of the country.
At A Glance
Bus transportation is a cheap way to navigate the country. Transportation strikes are a concern though, so pay attention to the local news to see what is going on. Both local taxis and long distance buses are generally affected by strikes, but airlines are not. It is best not to try to pass a blockade as violence has been reported. Most strikes only last a day or two so it is often best to wait it out.


There are 37 official languages in Bolivia. Spanish, Quechua, and Aymara are the most common ones, and in the rural areas it is not uncommon for people not to speak Spanish. Some people do choose to study Spanish in Bolivia. They have a very clean accent and there are plenty of programs available.


The national currency of Bolivia is the Boliviano. You can usually exchange US dollars and other South American currences at Casa De Cambio agencies or with most street vendors. If you're exchanging with a street vendor, you'll likely have to negotiate a fair rate. In major hotels, tourist shopes, and for larger purchases, they'll likely take US dollars, but the rate may not be at its best. They will also only accept new dollars that are not worn or torn.


Internet cafes are generally available throughout the country. Access is variable but prices are typically low. Many Internet cafes do not allow you to use Skype though, but instead require you to use their paid phone service.
Related:
Looking for a
party hostel in Rio
,
Sao Paulo
,
Lima
, or
Buenos Aires
?
Traveling alone through
Argentina
?
Top Tourist Attractions
The Death Road:
A 64 km mountainbike trip from La Cumbre to Coroico where you can truly experience Bolivia.
Salar de Uyuni:
The largest salt flat in the world.
La Paz:
The working capital of Bolivia.
Popular Foods
Bolivian cuisine is usually made of "meat and potatoes". Beef is the most common meat option, but you may also find chicken, pork, or even llama. Most meat is deep fried and it can be smelled throughout the cities. Fried chicken is also a common dish. Other interesting options available include guinea pig or rabbit. Vegetarians may struggle to find filling meals, particularly in more rural areas.
Pique a lo macho:
This traditional Bolivian dish is made with grilled pieces of meat. There are prepared with a spicy sauce, tomatoes, and onions and then served on potatoes.
Silpancho:
This dish is made with pieces of beef that have been pounded thin into a patty. They are served over rice and potatoes with an egg on top.
Anticucho:
This unique Bolivian dish is made from skewered beef hearts that are grilled and served with a spicy corn sauce and potatoes.