French Polynesia On a Budget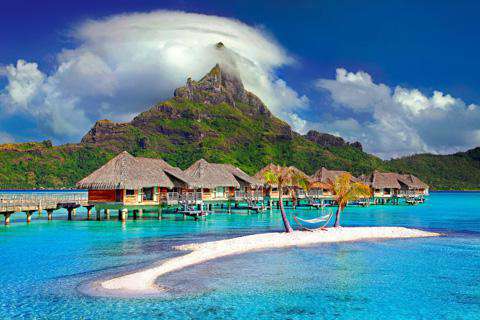 The islands of French Polynesia became legends the minute the first European explorers reached their home shores with tales of a heaven on earth where the soil was fertile and life was simple. French Polynesia is about as dreamy as reality gets. French Polynesia comprises more than 100 islands in the South Pacific, stretching for more than 2,000km. Divided into the Austral, Gambier, Marquesas, Society and Tuamotu archipelagos, they're known for their coral-fringed lagoons and over-the-water bungalow hotels. Island features include white- and black-sand beaches, mountains, rugged backcountry, and towering waterfalls. Sculpted by sky-piercing, moss-green peaks and lined with vivid turquoise lagoons, sultry French Polynesia is a place to take it slow and experience warm, laid-back island culture.
Top Tourist Attractions
Widely documented as a scenic wonder of the world, French Polynesia boasts idyllic beaches and lush volcanic peaks, soaring through coral-filled lagoons. The spectacular scenery here are some of the best sights on offer. The slim stretches of white-, pink- and black-sand beaches in French Polynesia are really just pretty springboards into the real draw: the lagoons. Most high islands are surrounded by fringing reef that creates a protected swimming pool of the most intense aqua imaginable. Fish, dolphins, rays, sharks, turtles and more inhabit these clear-water coral gardens that are as excellent for snorkeling as they are for diving and swimming.
French Polynesia also offers historic and cultural sights to explore. La Maison de James Norman Hall in Tahiti, home of the coauthor of Mutiny on the Bounty and other books set in the South Pacific who lived most of his adult life on Tahiti. His family maintains his former home as a fascinating museum.
Museum of Tahiti and Her Islands, a lagoon side museum recounting the geology, history, culture, flora, and fauna of French Polynesia. It's worth a stop just for the outstanding view of Moorea from its coconut-grove setting.
Maeva Maraes, stone temples where the ancient Tahitians gathered to worship their gods and hold other ceremonies. More than 40 of these structures have been restored near the village of Maeva and are a highlight of any visit to Huahine.
Islands and Regional Information
Society Islands
These western islands are the most-inhabited islands, a group of high tropical islands encircled by coral reefs and lagoons (divided administratively into Windward Islands and Leeward Islands). Among the Leeward Islands Bora Bora is outstanding, Huahine, Maupiti and Raiatea are especially remarkable, in the Windward Islands Moorea is a great place to visit, and
Tahiti
, well-known all over the world, is well-sought after, and the capital Papeete is especially remarkable.
Tuamotu Islands
These islands make up the vast central archipelago of coral reefs. It is a collection of low islands or atolls. Rangiroa is one of the best destinations here.
Marquesas Islands
This is the northeastern archipelago, a group of high islands near the equator, whose steep mountains are inhabited by wild horses, goats, and pigs. Nuku Hiva and Hiva Oa are the most popular destinations in this area.
Gambier Islands
These islands are located to the south-east. They are rarely visited and consist of the high island of Mangareva and its fringe of islands which are the eroded remains of a former gigantic crater.
Austral Islands
These islands make up the small southern archipelagos (includes Tubuai Islands and Bass Islands). These are the Least inhabited islands of the South Pacific, the ancient volcanoes are far off the beaten track and not often visited by tourists.
Activities
At first glimpse, the 118 islands of French Polynesia seem to inspire as little activity as possible - lounging on the beach, taking a dip in warm, turquoise water and napping in an overwater bungalow - but this archetypal island paradise presents plenty of adventures to entice you away from more sedentary pursuits. The main islands, which include Tahiti, Bora Bora, Moorea, Rangiroa, and the Tuamotu Atolls, offer the most comprehensive array of activities, both on land and in the water.
Tour operators cater to visitors on all of the most-visited islands of French Polynesia, with the most options available in Tahiti, Bora Bora, Moorea and Nuku Hiva. Land-based options include four-wheel-drive safaris, guided hikes, horseback riding, mountain biking excursions and tours by quad bike. Some offer more unusual tour options, such as the Maeva Village Archeology tour on the island of Huahine; and Island Science, a natural history themed tour on Moorea, which incorporates modern science and ancient Polynesian lore. For an exciting experience and an unmatched perspective over the islands, consider taking a 15-minute to one-hour helicopter tour.
You will rarely find yourself far from the water in French Polynesia, and opportunities for outrigger canoe, kayak and jet-ski tours and deep-sea fishing trips are plentiful. Visitors to Moorea and Rangiroa can see the underwater world on a glass-bottom boat tour. As a prime destination for scuba divers, more than 40 dive centers operate on some 14 islands in the group; snorkel trips are also widely available. Shark feeding excursions promise to be memorable and are not only for the brave - you can generally choose to observe harmless sharks schooling around a guide from the water or stay on the boat.
The islands of French Polynesia invariably have a coastal road which presents an ideal route for a self-guided tour by rental car or bicycle. Hotel concierges can recommend suitable hiking trails or a local route for a self-guided walking tour. Boat and kayak rentals are widely available for visitors who want to explore lagoons and coastal waters. Bring a snorkel - you may find it hard to resist slipping into crystal clear water teeming with tropical fish.
Take part in some of the cultural events on offer in the islands. Most major hotels and resorts in French Polynesia pay homage to the culture, history and traditions of the islands by presenting cultural shows and activities with a Polynesian theme. Some offer an on-site artists' space where artists-in-residence offer painting workshops. Cooking classes are also available that showcase local cuisine. For a glimpse of genuine local life, consider attending a Sunday church service, where congregants, head-to-toe in their all-white Sunday best, sit in same-sex groups and sing Tahitian hymns. At the Tiki Village Theatre on Moorea, you can see artisans practicing traditional crafts like woodcarving, tattooing, quilting and palm frond weaving. You can also visit a recreated pearl farm and, in the evening, take in a vibrant dance show in the open-air theater, or learn some of the French Polynesian dance moves yourself with a dance class.
Popular Foods
French Polynesian food is known throughout the world because of its exotic fruits, fresh fish, and vegetables which are prepared with a strong French influence underlying the Tahitian ingredients. Restaurants in French Polynesia are from a wide variety of backgrounds including and inevitably French and Tahitian, but also Chinese, Vietnamese, and Italian. The sauces served in these restaurants often features sauces which contain home grown vanilla beans. However, to taste the absolutely genuine French Polynesian Food you need to find a way of sampling food from the Ahima'a otherwise known as Tahiti's underground oven. It is usually prepared on a Sunday morning, or for a special celebration. Other things to look out for include: Poisson cru, which consists of raw fish and diced vegetables marinated with lime juice and soaked in coconut milk, Chevrettes, which are tasty freshwater shrimp, and Poe, a sweet pudding made of taro root flavored with banana, vanilla, papaya or pumpkin and topped with a rich coconut-milk sauce.
Transportation
French Polynesia occupies a very remote position in the South Pacific Ocean so flying in is the main option. The airline of French Polynesia is Air Tahiti Nui, the main airport is Faa'a International Airport built on
Tahiti
's lagoon about 5km west of Papeete. There are cruise ships on irregular schedules, and cargo ships on regular schedules travelling from Hawaii, New Zealand, Australia and Panama. Most people live on the two islands of Tahiti and Moorea. These islands have street networks and public transport (including good touristic infrastructure). To jump from island to island there are different options: By plane on Air Tahiti which offers domestic flights to other destinations in French Polynesia, and by boat on ferries that travel between most islands. Catamarans and ferry boats cross between Tahiti and Moorea several times a day.