French Polynesia On a Budget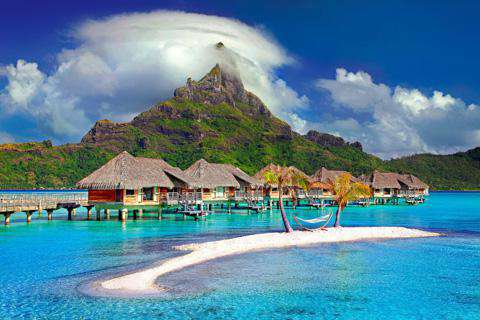 French Polynesia is an overseas country associated with France that consists of a set of islands in the South Pacific Ocean. Consisting of more than 100 islands and 5 distinct archipelagoes, the landscapes are defined by coral-lined lagoons, white and black sand beaches, volcanic mountains, rugged backcountry, and spectacular waterfalls.
As a whole, French Polynesia is divided into regions by groups of islands. The Society Islands are the most inhabited, and are surrounded by coral reefs and lagoons. They are further sectioned off into the Leeward Islands, which include Bora Bora, Huahine, Maupiti, and Raiatea, and the Windward Islands, such as Moorea and Tahiti, which is home to the capital Papeete. The next group encompasses the Tuamotu Islands, an expansive central archipelago, consisting of low reef islands or atolls, and notable for the island of Rangiroa. The Marquesas Islands are a smaller northeastern archipelago located near the equator. They are characterized by steep mountains inhabited by wild horses, goats, and pigs. Nuku Hiva and Hiva Oa are two of the better known islands in this group. Located to the southeast are the Gambier Islands, which are rarely visited and some of the least inhabited. Mangareva is the largest and only island in this group that is developed for tourism. With its smaller surrounding islands, this island makes up the remains of gigantic crater. The final group consists of the Austral Islands to the southwest. These are further divided into the Tubuai Islands and Bass Islands, and feature ancient volcanoes.
The islands and the surrounding waters have many beautiful features that can be explored in a variety of ways. There are a number of small boat cruises off of the main tourist-friendly islands that offer activities like snorkel, scuba, and Jet Ski in the open Pacific waters as well as in the quieter reefs and lagoons. Some boat tours are even specialized, such as excursions for snorkeling with sharks and stingrays, deep-sea fishing, or sunset and dinner cruise packages. Other seaside activities consist of beachside fun, sunbathing, swimming, and snorkeling on your own along white sand or volcanic black sands on any of French Polynesia's island coasts. Opportunities to be had inland are abundant as well, including hiking to towering waterfalls, exploring the rugged island terrain with 4WD vehicles, biking, wildlife-watching, and stargazing in the evenings.
Top Tourist Attractions
Each of French Polynesia's islands is characterized by beautiful South Pacific ecosystems, surrounded by turquoise waters, lagoons, coral reefs, and consisting of volcanic beaches, rugged backcountry terrain, and lush greenery. Some of the islands are more visited than others, depending on accommodations for tourists.
One of the most popular is Bora Bora. At the center of the island is the dormant volcano Mount Otemanu, which rises above the aqua-blue waters over 700 meters. The island is then surrounded by calm lagoon waters at its base, which are protected by a coral reef and surrounding sand islets. Many visitors come to enjoy Bora Bora's luxury resorts where some guest bungalows are perched over the water on stilts.
Another well-visited destination is Tahiti, the main island of French Polynesia. Here, like on most of the islands, main attractions include the spectacular coastline and natural island features of the South Pacific. Being a well-inhabited island, however, there are also opportunities to experience local culture. In Papeete, visitors might want to explore Le Marche, a large, two-story marketplace selling local goods, clothing, and souvenirs like postcards, shell necklaces, soaps, and more-all enveloped in tropical scents and vibrant colors. For those who wish to learn about Polynesia art and culture, guests can also visit sites like the Robert Wan Pearl Museum (dedicated to pearl legends and jewelry-making) or the
Musee de Tahiti et des Iles
(which features exhibits and artifacts on local history and culture).
Other attractions on these and surrounding islands include additional museums, resort bungalows, lighthouses, parks, botanical gardens, waterfalls, shops, galleries, ethnic villages, and more.
Check out this great
honeymoon guide to Bora Bora
.
Popular Foods
Cuisine of French Polynesia is dominated by seafood, both raw and cooked, fished from local lagoons and Pacific waters. They are prepared in a variety of ways-grilled, chaud-froid, carpaccio, tartare, sashimi, or sushi. In addition to fish, visitors will also find seafood varieties like giant clam, sea urchin, octopus, and squid. Other typical ingredients used in Polynesian cooking include things like suckling pig, fish (mahi mahi, tuna, other catches of the day), chicken, crab, fei (a Polynesian banana) and banana leaves, shrimp, taro, umara (sweet potato), uru (fruit of the breadfruit tree), ufi (a kind of yam), and fafa (Tahitian spinach). Many dishes combine ingredients like these to be wrapped in banana leaves and cooked inside a traditional underground over called the ahima'a. Skewers of grilled meats, like beef and lamb, are also common, often served with mustard and barbeque sauce. Much of the cuisine here will additionally have a French spin from the island nation's connections to France, as well as Chinese influence from immigration across the Pacific Ocean.