Best Hostels for Solo Travellers in Berlin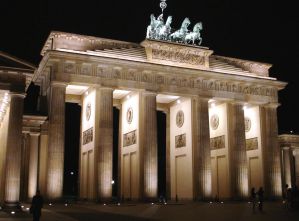 Berlin is one of Germany's most popular city's for travelers. The city has an impressive art, culture and music scene. It's also a popular destination for backpackers and independent travelers. If you're traveling alone and looking for a hostel, there are a handful of great options to choose from.
How much do hostels in Berlin cost?
| | |
| --- | --- |
| Average Dorm Price | $15 ($2 to $31) |
| Average Double Private Room Price (in a hostel) | $50 ($15 to $149) |
Dorm Bed:
$
12.97
Private Room:
$
19.99
Overall Rating:
91%
If you're traveling alone, Circus Hostel is the perfect setting to meet other independent travelers. The hostel has a warm and welcoming atmosphere that attracts backpackers from around the world. There are plenty of common areas where you can meet other guests. There's also a brewery in the basement where they brew craft beers. Katz & Maus is the hostel cafe, bar and lounge. They serve breakfast into the late morning and have sandwiches available for lunch.
The hostel offers all kinds of activities for guests. There are free weekly walking tours that highlight the history and art throughout the city. There are also events held every week including trivia nights, concerts, and history talks.
The hostel is located in the heart of Berlin, right beside the U-Bahn. Luggage storage, personal lockers, and bike rentals are also available.
Weinbergsweg 1a 10119
,
Berlin
,
Germany
,
Dorm Bed:
$
11.40
Private Room:
$
19.20
Overall Rating:
91%
This hostel is conveniently located near some of Berlin's most interesting nightlife, shopping areas, and museums. It's near the art districts of Friedrichshain and Kreuzberg and is near the East Side Gallery. It's also conveniently near public transportation. The S-Bahn, U-Bahn, and tram stops are all within five minutes of the hostel, making almost all of Berlin accessible to guests.
The hostel is comfortable and clean. It has a social setting that makes it easy to meet other independent travelers. The hostel is large and popular, ensuring that there will be a diversity of guests during your stay. It was recently named Hostelworld's #1 Extra Large Hostel in the world.
The hostel has rooms that range in size and include single, double, twin, triple, four bed dorms, and six bed dorms. Private bathrooms are available. The staff is very helpful and knowledgeable on the city and there are a variety of amenities available to guests. You can enjoy a meal in the Opera Bar and Restaurant, or take a dip in the swimming pool. There's also on-site laundry and a pleasant courtyard garden that you can enjoy.
Warschauerplatz 6-8
,
Berlin
,
Germany
,
Dorm Bed:
$
22.78
Private Room:
$
30.76
Overall Rating:
92%
This hostel is specifically designed for solo travelers. They do not accept groups larger than four, so you can be assured that you won't be overwhelmed by large school groups or stag parties. The atmosphere is friendly and social, so it is easy to meet other guests. Guests must also be at least 21 years old, and no older than 40.
This hostel is not in the city centre, so if you're looking for the most convenient location, it is not ideal. It is found in Kreuzberg, within walking distance of several of Berlin's most famous Indie Rock clubs including Watergate, Berghain, Magnet, and Lido. The area also has many cafes and thrift shops.
They hostel offers information on Berlin's top attractions, nearby restaurants, and activities in the area. The staff is very knowledgeable and eager to ensure that your stay goes smoothly.
Goerlitzerstrasse 38 Berlin
,
Berlin
,
Germany
,
Dorm Bed:
$
21.58
Private Room:
$
27.34
Overall Rating:
94%
EastSeven Berlin Hostel is regularly ranked among the best hostels in Germany. It is a highly recommended hostel among guidebooks and travelers alike. The hostel is medium in size and has a social atmosphere where it's easy to meet guests. The staff is friendly and multilingual. There is free wi-fi and luggage storage, as well as maps and travel information available. They also organize daily walking tours of the city. Guests are welcome to use the public kitchen to prepare meals, which they can enjoy in the lounge or garden areas.
The hostel limits group size to no more than 8, and it does not have a party atmosphere, but it is very comfortable and welcoming to independent travelers. The rooms are very clean and comfortable, and you will quickly feel right at home during your stay at EastSeven.
The hostel is conveniently located between Berlin's central district and Prenzlauer Berg. It's near many cafes, restaurants, bars, and clubs and you can easily walk to Alexander Platz in the middle of Berlin.
Schwedter Str. 7
,
Berlin
,
Germany
,
Share This Article