Berlin On a Budget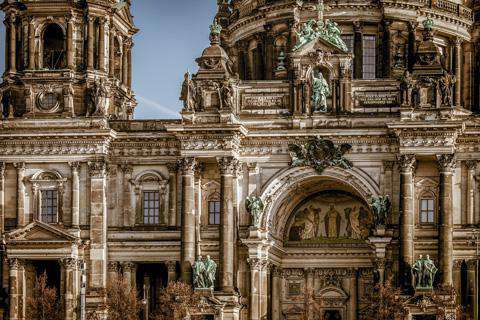 Berlin is the capital and largest city in Germany. As such, travelers can expect typical European prices for everything from hotels to food to sights and attractions. While it's possible to experience this city on a cheaper budget, don't expect to get much without paying a decent amount.
With a population of about 4.5 million, Berlin is a very international city that is well known for its high level of tolerance, an eclectic nightlife, an artistic vibe and many historical sights. There are museums, palaces and landmarks spread throughout the city. Despite having a significant amount of damage during the last few years of World War II, Berlin has been rebuilt with an interesting diversity of architecture styles. This is particularly true after the fall of the Berlin Wall in 1989. Architecture in the city represents many different historical periods ranging from medieval buildings through modern, glass structures.
Sights
Berlin has many sights spread throughout. There are countless museums that appeal to all types of travelers. Some of the most popular include
Museumsinsel
(Museum Island) which has Pergamon-Museum, Altes Museum, the Alte Nationalgalerie, and Bode-Museum. Kulturforum is near Potsdamer Platz and is where you'll find Gemaldegaleri, Neue Nationalgalerie and Musikinstrumenten-Museum.
Many visitors also enjoy visiting some private art galleries. Some of the most popular streets for art galleries are Auguststrabe, Linienstrabe, Torstrabe, Brunnenstrabe, Zimmerstrabe, and Fasanenstrabe.
Some of the more interesting and historic churches around town are Berliner Dom, Deutscher Dom, Franzosischer Dom, and Kaiser Wilhelm Gedachtniskirche.
Berlin is full of amazing places to see and visit. For even more ideas, check out
10 of the most alternative Instagrammable places in Berlin
.
Neighborhoods
Because of Berlin's tense history, there are many diverse and unique neighborhoods spread throughout the city. There are roughly six districts that make up Berlin. Mitte was the center of the former East Berlin and is now the historical center of the city. It's where you'll find many different restaurants, cafes, art galleries, and nightclubs. City West has Ku'Damm, which is one of the main shopping streets in the city. If you're looking for high end, luxury items, then this is the place to go. There are also many hotels and restaurants as well as the Charlottenburg Palace, Kulturforum, Tiergarten and the Olympic Stadium. East Central is known for its liberal and youthful vibe. There are many artists concentrated in this neighborhood and there are many cafes, bars and clubs crammed into the busy streets. North has its own interesting old towns and East has an interesting museum at the site of the 1945 surrender to the Soviet army as well as the former Strasi prison. South is a diverse area with a wide mix of styles and atmospheres.
Activities
This dynamic city offers plenty of activities. The
list of things to do in Berlin
starts with the museums mentioned above, but then carries on to included Brandenburg Gate, the many gardens, famous cafes, sites from the cold war era such as Checkpoint Charlie, and the many churches and cathedrals.
Berlin is also known to host some incredible festivals. The
Berlin Film Festival
is the city's largest cultural event. Lange Nacht der Museen is held in May. During this time the museums stay open until 2am and there are many cultural events around town. Fete de la Musique is in June and is a popular music festival. The Berlin International Beer Festival is the first weekend in August.
Food and Dining
Dining out in Berlin can be surprisingly inexpensive compared to the rest of Europe. There are many ethnic restaurants that are delicious and affordable. Plenty of
vegan restaurants can also be found in Berlin, too
. VAT is included in the price and only high end restaurants charge a service fee.
Bratwurst, or more specifically currywurst, is a favorite in Berlin. This street food is a great option for those on a tight budget. Also common is Doner, which is a flatbread that is filled with some sort of meat such as lamb or chicken. It's usually served with a salad and vegetables. This dish is of Turkish origin and is available at most Turkish stands.
Although Hackescher Markt is still a popular eating area for tourists, it has lost much of its past charm. Many of the local eateries have been corporatized and the atmosphere has dramatically changed. It's still worth a visit, as you may find some interesting places, but it is no longer what it once was.
Transportation
Because of Berlin's vast size, you're likely have to take advantage of its public transportation system at least once during your time there. There is an excellent bus, tram, train and underground system that cover much of the city. It's also easy to catch a taxi in most parts of town and the price is slightly less than you might expect.
The S-Bahn is a train that is fast and relatively easy to navigate. The Ringbahn makes a circle around the city. There are also regional trains that go further outside of town. The U-Bahn is the underground metro system. The stations are easily identified by their blue U signs. Trains are efficient, fast, and reliable. The trams are generally located in East Berlin. You can buy tickets inside the tram and service is good. Buses are the slowest way to travel in Berlin, but they go almost anywhere. There are normal metro buses as well as express buses that are labeled with a "X". The tourist route is busline 100. It departs from either Zoo Station or Alexanderplatz on the other end. This route will take you across historic Berlin. The buses are doubledecker and the top level offers the best views.
Related
Looking for a party in
Berlin
or
Munich
?
Are you a
student or backpacker
traveling
alone through Germany
?
Find a
Contiki tour
to Europe.
Train and Bus Prices
The best prices for buses and trains in Germany
can be found on Omio
(formerly
GoEuro
). They let you search across all train, bus, and plane routes throughout the region.