Germany On a Budget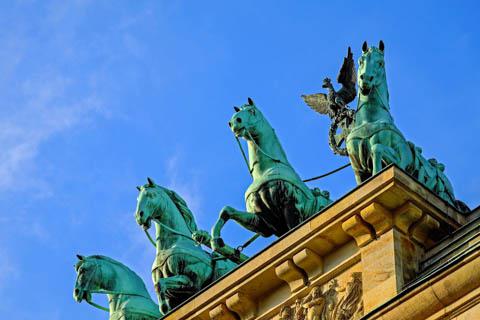 Germany is the largest country in central Europe. It is highly influential financially, culturally, and politically and it is recognized for its precision engineering and high-tech products. Despite its strong influence technologically, it still manages to maintain an old-world charm and "Gemutlichkeit" (coziness) or hospitality. It's a lovely place to visit and most tourists find the locals to be very welcoming and eager to show off their country.
Given the country's large size, it has several distinct regions that are surprisingly diverse, making it a pleasure to explore. The north is known for its hills and coastline which stretches along the Baltic Sea. Western Germany is wine country and is a wonderful place to relax and sip some of the area's finest wine. Central Germany has dense forests, historic towns, and large cities which act as financial centers. Eastern Germany houses the capital, Berlin, and Southern Germany touches the Alps, which offers perhaps some of the most beautiful landscape in Europe. Germany has many cities which are worth visiting, the most popular of which include Berlin, Munich, Frankfurt and Hamburg. Allow yourself several days in each city, but also make sure you have time to enjoy the countryside and Germany's quaint, fairytale like small towns. Many people think of castles when they think of Germany. Many of these are found along the "Romantic Road" which is a popular scenic route that passes by many of the most well known castles and a handful of lovely small towns. Perhaps the most quintessential castle along the route is Neuschwanstein Castle.
Although Germany is not really considered a budget travel destination, there are some tricks you can use to save some money. Perhaps the most significant cost savings will come from booking your train tickets several weeks in advance. This can cut the cost by as much as half, but it will reduce the amount of flexibility you have when you travel. There are also some good budget food options. There are street vendors in most of the larger cities and many of the small towns. Most sell sausages, but sometimes you'll find more diversity and the cost really can't be beat. Also look into free tour options in the larger cities. Inquire at the visitors center and they may be able to tell you about some free, student run tour programs. These tours offer a great overview to the city before you begin exploration on your own.
At A Glance
Most people think of Oktoberfest when they think of Germany. This is the single largest festival in all of Europe and it is popular with travelers from around the world. People head to the Bavarian region of the country to fully experience the festive beer culture that exists here.


There are many budget airlines that fly into Germany. This is a popular way to reach the country at a low cost, but do be careful as there are some tricks that you might need to be concerned about. Make sure you fully understand any additional fees for baggage, taxes, or food before you book your ticket. Also make sure you know where the airport is that you're flying into. They are often well outside of town and the public transportation can be lacking.


Look into EuroCity trains that travel throughout Germany and connect many cities with the neighboring countries. These trains are often slower than the European high speed trains, but they are also cheaper and provide more interesting views of the landscape.


The easiest place to buy a train ticket is at one of the vending machines that you'll find at most train stations. If you're confused about the route, price, or schedule then your better option is to go to the manned ticket counter where they can answer any questions you might have.


Look into the BahnCard. This is a year long pass for train travel. If you'll be spending any extended time in Germany and will be traveling by train a lot then this may be a good option for you.
Related:
Looking for a party in
Berlin
or
Munich
?
Are you a
student or backpacker
traveling
alone through Germany
?
Find a
Contiki tour
to Europe.
Top Tourist Attractions
The Alps:
The German Alps are a beautiful destination any time of the year. During the winter months they offer great skiing opportunities for winter sports enthusiasts, and during the summer you can enjoy some wonderful hiking and breathtaking views. There are beautiful small towns that dot the countryside and it's worth stopping by a couple to get a feel for the area.
The Black Forest:
The Black Forest has countless hiking trails, many restaurants, and unique shops. It is located in southwest Germany and is bordered by the Rhine Valley.
Neuschwanstein Castle:
Perhaps the most iconic of all the German castles, its found along the Romantic Road and is one of the most visited castles in all of Germany.
Brandenburg Gate:
A former city gate in Berlin, this site is considered a symbol of Berlin's past.
Popular Foods
German restaurants often serve traditional dishes that are based on meat and potatoes. Dishes are often served with gravy and a side of vegetables. If you go to a more modern restaurant, the dishes will be more influenced by nearby European countries, but whatever city you visit, you'll likely find a good bratwurst and a cold beer somewhere.
Bratwurst:
This is the most common German sausage and it is found everywhere. It's often served with mustard and sauerkraut on a bun. It's a great budget option and can easily be purchased from street vendors in most large cities. It makes for a good late night snack or a quick lunch option when you're on the go.
Doner Kebab:
This veal or chicken dish actually originated in Germany, despite it being considered a Turkish dish. It's a popular, affordable meal that is rich in flavor, but cheap in cost.
Rehrucken:
This is a venison tenderloin that is typically served with noodles and a heavy gravy sauce. You'll find it in many different traditional style restaurants.
Rinderroulade:
A uniquely German dish, this is made from very thinly sliced beef that is rolled around a piece of bacon and pickled cucumber.