Best Hostels and Budget Hotels in Hoi An for Backpackers, Couples, and Solo Travellers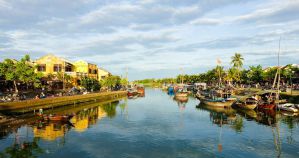 Hoi An is a beautiful city in Vietnam, just south of Da Nang. Most people visit Hoi An to see the famous Old Town which is listed as a UNESCO World Heritage Site. Tran Phu is the main street through town. There are also two islands in the Thu Bon River just south of the Old Town. These islands are An Hoi to the west and Cam Nam to the east. Hoi An is known for its cuisine and tailor shops. Many people have tailor made clothes designed while they are in town. Quality can vary so shop around.
As a major tourist destination, there is no shortage of hotels, guesthouses, and hostels in Hoi An. Prices remain quite competitive and it is not hard to find a good deal. Although prices might be slightly more than elsewhere in Vietnam, the difference is really minimal. You'll find many hotels concentrated north of the Old Town which is just a short walk away.
How much do hostels in Hoi An cost?
| | |
| --- | --- |
| Average Dorm Price | $7 ($5 to $12) |
| Average Double Private Room Price (in a hostel) | $24 ($2 to $200) |
A good option for couples.
Private Room:
$
8.00
Overall Rating:
98%
Blue Clouds Hotel is a simple and affordable place to stay in Hoi An, Vietnam. The hotel has several great conveniences for guests including refrigerators in the rooms, air conditioning, ensuite bathrooms, and in-room televisions. They also offer breakfast, wi-fi, room service, and laundry service to guests. If you need help arranging transportation or tours, they can help you coordinate that as well.
This is a family owned and run hotel. The staff are all within the family and many live on the premise. They take a personal interest in the hotel and its guests, and you'll quickly feel welcomed here. There is a family oriented atmosphere and you'll feel like you're staying in someone's home.
The hotel has twin, double, and three bed private rooms that you can choose from.
99/9 Hung Vuong
,
Hoi An
,
Vietnam
,
A good option for couples, small groups, and solo travellers.
Private Room:
$
12.00
Overall Rating:
96%
Loc Phat Hoi An is another family run hotel in the area. The hotel has been in the family for four generations and they have strong roots in the community. The family and their young kids are a fun presence in the hotel, and you will truly feel like you're staying with a local family. The hotel is run by different members of the family, and they're all friendly and will greet you with welcoming Vietnamese hospitality. Breakfast is served every morning and the rooms are cleaned daily. You can also purchase home cooked lunch or dinner meals, and cooking classes are available if you'd like to learn to prepare traditional Vietnamese food yourself.
This hotel is run by a wonderful family who works hard to give back to the community. They sponsor young children's education, which is not free in Vietnam. They donate time, energy, and money to the community that they love, and you will see that during your time here. This is a wonderful place to stay in Hoi An.
The hotel has private rooms that include twins, doubles, triples, and quads. Each room has it's own private attached bathroom.
420 Cua Dai, Hoi An, Quang Nam
,
Hoi An
,
Vietnam
,
A good option for solo travellers, couples, small groups, and families.
Private Room:
$
12.00
Overall Rating:
93%
Hoian Salute Hotel and Villas is another good option for budget travelers and backpackers to Hoi An. The hotel has modern rooms that are clean and comfortable. There's an outdoor pool where you can go for a refreshing swim after a day exploring the city in Vietnam's famous heat. The hostel also has many great amenities including large rooms, comfortable beds, air conditioning, cable television, coffee and tea machines, and a mini bar.
The hotel is conveniently located about half way between the Hoi An Ancient Town and the beach. It sits on a quiet and peaceful street where you can be assured a good nights sleep. It's about a five minute bike ride from the Ancient Town and is two kilometers from An Bang Beach. It's also about a 45 minute drive from Danang International Airport.
The hotel has twin, double, triple, four, and five bed private rooms available. Whether you're traveling alone, as a couple, or with friends or family, this is a good option.
5 Le Dinh Tham
,
Hoi An
,
Vietnam
,
A good option for solo travellers, couples, and small groups.
Dorm Bed:
$
5.00
Private Room:
$
5.00
Overall Rating:
92%
Backpackers Home Homestay is a fun place to stay for young travelers to Hoi An. It has both dorms and private rooms available. Each dorm has four beds and is cleaned daily. Private room have a balcony, flat screen television, and a mini bar. All rooms are air conditioned as well and some rooms enjoy a garden view.
The hostel has a lot to offer guests. There is a nice garden and a shared living area where you can relax with a book or watch television. There's also a shared kitchen and breakfast is served every morning. Bicycles are available for rent for just a dollar.
The hostel is about two kilometers from the Assembly Hall of Chaozhou Chinese Congregation and 4 kilometers from An Bang public beach.
To 6 -Son Pho 2-Cam Chau
,
Hoi An
,
Vietnam
,
Share This Article