Egypt On a Budget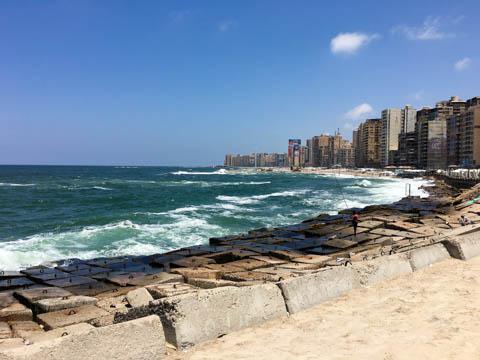 Egypt is a country filled with history. It has inspired legends, myths, and movies from around the world and its culture has influenced many aspects of life in the modern world. During a visit to Egypt, you are able to catch just a glimpse of the historic civilization that created the basis for modern society.
Many images spring to mind when one thinks of Egypt, but this country is so much more than just the pyramids. While the the pyramids alone are worth the trip, you must venture beyond the crowded sights and tourist buses so that you can see what lies beneath the surface. Most trips to this country begin in Cairo and then head south along the Nile River. Many people choose to experience the river at a leisurely pace, relaxing on a cruise that stops frequently to see ruins and temples that dot the banks of this great river. Allow yourself enough time to spend several days in Luxor where you can visit the tombs of great kings. Then, head to the Sinai Peninsula for a dip in the Red Sea and some of the best diving in the world. Climb Mount Sinai for sunrise and take a camel ride into the desert to experience the Bedouin culture. Egypt truly is as diverse as it is famous. You may go to see the pyramids, but you will find so much more.
Travel budgets in the area can vary dramatically. You will never encounter two tourists who have paid the same price for one purchase. Ultimately, your travel costs will depend on your bartering skills. Of all the countries you will ever visit, Egypt will test your skills to their fullest. Almost everything is negotiable in price. It can quickly become draining and dispiriting for some travelers but the trick is to negotiate with a smile. See it as a game and have fun with the vendors. You will pay to much, everybody does, but if you can do it with a smile then at least you had fun in the process.
At A Glance
Touts are very aggressive in this country. Be prepared to negotiate hard. Vendors will have you constantly saying "no, thank you." In touristy areas you'll be asked for a tip for even the most simple tasks. Do not feel obligated to give money to everybody who asks. If you do, you will quickly be broke. Instead, simply acknowledge the request and move on. Most touts will not follow you.


Head to the local markets to buy fruits and vegetables. If you're good at negotiating you'll get a decent deal on any number of food items. This is a great way to have a makeshift meal or snack that is fresh and delicious. Depending on the season you can get any number of fruits or vegetables. If you have access to a knife, you can peel it up and dig in on the spot.


Egypt is a very touristy country. Make a point of getting off of the beaten path a little bit. Head to some towns or neighborhoods that are not frequented by tourists and you'll have a very unique experience that you might otherwise miss out on. Cairo in particular has some neighborhoods that are fun to explore, but may not be listed in a guide book. Make sure you have at least a day to just wander through the city.


You can easily arrange your Nile Cruise after you arrive in the country. There are many travel agencies that will sell you a cruise. Negotiate hard on the price and if possible ask to see the ship in advance before booking.


Tours are not necessary, but can be informative. Since history is a major draw in this country it helps to have a good guide who can offer you the information you need or might be interested in. Guides can also help you avoid some of the more aggressive touts that hang out at some of the major sights.


Related:
Looking for a
hostel in Delhi
or
Goa
? Heading to
Kathmandu
or want a
party in Tel Aviv
?
Top Tourist Attractions
The Pyramids:
In the outskirts of Cairo, the great pyramids are what attract most people to Egypt. They are best visited during the morning hours before tour buses arrive. If you arrive early enough you'll enjoy a particularly breathtaking experience as the lighting will be dramatic and the crowds will be surprisingly scarce.
A Nile Cruise:
Spend a few days drifting down the Nile, taking in historic sights and watching the banks pass by. Stop off at ruins along the river that you might otherwise miss, and enjoy a fine Egyptian buffet in the evening before relaxing by the side of your boat's pool.
Luxor:
Filled with ruins, temples, and tombs, you can fill many days in the City of Luxor. It's, perhaps, the most historic and impressive city in Egypt, but unfortunately, many tourists pass through in only a day or two. Allow yourself more time to see the city in all its depth.
Popular Foods
Egyptian food is a combination of Mediterranean and Middle Eastern flavors. It often makes use of fresh ingredients and you can find a range of regional specialties throughout the country. There is plenty of seafood available on the coast, while lentil and vegetable dishes are popular as you move inland.
Aish Merahrah:
This is a type of Egyptian flat bread that is made from maize and fenugreek seeds. Aish Merahrah is prepared in most village homes in Upper Egypt. It's a staple food that is similar to Lebanese flat bread and can make a nice supplement to any meal.
Kebabs:
Kebabs are skewers of meat and vegetable grilled until they're crisp. They have gained popularity around the world, but remain a popular traditional dish in Egypt. They're often served with bread or another grain on the side and can make a delicious, and often times affordable, option for a meal.
Falafel:
Falafel is made from fava beans or chickpeas which are finely ground and made into a ball. The balls are then deep fried, and often served on a sandwich. It's a popular, cheap street food, but can also be found in many restaurants at lunch time.