Freeport On a Budget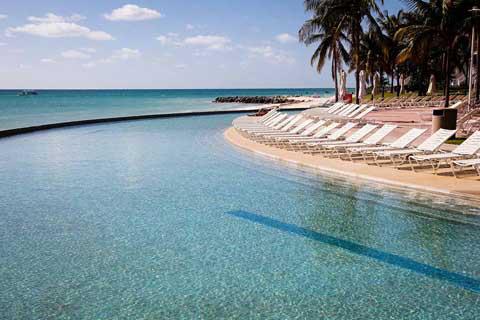 When you picture the Bahamas you likely picture the beaches, resorts and playgrounds of Nassau. Just to the northwest of this tourist paradise is a tropical city founded on industry. Freeport began as mostly swampland and is now the second most populous city in the Bahamas.
This city is less of a tourist attraction - a place where you'll find the true Bahaman culture mixed in with some relaxing spots to help you unwind and get into your island vacation.
Sights
While this city is not exactly designed for tourists the way Nassau is, there are still plenty of things to see in Freeport.
For you film lovers out there, you'll want to visit the Lucayan National Park. Here, on the Gold Rock Beach is where the second and third "Pirates of the Caribbean" movies were filmed. Once you've walked in the footsteps of Johnny Depp, be sure to check out the cavern entrance to the limestone cave system – one of the largest underwater cave systems in the world. Once the sun sets, you'll find yourself in just the right spot for a romantic moonlit stroll.
The most popular spot for food, drink and island shopping is Port Lucaya. If you're looking to plan a tour or a water adventure, there are plenty of booths here to assist you in making your plans. Stay after sunset for some live music and entertainment, and keep in mind that Friday and Saturday nights can often become quite crowded.
For a casual stroll through lush, tropical wonders, take a trip to the12-acre Garden of Groves botanical garden. A walking trail guides you through tamarind and java plum trees, past beautiful man-made waterfalls, a peaceful lagoon and a small, centuries old chapel. A limestone labyrinth provides a place for some quiet meditation and relaxation while the kids can enjoy the critters in the raccoon habitat.
Even though Freeport is not full of resorts, there are still plenty of white sand beaches for all travelers to enjoy. Most people opt to lay their towel on the nearby beaches of Our Lucaya. The further you travel, the more private you'll find your beaches. Try spots like Coral Beach, Williams Town Beach, Xanadu Beach, Barbarry Beach, Gold Rock Beach and more.
Activities
While you are floating on the waves of these beaches, consider the other activities you can enjoy on the water in Freeport. Snorkeling or scuba diving will get you up close and personal to Freeport's friendliest fish. The tropical coral is stunning and you can even explore underwater limestone caves and shipwrecks.
If you're itching to get out of town, take a small trip to 8 Mile Rock. This small journey will reveal a beautiful, natural wonder. The street runs right along the water revealing glorious natural pools.
Food and Dining
It shouldn't come as any surprise that Freeport is equipped to offer any number of dishes, but most places will have standard burgers and fries. Many restaurants can be found at Port Lucaya or in the Lucayan Market.
For a little more local flavor, look into attending a local fish fry. There are several happening all over the island every night. The most popular one is every Wednesday night on Taino Beach.
Whenever you're visiting the Caribbean, however, you want to sample the seafood. Freeport is home to many restaurants specializing in delicious dishes. It is highly recommended that you order the dishes that even the locals love like conch (pronounced conk) salads or mutton stew.
Transportation
Taxis are available all over Freeport, but be sure to negotiate the price with your driver up front. Between tourist attractions many cabs will charge a flat rate based on distance and how many people are in your party. Negotiate carefully and if they are trying to charge you more, walk away. There is never a shortage of cabs in the Caribbean.
There are also many tour bus services that operate in Freeport. Schedule one through your hotel or even online before you arrive. A guided tour will cover transportation and give you more history and detail about the city than you will likely find on your own.
Renting a car is another option during your stay in Freeport.
Related:
Looking for a
party hostel in Costa Rica
or
Cancun
? Looking for a
budget hostel in Mexico
or
Costa Rica
?