Nassau On a Budget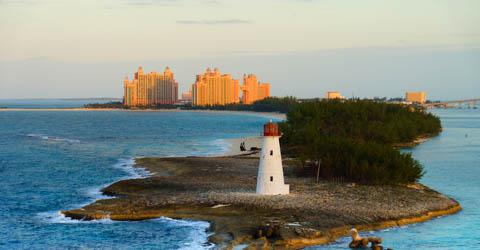 There are few vacation destinations more famous than the Bahamian city of Nassau. This capital city is full of laid back locals, relaxed tourists and the iconic pastel pink government houses.
As the largest city in the Bahamas, Nassau can hold plenty of people. Not only are there hundreds of tourists on any given day, the city is also home to 260,000 people – that is 80 percent of the Bahamas' total population.
Founded around 1650, Nassau's location made it a great spot on the trade route. So great, in fact, that it also became a popular destination for pirates – including the infamous Blackbeard.
Pack light because it's going to be pretty steamy in Nassau. The climate is essentially identical to southern Florida. It is warm and humid all year with the occasional cold snap in the winter.
Sights
For a beautiful afternoon stroll, walk around Old Town Nassau, which is close to the cruise port. As you walk along the streets, admire the contrasts in the abandoned buildings next to the bright Caribbean buildings. Walk a bit uphill to the perfect tourist picture in front of the bright pink Parliament Building with the statue of Queen Victoria.
If you're an animal lover, you may enjoy seeing the native wildlife at the Ardastra Gardens, Zoo and Conservation Center. Get a front row seat for the marching flamingo show and feed parakeets right from your shoulder.
If you think your love for art will go to waste in an infamous beach town, you would be wrong. The National Art Gallery of the Bahamas is full of pieces ranging from the pre-colonial era to modern day. This may not be the greatest art in the world, but the building itself is certainly worth a visit.
If history is more your passion, there are a few spots to visit. The Pirate Museum, for example, is home to some really interesting pieces including the recreation of a pirate town and a pirate battle. It is a bit cheesy but great for a family outing with the kids. For a bit of real history, however, visit the small
Fort Fincastle
. Built in 1793, this fort overlooks the entire city of Nassau.
Neighborhoods
Sitting on the northern shore of the island, Nassau borders the sea to the north. The western area of Nassau's coastline is dedicated to the port, which is where the cruise ships dock and where most of the day passengers arrive.
Just south of the ports and stretching to the south and east is Old Town, full of shops, restaurants, art galleries, hotels, and other amenities that travelers (day trippers and more long term) would want or need. Many of the areas close to the cruise ship port are much more tourist-oritend and family friendly. For cheaper shopping and a more authentic vibe, venture onward.
The western area of Nassau's coastline is Paradise island, home to Atlantis and a few other resort hotels, plus various water sports and beaches.
On the inland side of Paradise island is more of the local's area of Old Town, still with shops and restaurants but with less of the day-tripping cruise passengers.
Potters Cay, the small island between Paradise island and the town, is home to a fish market and some smaller shack-like seafood restaurants serving fresh seafood and conch.
Activities
Like most tourists, you will likely want to cross the bridge and jump right into
Paradise Island
, home of
Atlantis
and a few other resorts. These glitzy resorts coupled with water park rides, casinos and celebrity restaurants offer plenty of fun.
The Atlantis Resort is the largest and most famous of the resorts in this area. It has plenty of things to do and see, including a water park and aquarium, not to mention the numerous restaurants. If you're visiting with your family, check out these
tips for visiting Atlantis with kids
. Or, for more information, see this article about
things to do at Atlantis Bahamas
, or for even more information check out this
guide to the best things to do at Atlantis Bahamas in a day
. This entire area is one large compound designed to entertain, and day-passes are available for those not staying in the hotel (such as cruise passengers).
Day passes to Atlantis and Paradise Island come in various options ranging from $45 to $139 (U.S Dollars), depending on which areas of the complex you wish to access. "The Dig" is an archaeological and science-fiction themed aquarium and natural area. Also, there is a huge and popular waterpark with slides and wave pools. Another option is to get beach access with associated water sports such as snorkeling. Other day passes are available to nearby resorts (with their associated beaches and pools) such as Sandals, the Melia, the British Colonial Hilton, or the Graycliff Hotel. Tickets for most of these facilities can be purchased upon arrival, but some require reservations - and cheaper prices can often be found if tickets are purchased ahead of time.
While Paradise Island may be full of adrenaline-pumping activities, there are ways to unwind there, too. The sunrise morning yoga class at Sivananda Ashram Yoga Retreat is the best way to get centered and calm for your vacation.
Take your seafood marketing to a whole new level by visiting Potter's Cay. This is where you'll find the freshest of freshly caught conch and then walk over to Moby Dick Restaurant to try these out "crack conch" style - battered and fried.
After you've seen the beauties of Nassau above ground, time to take a look under the surface. There are so many ways to make friends with the fish in the waters in Nassau. Glass-bottom boats, snorkeling, diving, and even a family-friendly submarine ride all let you take the underwater adventure of a lifetime.
Also, if you're interested in visiting the Bahamas on your honeymoon, read this great
honeymooning in the Bahamas guide
.
Food and Dining
While Nassau resorts certainly have five-star meals, it might be smart to get out of the hotel to try the real, local Bahamian flavors. A cheap, authentic meal of fish, sides and desserts are available at any hole-in-the-wall diners around town. Waterside seafood restaurants also feature locally caught seafood – especially the lobster or conch.
Transportation
Nassau does not have the typical bus system. Rather than the large city bus, Nassau uses minibuses, or jitneys. This mode of transportation is an inexpensive and convenient way to see the city.
Taxis are another convenient way to get around the city. Many drivers are equipped with meters but refuse to use them. Be sure to agree on a fare before getting in the cab. Even after a rate has been agreed upon, often drivers will try to change the rate in the car. Be careful not to be ripped off.
There are more fun options for transportation like renting a scooter or a bike. Plus, if you plan on staying in downtown Nassau, walking is also an easy option.
Related
Looking for a
party hostel in Costa Rica
or
Cancun
? Looking for a
budget hostel in Mexico
or
Costa Rica
?