San Pedro On a Budget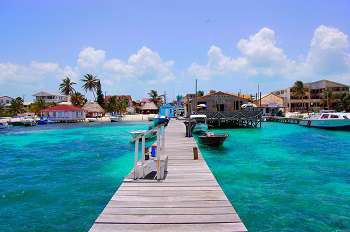 San Pedro is the largest town on Ambergris Caye, one of the most popular tourist destinations in Belize. Here you can find a tropical paradise with warm weather, clear blue waters, plenty of activities such as snorkeling and scuba diving, and a host of hotels, restaurants, and other amenities.
Sights
The obvious sights and attractions here are the beach, the clear water for snorkeling and scuba diving, and general relaxation at the local bars and seafood restaurants.
Not too far from town on the southern end of the town lies Marco Gonzalez Archaeological Reserve, a tranquil setting where visitors can learn about the ancient Mayan inhabitants of the island.
Also, plenty of chocolate is grown and produced in the area. Check out the various chocolate shops and "factories" on the island where you can buy delicious sweet treats.
Activities
Diving and snorkeling are two of the most common activities here. The nearby Hol Chan Marine Reserve is a protected area full of marine life and coral reefs. Of course, the entire stretch of coastline contains coral reefs (except where it's been destroyed). Another popular spot is the Blue Hole, which is much further out to sea and requires boat transportation. You can also fly over it for a great view.
Food and Dining
A plethora of seafood restaurants and bars can be found in town. Just wander around and you'll run into one along the beach or in the main part of town.
Check out Caroline's Cookin', Estel's Restaurant, Red Ginger, and Wild Mangos for some great meals.
The cuisine in the area is mixed. You'll find plenty of "American" style food along with some Central American and latin flare as well. Indian, Chinese, and other options are also available.
Transportation
San Pedro has an airport which is the quickest way to arrive.
Or,
take the ferry from Belize City to San Pedro
to the small port located right in the center of town. The ferry runs to and from Belize City 5 times a day and takes about 90 minutes.