Santa Cruz de la Sierra On a Budget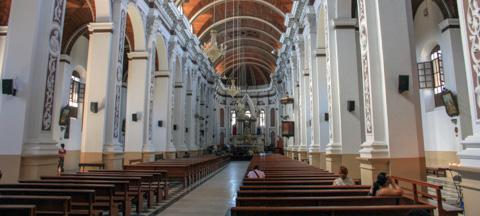 Santa Cruz de la Sierra, or simply Santa Cruz, is a larger city in the middle of Bolivia. It is also one of the most wealthy cities in the country. The city is also one of the fastest growing in the world. It is famous for its nightlife and it makes an excellent base for exploring many of the tourist attractions in the nearby areas.
Santa Cruz is at a lower elevation than many cities in Bolivia. At just 416 meters, it has a tropical climate. The average temperature year around is 73 degrees Fahrenheit. During the winter the city is prone to cold winds, called "surazos", but in general, the temperature is warm throughout the year. January and February receive the most rainfall.
Sights
Most people use Santa Cruz as a base and book excursions from town to the surrounding areas. In town, the Pirai River, which is a muddy river with little water during the dry season, is a place to meet locals and socialize. There are some interesting museums in town as well including, Noel Kempff Mercado Natural History Museum, Teniente General German Busch Becerra National History Museum, Noel Kempff Mercado Natural History Museum, the National and Regional Museum and Archive, Guarani Museum, the Cathedral Museum of Sacred Art, the Museum of Art and Archaeology, the Museum of Independence, and many more, including a variety of cultural centers.
Neighborhoods
Palaza 24 de Septiembre, or Principal Plaza, is the city's main square. You'll find locals and tourists relaxing in the area as there are many benches and tables where you can chat or play games. There are also some great restaurants or outdoor cafes in the area. It's a great place to get a feel for the city and see some of the day to day activities going on around you. There's also a nice view from the top of the cathedral's belltower. For a small fee you can climb to the top during daytime hours.
If you're looking for a festive place to hang out later at night, you probably want to head over to Avenida Busch. The area has a good number of pubs and is easy to travel to from the city center. If you're looking for an area with more lively parties, head over to Equipetrol, which has a lot of clubs and discos that are opened late into the night.
Activities
Many people arrive here and book excursions to the surrounding areas. Some great options include trekking in Park Amboro, visiting the waterfalls of "Espejillos Waterfalls" and Jardin De Las Delicas Waterfalls, or searching for Jaguars in Kaa Iya National Park. There are also some cultural trips you can take to the nearby Jesuit Missions. For any of your excursions, make sure you're using a reputable tour company. Ask fellow travelers in advance or read reviews online before you reserve your tour.
Food and Dining
You'll find many of the city's best restaurants in the northern neighborhoods. Specifically, there is a high concentration of great places to eat around Avenida Monsenor Rivero. You'll also find many cafes that sell snacks and coffee. You can also find some great restaurants offering traditional Bolivian cuisine, and a few international restaurants if you're looking for a taste of home.
Local food is quite good and there are many local specialties. Majao is a risotto-style dish with charque, duck, or chicken. Locro is a rice and hen soup that is made with potatoes, onion, garlic, and oregano. Pipian is a chicken dish that is flavored with peanut butter and served with rice and cassa. Patasca is a corn and pork soup that is served with yuca and green onions. For pastries, try cunape, sonso, and empanadas, among others.
Transportation
The only real form of public transit in Santa Cruz is micros. Routes 17 and 18 go around the first ring of the city and routes 72 and 73 go around the second ring. You can reach the center by taking either Micro 69 or 100 from Parque Urbano. Maps of the routes are available in "librerias" or bookstores in the downtown area.
Shared taxis, or "trufis" also go around the rings. These are faster than micros and are usually more comfortable.
Related:
Looking for a
party hostel in Rio
,
Sao Paulo
,
Lima
, or
Buenos Aires
?
Traveling alone through
Argentina
?