Cyprus On a Budget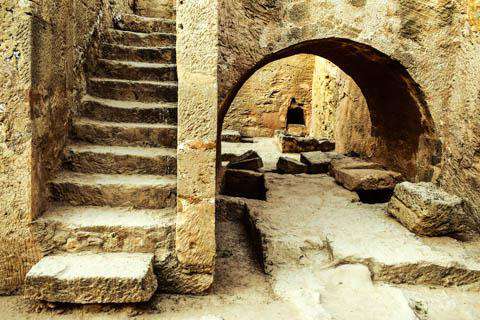 Cyprus is the third largest island in the Mediterranean Sea. It's located south of Turkey and is geographically in Asia but politically considered Europe. It is also a member of the European Union.
In 1960, Cyprus gained independence from the United Kingdom. It's constitution originally created a power-sharing agreement between the Greek Cypriot majority and the Turkish Cypriot minority but after clashes in 1974, the northern and eastern 40% of the island became occupied by Turkey. This area, the Turkish Republic of Northern Cyprus, is only recognized by the country of Turkey. All other countries in the United Nations recognize the government of the Republic of Cyprus throughout the entire island. There is a narrow buffer zone between the two areas but the area has been peaceful for a long time and they are moving towards reunification.
The climate of Cyprus is temperate and Mediterranean. It has hot and humid summers and cool and damp winters. There is a central plain on the island, with mountains in the north and south and scattered plains throughout the southern coast.
There are six administrative regions in Cyprus. The Kyrenia district, a large part of the Famagusta district, and the northern region of the Nicosia district are occupied by Turkish forces.
At A Glance
The main airport in Cyprus is on the outer edge of Larnaka. Several airlines travel to the country with the most popular one being Cypriot Cyprus Airways. There are flight connections throughout Europe and the Middle East. The airport is connected to central Larnaca by a very affordable public bus. You'll find the bus stop in the departure area upstairs.


There is a ferry service that runs between Cyprus and Greece, although it is infrequent. The ferry services to Israel and Egypt have been halted, but there is a two or three day cruise during the summer months that carry visitors one way between Israel and Cyprus.


There has been a lot of recent work on the public transportation system in Cyprus, but having a private vehicle is still the easiest way to navigate the island. There is a network of bus routes that cover the island, but there is no railway. Shared taxis also run frequently during the daytime hours, but stop early. Hiring a vehicle is the most convenient, but expensive way to travel.


Both Greek and Turkish are the official languages of Cyprus. Greek is most common in the south and Turkish is more common in the north. Because of the earlier governance by the United Kingdom, English is spoken by most residents. It is also not uncommon to find people who speak French, German and Russian.


Common souvenirs to purchase in Cyprus include local wine or Zivania. A popular wine variety is Commandaria which is sweet and comparable to Porto. Zivania is a popular alcoholic drink throughout the island. Other local items include lace from the village of Lefkara and any item made out of leather (such as shoes or handbags).
Related:
Looking for a party in
Athens
or
Istanbul
?
Traveling alone to
Athens
or
Santorini
?
Find a
Contiki tour
to Europe.
Top Tourist Attractions
Akamas Peninsula:
Akamas is in the northwestern extremity of Cyprus and covers about 230 square kilometers. It is a great area to explore on bike and attracts travelers who are interested in the area's culture, biodiversity, and sports such as golf.
Paphos Archaeological Park:
Here you will find many different sites including the House of Dionysos and the House of Theseus. These are both ruins of large villas that originated during the Roman time. They are particularly famous for their mosaics.
Tala Village:
This traditional village is located high in the northwestern part of Paphos. Today there is a large expat community but there is a pleasant Agios Neophytos Monastery nearby and many delicious restaurants.
Popular Foods
Predictably, Cyprus cuisine is really a combination of Greek and Turkish cuisines. There is influence from both Europe and the Middle East, but many meals are prepared with a local twist and their own unique flavors. Fresh and local ingredients are typically used and seafood or vegetable based meals are quite common.
Cypriot Meze:
Similar to tapas, meze are small, delicious dishes that come in either meat or fish varieties. There are restaurants that specialize specifically in meze and sell nothing else. A meal of meze is a must for any trip to Cyprus.
Halloumi:
This is a unique Cyprus cheese made from a combination of cow's and sheep's milk. Uncooked, it is hard and very salty. It's hard textures allows you to grill it, which creates a softer and very flavorful cheese that is quite delicious.
Taramosalata:
To make this traditional dish, cod or carp roe is mixed with either bread crumbs or mashed potatoes. Parsley, onion, lemon juice, olive oil and vinegar are added for flavor.