Addis Ababa On a Budget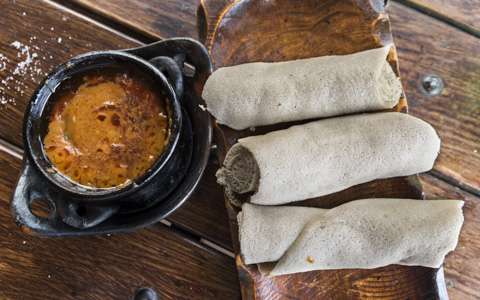 Addis Ababa is the capital city of Ethiopia and also the nation's largest when ranked by its population of over three million. There are also more than 120 international missions and embassies in Addis Ababa, making the city a hub for international diplomacy concerning Africa. Other draws include its thriving marketplaces, spicy food, and rich coffee.
As it's the transportation hub of the country, you won't be able to skip it unless you fly in and out right away.
Sights
Meskel Square serves as a central gathering place to Addis Ababa. It is often used as a location for festivals and political demonstrations and is a good point of reference for local transportation. Also in the square is the official Ethiopian Tourism office, and nearby are two museums: The Red Terror Martyrs Memorial Museum (a small and modern museum showing and explaining the period of "Red Terror" in Ethiopia) and the Addis Ababa Museum (which focuses solely on artifacts and exhibits from Addis Ababa). Other museums worth visiting include the Ethiopian National Museum, which features artifacts from all over Ethiopia spanning thousands of years, as well as the Ethiopian Ethnological Museum, which showcases exhibits relating to the ethnic history and culture of Ethiopia.
Addis Ababa is also home to a selection of impressive landmarks and monuments. Tiglachan Monument, for example, located on Churchill Avenue, is a memorial of the Ogaden War with Somalia, while the Statue of the Lion of Judah, in front of the old Railway Station in Addis Ababa, represents the Ethiopian pride and the emperor. There is also another Statue of the Lion of Judah made from black stone that sits outside the National Theater. As far as religious landmarks go, St. George's Cathedral and museum is the most famous place of worship in the city, featuring memorabilia from the ancient church and a collection of religious writings, Ethiopian crosses, and clothing. Alternatively, the Holy Trinity Cathedral is the most sacred Ethiopian Orthodox church in the city, and one of the most sacred sites of worship in Ethiopia after the churches of Lalibela.
Neighborhoods
Areas like CMC, Ayat, Gerji, and Lebu are mostly quiet residential neighborhoods. Bole Road (also called Airport Road) and the Haya Hulet area are fairly high standard with plenty of cafes, restaurants, accommodations, and opportunities for shopping. Besides Bole and Haya Hulet another popular hub for tourists is the Mercato, an open air market still in use that dates from the colonial administration of the late 1930s. It is also one of the largest outdoor markets in the world, featuring items from tourist t-shirts and souvenirs to handcrafted goods made with wood, metal, fabric, and more. Other shopping centers include a string of souvenir shops on Churchill Avenue going downhill from Tomoca cafe as well as Shiromeda Market between Sidist Kilo & Mt Entoto which offers a calmer alternative to the bustle of Mercato. Haggling is widely practiced in most shopping areas of the city.
Activities
Walking around and exploring Addis Ababa on foot is one of the best ways to experience the life and character of the city. An especially popular place to do so is at the Mercato market where visitors can get a taste of the culture of Addis from crowds of people going about their daily bustle to a large selection of street food, local crafts, and souvenirs. Another great place to explore is the Bole sub-city of Addis Ababa - a modern trendy district of town, packed with shopping centers, the Edna Mall cinema, condos, hotels, and plenty of both international and upscale Ethiopian restaurants.
Food and Dining
Central to Ethiopian cuisine is a bread-like food called
Injera
. It is a yeast-risen flat bread with a unique, slightly spongy texture and mildly sour taste, traditionally made out of tef flour. The Injera is typically laid out on a platter and accompanied by a smattering of spicy stews, cooked vegetables, and salads for dipping. Other common mixed platters include Maheberawi (meat mixed plate) which usually combines several stews like key wat (beef stew), tibs (lamb, beef or goat cubes stir-fried with herbs and spices), and kitfo (raw ground beef) as well as Yetsom Beyaynetu (vegetarian mixed plate) which usually includes several types of lentil and split pea stews with kale (gomen) and a spicy tomato stew (sils). A few additional meat dishes include Doro Wat (chicken stew), Minchet (spicy ground beef stew), and Gomen Be Sega (meat with vegetables), while vegetarian selections include Shiro (chickpea stew), Mesir Wat (red lentil stew), and Kik Wat (split pea stew). Coffee in Ethiopia is also of the highest quality, and is often served in a ceremonial process which involves three rounds of coffee that proceed from strong (abol) to medium (tona) to weak (baraka), with the final round considered as bestowing a blessing on the coffee drinker.
Transportation
Bole International Airport, the busiest airport in East Africa and the hub of Ethiopian Airlines, is located at the southeast end of the city. It is serviced by several international airlines with daily flights to Europe, United States, and Asia as well as inter-African destinations including Accra, Bamako, Brazzaville, Cairo, Dakar, Dar es Salaam, Djibouti, Khartoum, Harare, Johannesburg, Nairobi, and many other cities in Africa. There are two terminals-one for domestic flights and one for international.