Cheap Activities and Tours in Lyon, France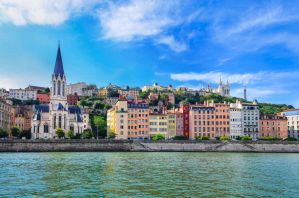 Lyon is not to be missed. As France's second largest city, this river-oriented town has something to offer everyone. From art museums to outdoor activities, from fine dining and wines to fun street foods and festivals, it's really no surprise why visitors come here. The weather is terrific in the summer as well as the spring and fall. It's also not too bad in the winter either. And with the Alps and the Mediterranean not too far away, it also makes a great hub for the rest of southern France.
This one is a no-brainer: if you're planning to be in Lyon for a few days or more, then do the math and go ahead and get the Lyon City Card. It gives you free access to public transit during your stay, and also allows you to get into over 20 museums and attractions for free. It basically pays for itself as soon as you ride the tram to a couple of the famous museums. You also get discounts on shows at the larger theaters in the city. And it keeps going from there! You can also reserve a free walking tour (available in multiple languages), plus a free audio guide to carry around town.
You really can't beat this kind of discount!
Approximate Price:
$
27.00
This small group tour will take you to some of Lyon's best attractions on an easy-to-ride electric bicycle. Along the way, you'll visit Old Town, the Place de Terreaux, the Rhone River, La Croix-Rousse, the huge Bassilica, and more. You'll also stop at some local eateries to sample the regional cheeses and sausages. This is a great tour for people of all ages to desire a little bit of exercise and personal attention while seeing the best of Lyon.
Approximate Price:
$
56.00
Let's be honest with ourselves, food is one of the reasons why you're visiting France, right? Come on, don't lie! Well, now you can experience the best of French desserts by taking a cooking class at L'Atelier des Chefs. During your training session you will learn how to make macarons, eclairs, cream puffs, and more. You'll naturally get to taste everything, as it is now against the law in France not to eat dessert. Or, um, that's our excuse, anyhow. The instructors are not just good teachers, but they will make sure you have a great time in the process. And you can take the recipes home, too!
Approximate Price:
$
85.00
The Segway combines the close intimacy of a walking tour with the convenience of a vehicle. You'll have fun zipping around on these upright scooters! Your tour guide will take your group (no more than 8) on a route through old town Lyon to see the highlights. After a safety briefing, the tour will begin and you will earn about the history of Lyon, it's two rivers (the Saone and the Rhone), the Bartholdi fountain, the old architecture of the cathedrals, and more. It's a short tour, but lots of fun and it makes a great overview to the city on your first day. And kids love it, too!
Approximate Price:
$
36.00
Share This Article