Cheap Tours and Activities in Rome, Italy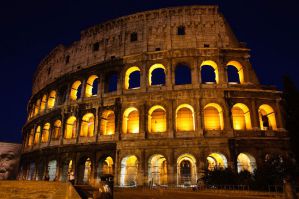 Rome, Italy's capital, is a sprawling, cosmopolitan city with nearly 3,000 years of globally influential art, architecture and culture on display. Ancient ruins such as the Forum and the Colosseum evoke the power of the former Roman Empire. Vatican City, headquarters of the Roman Catholic Church, has St. Peter's Basilica and the Vatican Museums, which house masterpieces such as Michelangelo's Sistine Chapel frescoes. A heady mix of haunting ruins, awe-inspiring art and vibrant street life, Italy's hot-blooded capital is one of the world's most romantic and inspiring cities.
Few cities can rival Rome's astonishing artistic heritage. Throughout history, the city has starred in the great upheavals of Western art, drawing the top artists of the day and inspiring them to push the boundaries of creative achievement. The result is a city awash with priceless treasures. At the same time, a trip to Rome is as much about lapping up the local lifestyle as it is gorging on art and culture. Idling around picturesque streets, relaxing for hours at street side cafes, people-watching on pretty piazzas - these are all an integral part of the Roman experience. Restaurants and hum with activity as eating out is one of Rome's great pleasures and the combination of romantic alfresco settings and superlative food is a guarantee of good times. With so much to see, do, and taste, Rome is a great place to experience, and there are several options for exciting activities and tours in or near the area to help you make the most of your time here.
Get picked up at your hotel or meet your knowledgeable local guide near Rome's main railway station Termini. Then head straight to the historical center, Centro Storico, passing through the spacious Piazza della Repubblica. Wander the narrow cobblestoned lanes of the Centro Storico, passing outdoor cafes, Barque fountains, ancient churches and Renaissance-era palaces. Stop for a while at the 17th-century Trevi Fountain and perhaps even toss a coin in to ensure that you'll come back. After your coin tossing and perhaps a photo, stroll over to the Column of Marcus Aurelius and then to the Bernini-designed palace, Palazzo di Montecitorio, which today is the house of parliament. Get ready to be wowed by the Pantheon, one of the best preserved buildings from ancient Rome. Meaning 'temple of all gods,' the Pantheon is a site to behold: it holds the tombs of Renaissance artist Raphael and King Umberto I, among others. Take a short walk over to stunning Piazza Navona, one of the greatest public spaces in the city to look at the fountains designed by Baroque master Bernini. Hop back on the coach and head to the where the tour began or request being dropped off at one of four different locations.
Approximate Price:
$
46.00
Your gladiator lesson takes place at the Gladiator School of Rome, located near the Colosseum on the historic Appian Way. Specializing in the reenactment of ancient Roman life and gladiator fighting, your instructors are members of the Historic Group of Rome and will begin your class by providing you with your costume, a traditional belt, tunic, leather gloves, and a training sword known as a rudis. Learn the basic skills of gladiator sword fighting before summoning your imagination and channeling your inner ancient Roman as you fight off ferocious lions and battle other sword-wielding gladiators. If you wish, you can participate in an optional gladiator tournament, complete with a prize for the victor. Either way, all participants receive a certificate of accomplishment at the end of your lesson. Friends and family are allowed to watch your class from the viewing platform. Admission to the Gladiator School of Rome Museum is also included so you can check out gladiator weapons and other artifacts.
Approximate Price:
$
62.00
Share This Article