Cheap Day Trips from Madrid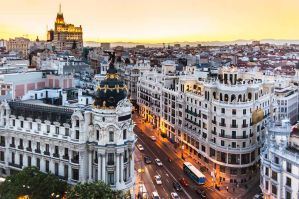 A jewel lying on the shores of the Atlantic, this metropolitan paradise infuses the glory of its past with the beauty of the present in its elegant, sophisticated architecture. A city fit for kings, Madrid, Spain is the capital city of the Kingdom of Spain as well as the township of the Community of Spain and the nation as a whole. Madrid has a population of approximately 6.5 million, making it the third-largest city in the European Union, right after the popular cities of London and Berlin. Madrid, Spain has achieved its international status as a city through its contributions in the arts, politics, education, entertainment, environment, media, fashion, science, and culture. The city holds many significant organizations and clubs, such as the most famous football clubs, Real Madrid and Atletico de Madrid, and the World Tourism Organization. According to Monocle Magazine, Madrid is the seventeenth most liveable city in the world. With a high quality of living, stupendous economic output, and a large market size, Madrid works as a Spanish city that has yet to be beat. With so much history and culture surrounding Madrid, you will find a plethora of interest and exciting day trips at your disposal.
If you are a lover of beautiful scenery and quality wine, look no further than a guided tour to Ribera del Duero Winery with plenty of wine tasting. With approximately ten hours of traveling and tasting, this tour allows you to explore the diverse amount of wineries in Castile and Leon as well as some of its fantastic castles. You will also get to visit many of Spain's medieval towns that allow you to understand the history of Madrid during ancient times. You will find this tour to have a personal touch due to its small, intimate size. Moreover, you will get to taste some of Spain's best red wines at a local winery. There will be a stop at a local restaurant; however, meals and drinks are not included in the original price. However, besides an amazing wine-tasting experience, you will also be educated on the immense histories surrounding Castile and Leon by your tour guide. A tour that you will never tire of, get a taste of Madrid today!
Approximate Price:
$
176.18
If you desire to visit Toledo City and want to infuse your visit with some lively entertainment, consider taking the tour of Toledo City with a flamenco show combo. Considered one of Spain's most picturesque cities, Toledo is a metropolitan area enriched with fascinating history and amazing culture. With a total of seven and a half hours, this tour first allows you to explore the ancient streets of Toledo to see such popular landmarks as the Jewish Quarter, Primate Cathedral, and more. As well, you will also get to explore the significant St. Tome and admire its famous El Greco painting. Besides walking about these marvelous attractions, you will get to take a bus tour across the scenic river to the damascening metalwork factory. As the day comes to a close, you will finish it with flare at the Tablao Flamenco Torres Bermejas, where you will see a star flamenco show and receive a complimentary refreshment. Meals are not included in the original price, however. According to one customer, Toledo is a beautiful city that you don't want to miss.
Approximate Price:
$
77.57
If you are looking for a wine-tasting tour that lets you explore the countryside, this Wineries Day Tour may be just for you. You will explore 3 local wineries near Madrid where you will sample various wines and take a tour around the scenic vineyards. Tapas are also included! Considered an amazing tour by many, if you are a wine-lover, you cannot miss it!
Approximate Price:
$
160.67
Don't have much time to see the rest of Spain? If you are wishing to explore the historical cities of Avila and Segovia, consider taking a guided tour from Madrid. With the assistance of an accomplished guide, you will learn the complex histories that surround each of these cities and explore many notable landmarks, such as the Roman Aqueduct and the Gothic Quarter. With a complimentary lunch in a rustic restaurant, this tour is considered a gem among sightseeing tours. Learn the history and legends of Avila and Segovia in great deal.
Approximate Price:
$
85.32
Share This Article