Guadeloupe On a Budget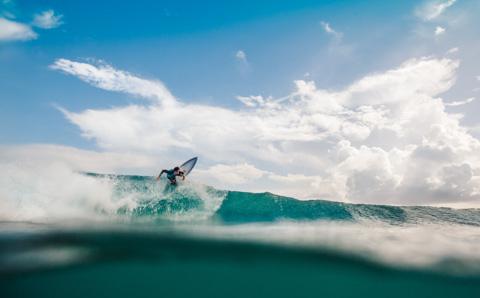 Located in the West French Indies, Guadeloupe is a Caribbean archipelago and an overseas region of France known for its island beauty and Creole culture. Each island has its treasures from rainforest habitats and volcanic terrain to powdery beaches, port towns, and historic sugar plantations.
Top Tourist Attractions
One of the most sought-after attractions of the island group is Guadeloupe National Park, located on Basse-Terre. The park lies amidst the island's verdant mountain landscape, encapsulating a 74,100-acre rainforest filled with picturesque walking trails. These trails offer paths of all lengths and difficulties, often taking hikers past beautiful forest foliage, striking waterfalls, and the summit of La Soufriere volcano. There is also a scenic 16-mile road that cuts through the forest; it is called the Route de la Traversee.
The other islands of Guadeloupe also have much to offer in scenic and historic charm. Les Saintes, for examples, is a group located around the southern coast which features a mix of bistros, shops, and sunny beaches. Marie-Galante is also worth a visit, characterized by sugar plantations, quaint chateaus, and 19th-century windmills, as well as plenty of unspoiled scenery in rolling hills and powdery beaches. La Desirade offers another location of relatively untouched natural scenery featuring native plants lining quiet beaches within reach of a small village, while Petite Terre is uninhabited and untamed.
The main part of the island group is Butterfly-shaped - it actually consists of two islands called Basse-Terre to the west and Grande-Terre to the east, which are separated by a narrow strait that is crossed with bridges. Basse Terre is very green featuring lush vegetation and a mountainous landscape with a sulphuric volcano, while Grande Terre is flat and dry with plenty of beaches. Marie Galante is the biggest island outside of 'mainland' Guadeloupe, named by Christopher Columbus after his ship. Other smaller islands of the archipelago include Les Saintes, La Desirade, and Petite Terre. Saint Anne, located on Grande Terre, is the primary tourist area of Guadeloupe. Pointe-a-Pitre, also on Grande-Terre, is the island's largest city and Guadeloupe's fashion hub. Shoppers flock here looking for discounted French wares, including perfumes, scarves, cosmetics, and more.
The bustling cities and quaint towns of Guadeloupe offer plenty in history, rustic charm, shopping, dining, and culture. Spend the day wandering markets and admiring architecture or perhaps schedule a plantation or distillery tour. Chocolate, coffee, and rum are all locally-produced, so that visitors can schedule tours and tastings at multiple locations.
Guadeloupe is also a treasure trove of natural scenery, making the island group a beautiful destination for outdoor activities as well. The Guadeloupe National Park in particular is a popular location for hiking and sightseeing some of the area's best natural features. Since the waters around Guadeloupe are a habitat for an amazing assortment of tropical fish, scuba diving and snorkeling are also common, as are glass-bottom boat tours.
The main airport serving Guadeloupe is Pointe-a-Pitre International Airport (or Le Raizet Airport), located on the island of Grande-Terre. It is the main hub for Air Caraïbes and Air Antilles Express, and also offers flights from Air France, Air Transat, American Airlines, and Norwegian Air Shuttle, amongst others. The archipelago is also serviced by a few additional public airports: Marie-Galante Airport (or Les Bases Airport) on the island of Marie-Galante, and Saint-Francois Airport also on Grande-Terre.
There is also transportation by boat from many of the neighboring islands, including Martinique, Dominica, and Saint Lucia.
Once arrived, the best way to get around is by rental car or hired taxi. There are some ferries which carry cars from island to island.
Popular Foods
As a Caribbean island group of the West French Indies, Guadeloupe has a mix of culinary influences from France, India, and Africa. As a result, the archipelago is especially renowned for Creole delicacies, Caribbean staples, and French classics. Fresh seafood provides many of the main ingredients with items like mahi mahi, conch, land crab, and Caribbean lobster. Also popular is a kind of curry, known as Colombo in the French Antilles. This Creole dish is more reminiscent of a stew than a typical curry and is generally concocted with Colombo powder, a mix of cumin, turmeric, coriander and cloves, all tossed with vegetables and meat or seafood. There are also a number of tasty street foods some of which include bokit and accras. Bokit usually consists of two pieces of deep-fried 'bread' stuffed with meats, cheeses, and a vinegar-based sauce, while accras are a kind of fried fritter typically filled with cod, lobster, or shrimp. Other specialties of Guadeloupe include coconut sorbet, fresh-squeezed fruit juices, and a rum-based cocktail called Ti' Punch.