Grande-Terre On a Budget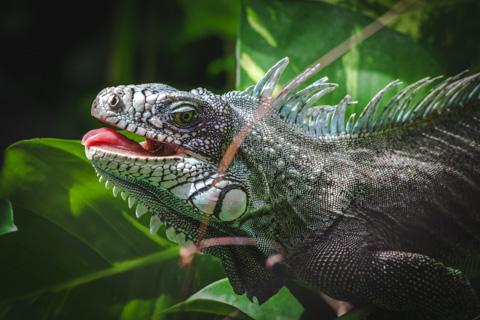 Grande Terre is an island that makes up the eastern half of the Guadeloupe 'mainland.' It is divided from the other half of the main Guadeloupe island, Basse Terre, by a narrow channel called Rivière Salee (or the Salt River). The island itself is characterized by rolling hills, white sand beaches, and cliffs, and its indented coastline is surrounded by coral reefs. It is home to most of Guadeloupe's farmlands and tourist resorts.
Sights
One of the most iconic attractions of Grande Terre is the Pointe des Chateaux or Castles Headland, located near Saint-François. Listed as a Great National Site, it is a protected place, famous for the wild beauty of its scenery reminiscent of Brittany. Castles Headland takes its name from the unique shape of its rocks and can be explored along a steep trail that begins near the beautiful beach of Anse des Chateaux. The nearby resort of Saint-François also has plenty to see and do with all that could be expected from a seaside resort including a beach called Raisins Clairs, characterized by its fine sand and turquoise lagoon.
Le Desirade, located just off the coast of Castles Headland, also makes for a nice day trip and can be reached by ferry from Saint-François in 45 minutes. The island is calm and peaceful with panoramic views of the ocean, a quaint eighteenth-century village, and plenty of wildlife. Another major tourist attraction of La Desirade is the National Nature Reserve of the Petite-Terre islands. The site is accessible twice a day from Saint-François or La Desirade by motor boat or catamaran.
Neighborhoods
Pointe-a-Pitre is the main town on Grande Terre and is Guadeloupe's economic capital. It is a typical city busy with traffic; however, for those interested in history and culture, there is a museum worth visiting called Memorial Acte. A part of this urban area, called La Gosier, is known for its nightlife. Saint-François, located on the southeastern tip of Grande Terre, is the island's most popular seaside resort. It is within close proximity to beaches, a golf course, a marina, a fishing port and market, a casino, tennis courts, and more. Saint Anne is another nice town that caters to tourists. Other popular locations include Le Moule, Morne a l'eau, Anse Bertrand, and Abymes.
Activities
In the major towns and resort areas of Grande Terre there are plenty of opportunities for activities like dining, shopping, and historic sight-seeing. The many beaches are sites for relaxing and swimming, while other sea-bound activities include things like snorkeling, scuba diving, windsurfing, kitesurfing, jet skiing, kayaking, and sailing. The natural scenery of the island is also impressive with many locations for admiring panoramic views of the ocean and surrounding islands.
Food and Dining
Located in the West French Indies, Grande Terre, like the rest of Guadeloupe, has a mix of culinary influences from France, India, and Africa. As a result, the entire archipelago is especially renowned for Creole delicacies, Caribbean staples, and French classics. Fresh seafood provides many of the main ingredients with items like mahi mahi, conch, land crab, and Caribbean lobster. Also popular is a kind of curry, known as Colombo in the French Antilles. This Creole dish is more reminiscent of a stew than a typical curry and is generally concocted with Colombo powder, a mix of cumin, turmeric, coriander, and cloves, all tossed with vegetables and meat or seafood. There are also a number of tasty street foods some of which include bokit and accras. Bokit usually consists of two pieces of deep-fried 'bread' stuffed with meats, cheeses, and a vinegar-based sauce, while accras are a kind of fried fritter typically filled with cod, lobster, or shrimp. Other specialties include coconut sorbet, fresh-squeezed fruit juices, and a rum-based cocktail called Ti' Punch.
Transportation
The main airport located on Grande Terre is Pointe-a-Pitre International Airport (or Le Raizet Airport), which also serves the rest of Guadeloupe. It is the main hub for Air Caraïbes and Air Antilles Express, and also offers flights from Air France, Air Transat, American Airlines, and Norwegian Air Shuttle, amongst others. The archipelago is also serviced by a few additional public airports: Marie-Galante Airport (or Les Bases Airport) on the island of Marie-Galante, and Saint-François Airport also on Grande Terre.
There is also transportation by boat from many of the neighboring islands, including Martinique, Dominica, and Saint Lucia.
Once arrived, the best way to get around is by rental car or hired taxi. There are some ferries which carry cars from island to island.