Nairobi On a Budget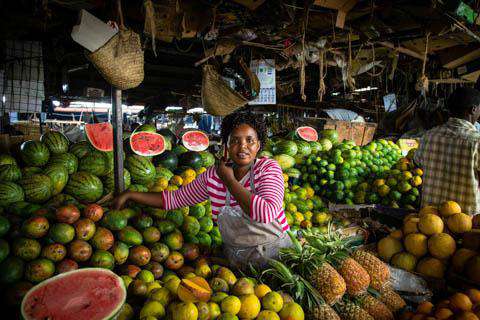 Nairobi is Kenya's capital as well as the country's largest city. With a population of about 3 million, it is also one of the largest cities in Africa. It is a prominent city both politically and financially within the region. There are many international companies that are located in Nairobi and the Nairobi Securities and Exchange is one of the largest in Africa.
Kenya has a subtropical highland climate. It's located 1,795 meters about sea level so evening temperatures can be cool. During the months of June and July, the temperature can drop to 50 degrees Fahrenheit. December through march are the warmest times of the year with average highs around 75 degrees Fahrenheit. The city has two rainy seasons with moderate rainfall.
Sights
Nairobi is a modern city with many sights and activities for visitors to enjoy. Nairobi National Park is the world's only game reserve that is located in a major city. Within it you will find zebra, wildebeest, buffalo, giraffe, lions, cheetahs, and much more. You can also visit the nearby Sheldrick Elephant Orphanage. This orphanage raises elephant calves and rhinos that come from all over Africa. The Giraffe Centre is located in Lang'ata and breeds endangered Rothschild giraffe. You can feed the giraffe and enjoy a variety of educational programs. Mamba Village has ostriches and crocodiles and is also worth a visit.
Other interesting sights in and near the city include Lake Naivasha, Ol Donyo Sabuk National Park, 14 Falls, the US Embassy Memorial Site, Tana River, the Nairobi National Museum, the National Railway Museum, Nairobi Gallery, Karen Blixen Museum, Bomas of Kenya, Uhuru Gardens, and Jamia Mosque.
Neighborhoods
Nairobi is divided into constituencies which include Makadara, Kamukunji, Starehe, Langata, Dagoretti, Westlands, Kasarani, and Embakasi. The major administrative areas are Central, Dagoretti, Embakasi, Kasarani, Kibera, Makadara, Pumwani, and Westlands. The most affluent neighborhoods are usually in the west and northcentral parts of the city.
Activities
The main reason people travel to Kenya is to enjoy a safari. The most popular safari destination in Kenya is Masai Mara and most safaris will take you to this park as well as one or two other parks if time allows. While it will give you peace of mind to organize your safari before you arrive in Kenya, you should understand that you will pay a significant markup this way. If you're more flexible and free spirited, you can arrive in Nairobi and book your safari the same day. There are plenty of operators who will eagerly organize your trip for you. The packages are usually standard and range in length from three to five days, but some trips are as long as two weeks. Refer to your guidebook, which can suggest some reputable companies that can arrange your trip. Most safaris have about five to eight people and you travel in a comfortable minivan. Food and transportation are included, but tips are not.
Other activities within the city include enjoying the city's excellent nightlife, ice skating at Panari, going to a Maasai market or visiting Go-Down Arts Center.
Food and Dining
Nairobi has a large number of budget and mid range restaurants that you can choose from. There are plenty of bars, coffee shops, and cafes around town. There are also restaurants that serve Ethiopian, Chinese, Indian, and Italian food, as well as many other international cuisines. If you're looking for cheap international food head to the Village Market Food Court. Fast food restaurants in the city include Steers, Debonairs, Wimpy, and Galito's.
Transportation
You're likely to visit Nairobi at both the beginning and end of your trip to Kenya, as the city serves as the country's gateway. The airport is nice, and you can pick up a taxi on arrival to take you to your hotel. Do negotiate the price, and you will likely get a better deal if you do not use one of the taxi companies that is located inside the airport, but instead find a taxi just outside.
Within Nairobi, you can use buses to get around. These buses, referred to as matatus, can vary in size and are often overcrowded. Taxis are a cheap alternative and are generally your safest option. Particularly late at night, it is best to take a taxi to your destination. If you're going to an unfamiliar neighborhood it is better not to walk.
Related:
Looking for a
hostel in Marrakesh
,
Cape Town
,
Nairobi
, or
Zanzibar
?