Kenya On a Budget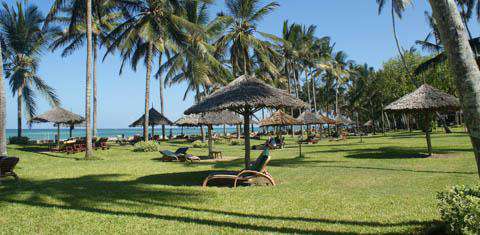 Kenya is located in eastern Africa and is one of the area's hotspots for
wildlife safaris
. Generally speaking, it's a more affordable option to its southern neighbor, Tanzania, and for that reason, is flooded with visitors every year who are hoping to see some African wildlife. The main wildlife reserve for safaris in Kenya is Masai Mara. Masai Mara is in southwest Kenya and connects to the Serengeti National Park in Tanzania. It is named after the Maasai people who live in the area. The park has a high concentration of lions, gazelles, zebras, and elephants among other animals. The area is probably most famous for the wildebeest migration, known as the "Great Migration" when the animals move from the Kenyan side of the border to the Tanzanian side.
Many people arrange a five day tour which allows visitors to spend several days in Masai Mara and a day or two at Lake Nakuru. Lake Nakuru has many beautiful pink flamingos as well as rhinos, warthogs, and other animals. If time allows, you should definitely venture into some of the less visited national parks and allow yourself a few days to explore the capital city of Nairobi.
If you book a safari, your food and accommodation will likely be included. Food is typically of good quality and quantity. You have several options when booking a safari. Most people choose to arrange the trip before they arrive in Kenya. If you do this you will almost definitely pay a markup for the convenience. It is far more difficult to negotiate a fair price prior to arrival. By booking in advance you do receive the reassurance that your trip is planned, organized, and taken care of. If you are short on time then this can really give you piece of mind.
The other option for your safari is to book your trip after arrival. There are countless vendors that are ready to sell you a safari even as you arrive in the airport. Do your research ahead of time and use only companies that have been recommended to you and have established reputations. Barter hard for the price. They will expect you to negotiate and you can often get the price substantially lower from the original asking price. If you're hoping to get the best deal, you absolutely must wait and book your safari after arrival.
After you've enjoyed a safari, spend a couple days in Nairobi visiting the city. A great option that many people enjoy is a meal at the restaurant Carnivore. It is a splurge, as prices can be extravagantly high, but it offers you a unique opportunity to sample some exotic, local specialties.
At A Glance
There many different "levels" of safari available. The most budget safaris usually include a group of about five or six tourists who visit the park in a minivan. Accommodation is in "luxury" tents, the driver is the guide and food is prepared by a cook. These are actually surprisingly nice tours. You're just as likely to see the animals whatever you pay for your tour so don't feel obligated to spend more than you need to.


Most accommodation is located outside of the park. You'll have to pay a substantially higher fee if you're hoping to stay inside the park. It may be worth it for some people though as this is the only way you can see the animals at night or early in the morning when they are more likely to be hunting


A large percentage of your safari cost goes towards park entrance fees. This is particularly true if you're doing a budget safari. While you should absolutely negotiate on the price of your tour, it is important to realize that the vendor will only go down so far because park rates are set.


It is recommended that you tip your guide and driver. A ten percent tip is generally appropriate. If your guide does an excellent job, it's a nice gesture to pay a little more. While it's good to negotiate on the price of your package, don't skimp on tipping. Most guides and drivers work hard and are away from their family for long periods of time.


If you've traveled extensively in Africa you'll likely be surprised by the more modern feel of this country. It has a very solid tourism infrastructure and it's a comfortable place to visit and explore. It can be somewhat of a refreshing change if you're at the tail end of a long trip through Africa.
Related
Looking for a
hostel in Marrakesh
,
Cape Town
,
Nairobi
, or
Zanzibar
?
Top Tourist Attractions
Masai Mara:
This is the most popular national park in Kenya, Masai Mara is the area's hot spot for safaris, which is one of
Africa's most popular travel bucket list items
. It's a great place to try and see the "big five". You will likely run into other minivans during your tour, but the wildlife spotting is excellent and it's one of the more affordable parks in Africa.
Lake Nakuru National Park:
This is a stunning lake and national park that is a great addition to a safari. It's famous for its flamingos and bird watching. It's often tacked onto the end of a trip to Masai Mara and you will likely spend at least one night near the park.
Mount Kenya:
This is Africa's second highest peak and is a challenging but enjoyable climb. The best months to climb are January and February.
Popular Foods
In Nairobi you'll find plenty of restaurants of every kind. There are western restaurants that cater to tourists. There are some very high end restaurants with any number of interesting dishes. There is also great street food available throughout the city. It is generally an affordable and safe option. If you're doing a safari then meals are usually included in the price of your tour. The meals are usually quite good and filling. They often include pasta or rice, meat, and vegetables.
Chapati:
Chapati is an unleavened, wheat based flat bread that's baked and served as a companion to a main meal. It is similar to roti in India.
Githeri:
This is a traditional Kenyan dish made from corn and beans. It's a staple for many Kenyans, particularly those working in agriculture. It's use of beans ensures that it is high in protein and nutritious, while also being filling and plentiful. You may find this dish in more rural areas, but are less likely to stumble upon it on menus in Nairobi.
Kuku Paka:
This is a traditional coconut curry dish usually prepared with chicken. It has a delicious, rich flavor and is a good option if you're looking for something a little different.