Madagascar On a Budget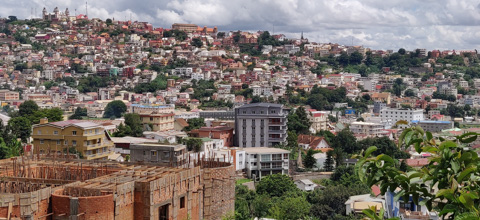 Madagascar is both a country and an island that is located in the Indian Ocean off of the eastern coast of Africa. It is also the fourth largest island in the world. Because the island has remained isolated from the mainland, it has a unique diversity of plants and animals that can not be found anywhere else in the world. 90% of the islands plants are unique to Madagascar, but many of the species are endangered due to human activity and deforestation. Lemurs are a particularly famous animal found only in Madagascar. Most species are considered either threatened or endangered.
Madagascar has tropical rainforest on its eastern, or windward side, and the western and southern sides are tropical dry forests, thorn forests, and desert because they are sheltered from the rain by the central highlands.
Madagascar's climate is tropical along the coast and temperate inland. It is arid in the south. There are two seasons in Madagascar, a rainy and hot season that runs between November and April, and a cooler, dry season between May and October. The island itself has a good amount of variation in climate due to significant variations in elevation. The eastern coast has a sub-equatorial climate and the most rainfall. During the rainy season it is also prone to cyclones. The central highlands are drier and significantly cooler but thunderstorms are common during the rainy season.
At A Glance
Air Madagascar is the dominant airline in the country. A variety of domestic flights are available. Internal flights are a good option because the roads on the island are in very poor condition. Flight schedules change frequently so do check the status of your flight in advance.


Train is a slow and uncomfortable way to travel, but it does offer some excellent views of the countryside. It is also a cheap way to travel, but if you hope to get a 2nd class ticket, make sure you arrive early as they sell out quickly and advanced booking is not an option.


Biking in Madagascar is a great way to explore the island. There is very little traffic so it is possible to cruise along safely down the road. You can stay in the many small towns and villages and really get a feel for the countryside. You will likely need to camp during some of your trip. Basic guesthouses may also be an option. The roads are in very poor condition so you must have a mountain bike or heavy duty tourer. Rainy season is also tricky, particularly on the east coast where the main north-south road may become impassable.


Remarkably, almost the entire island of Madagascar speaks one language, Malagasy. Although most people speak this language, there are many different dialects, but the Merina dialect is considered "official Malagasy". French is the official second language of Madagascar. It is frequently used in business interactions but not everyone on the island speaks it proficiently. Some workers in the tourism industry also speak basic English.


There are a handful of outdoor and water sports you can enjoy in Madagascar. These include windsurfing, guided kayaking, deep sea fishing and diving. Windsurfing is best done between April and November.
Related
Looking for a
hostel in Marrakesh
,
Cape Town
,
Nairobi
, or
Zanzibar
?
Top Tourist Attractions
Tsingy de Bemaraha:
This is Madagascar's largest reserve as well as a UNESCO World Heritage Site. The dramatic landscape includes razor sharp limestone pinnacles that are collectively called the Labyrinth of Stone. In the surrounding deciduous forest you can see brown lemurs and the rare Decken's sifaka. There is a variety of unique plant life as well. In total, the forest is home to over 50 species of birds, 7 species of lemurs, and countless unique and rare animals. The reserve is located 180 kilometers north of Morondava.
Tsingy de Ankarana:
This smaller reserve is similar to Tsingy de Bemaraha, although not as impressive. It's located in the north on the national road to Antisirana and is very easily accessible to visitors. It is home to three types of lemurs as well as chameleons.
Avenue of the Baobabs:
This impressive group of Baobab trees is located 45 minutes north of Morondava on the west coast of Madagascar. It is a popular destination in the Menave Region and is nominated as one of the 7 Wonders of Africa. Some of the trees are more than 800 years old and over 30 meters high. It's a particularly beautiful place to visit at sunset. You can
read more about the Avenue of the Baobabs here
.
Popular Foods
Rice is the staple ingredient throughout Madagascar. Rice is prepared with laoka, or an accompaniment. These accompaniments are generally a sauce made from any number of ingredients. In the highlands the sauce is usually tomato based, while in coastal areas coconut milk is a prominent ingredient. Nuts, fish, meat, or vegetables are all combined in different forms to create these dishes. Ginger, garlic and spices are commonly used to give the sauce a more complex flavor.
Vary Amin'anana:
This traditional porridge is made with rice, a significant amount of water, meat and chopped greens. It is on of the most popular variations of vary sosoa, which is a rice porridge generally eaten for breakfast.
Romazava:
This broth is considered the national dish of Madagascar. It is a beef broth that usually includes ingredients such as tomato, onion and ginger. Anamalao flowers are the defining ingredient in
Romazava
. These flowers have a mild analgesic effect when consumed.
Mofo Gasy:
Mofo is a street food that includes most cakes and fritters in Madagascar. Mofo Gasy is the most common form and is made from a sweetened rice flour batter. It is poured into greased, circular dishes and then cooked over charcoal. It is generally served as a breakfast dish with coffee.