Antananarivo On a Budget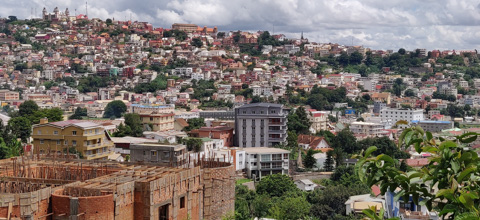 Antananarivo is the capital of Madagascar; it is also sometimes referred to as
Tana
. This city is the cultural and political center of Madagascar as a whole. There are multiple universities, museums, and other social venues in the city, as well as a national rugby team. This city has a very apparent French influence.
Sights
The Musee d'art et d'archeologie is a great museum to visit in Antananarivo to learn about the history of Madagascar. Its exhibitions portray the traditions and culture of the people of Madagascar dating back to the first century.
The Queens's Palace, also known as the Rova, is another sight in the city. The Rova was built by the Merina king, Andrianjaka back in the 1600's. Although it has withstood some severe fire damage recently, it offers a great view of the entire city and some of the statues, as well as a large chapel, still stand. This is the highest point of the city and can be seen from all angles. There are usually English-speaking university students that offer tours of the palace and the grounds for a small fee.
Near the palace is the Prime Minister's Rainilaiarivony's Palace. It is uncertain whether this palace is still open for touring, however, when it is, there are tours that offer in-depth accounts of the many historical artifacts that are spread throughout the palace.
In the city center is Lake Anosy, which is shaped like a heart and the entire lake is surrounded by jacaranda trees. A great place to see this from above is from The Rova.
Neighborhoods
The city is located in the central highlands of the island of Madagascar. The neighborhoods of the city are reflective of historically religious divisions. Surrounding the city are a few National Parks that are easily accessible by bus. Andasibe-Mantadia National Park is one of them and it is a popular place for tourists to visit while in the Antananarivo area. Buses can transport you there from Gare Routieie d'lest bus station. You must travel to Moramanga and then change for Andasibe village. This journey is about four hours total.
There are a couple other parks that can be reached from Antananarivo, however, they are much further journeys. They range from eleven to twenty hours by bus. Ranomafana National Park is one of them and you can get here by catching a bus from the Farakana bus station. Ankarana National Park is much closer to Northern Madagascar, specifically Antsiranana, so this is a good option if you are planning on visiting that part of Madagascar during your travels.
Activities
There is a crocodile farm near the Ivato Airport that is a great day activity. Not only does the farm have crocodiles, turtles, lemurs, and snakes, but it also has many plants, flowers, and trees that are native to Madagascar. It is best to visit the farm during the crocodile feeding time. There is a restaurant on site as well where you can actually try a crocodile burger.
There are tons of open-air markets around town that will keep you entertained for the day. These markets sell traditional Malagasy crafts. If you prefer to shop without having to barter, then head to Lisy, which is a shopping area that sells similar products that you will find at the market. There are also rice patties all over town that are great for those looking to get some landscape photographs in Antananarivo.
Food and Dining
Antananarivo encompasses a Malagasy cuisine, which is influenced by Asian, African, Chinese, and European flavors. Usually, meals consist of meat, vegetables, and some type of sauce. To try Malagasy cuisine, visit La Table de Mariettei, which serves the traditional food of Madagascar but is a bit more on the pricey side. La Brasserie is a great place for French food that is tasty and relatively inexpensive. For breakfast, Cookie Soph is a great place that serves coffee and bagels, and the employees speak both French and English.
Transportation
Ivato Airport is the international airport nearest to the city. It serves many of the large commercial airlines that provide services in that area of the world (Air France, Turkish Airlines, etc.). Every foreign visitor must have a visa to be able to enter the country, which can be obtained online before entry. If you do not have your visa prior to entry, one can be purchased at immigration, however, this is quite a long process. From the airport to the city center you can get a taxi or a bus. In the city, you can get around on foot, by bus, or by taxi. The easiest way is to get around by taxi, just be sure to negotiate a price before getting into the taxi.
Related:
Looking for a
hostel in Marrakesh
,
Cape Town
,
Nairobi
, or
Zanzibar
?