Montenegro is a stunning country that is full of historical significance, medieval architecture, and a plethora of activities. It is one of the up and coming hot spots for summer travel destinations due to its beauty and offerings. Montenegro is a Balkan country lined with
beautiful beaches
, ancient villages, stone fortresses, and jagged mountains. There is something new to discover around every corner of Montenegro, and since it is just becoming well known, it is relatively untouched by tourism.
Exploring
Montenegro
for two days will enable you to see quite a few main cities and attractions. Montenegro is a small country; therefore, driving across the whole country takes around 4 hours. Hence, if you budget your time correctly, you can see and do a lot in a short amount of time. However, if you can spare some more time to explore Montenegro, it wouldn't be wasted, five days is the ideal amount of time to spend here to experience Montenegro to its fullest extent. Nonetheless, two days is enough to give you a taste that will make you long for more!
Public transportation is available, but if you want to rent a car, you can find the
best car rental rates here
.
Day 1: Bay of Kotor
Herceg Novi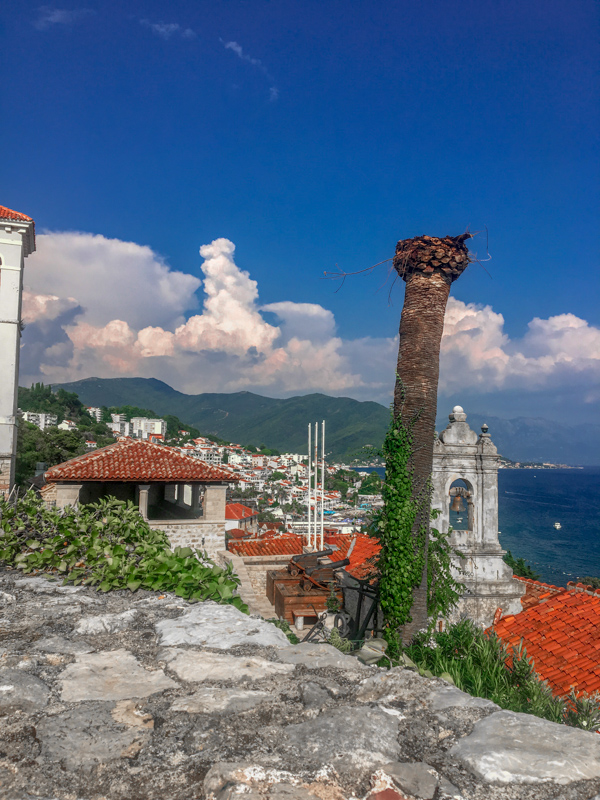 Herceg Novi is a small coastal town located right beside the Croatian border. If you are driving in from Croatia, this is a logical first stop. The city of Herceg Novi is quaint and untouched by tourism. Therefore, it is a very authentic Montenegrin town that is the perfect first stop on your Montenegro adventure.
One of the main attractions in Herceg Novi is the Old Town. The old town here is much different than the old towns in other Montenegrin cities because Herceg Novi isn't a tourist city, and the old town here is not treated as an attraction. The old town in Herceg Novi is more real and preserved as a part of everyday life. Here you will find locals living in the old buildings and courtyards, locals shops, and historic structures. This Old Town is much quieter and less touristy than Old Town Kotor and is a better experience if you value intimate explorations.
Herceg Novi, like many other towns in Montenegro, is surrounded by mountains and mountains in Montenegro always hold surprises. This fact is no different in Herceg Novi. In Herceg Novi, a hike up Kanli-Kula Fortress will bring you to an old fortress and an auditorium with stones walls around it. The fortress is amazingly preserved and offers a stunning view over the beginning of the Bay of Kotor and the town below. The auditorium is being used today as an amphitheater for events throughout the year. More so, the hike offers a fantastic experience and is well worth the 3-euro fee and long walk.
Perast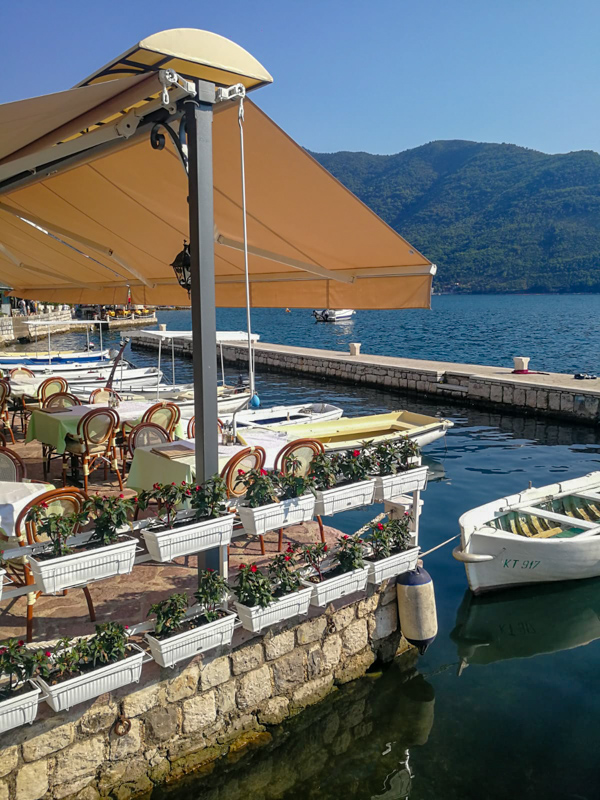 After exploring Herceg Novi, it is time to head east along the Bay of Kotor to Perast. The drive is very scenic with the green mountains and blue bay waters, so take your time and stop to take some photos if you please.
After around 45 minutes of driving along the stunning waters, you will arrive in Perast. Perast is another beautiful town, but this time full of white stone buildings and orange-roofed houses. This town is a great place to stop for an hour or so for a quick bite to eat at a local restaurant while overlooking the waters. It also has a museum and some small areas to swim, so if time permits, you can explore more. One of the most popular things to do in Perast is to head to Our Lady of the Rocks.
Our Lady of the Rocks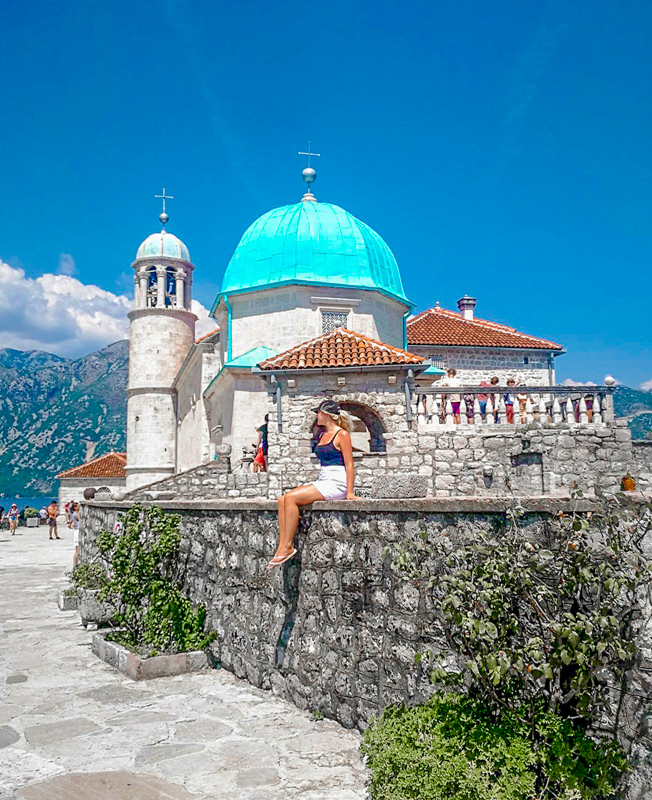 Our Lady of the Rocks
is a little island in the middle of the Bay of Kotor, only 200 meters from Perast. The exciting thing about this island is that it is almost wholly human-made. It began as a pile of rocks, and the people of Perast decided to build a church there. After the church was constructed, citizens of Perast wanted to expand the island, so they started bringing rocks from the mainland and dropping them in the surrounding waters as well as sinking old ships beside the island. To this day, on June 22nd, citizens of Perast go out on boats and throw rocks into the water.
The only way to get here is by boat, and there are a ton of boat Captains roaming around Perast who are more than happy to bring you (for about 5 euros each). On this island is a church dating back to 1722, which houses a 15th-century icon of the Virgin Mary and various other religious symbols. There is also a small museum which tells about the history of Perast.
Our Lady of the Rocks has a long and exciting history, and taking an hour to go to the island, walk around and look inside the church is worth the time.
Kotor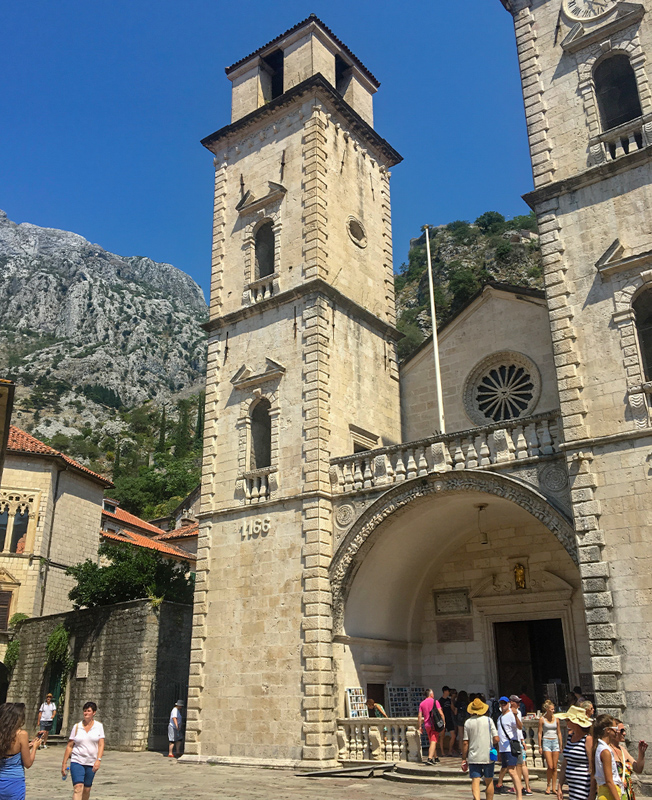 Following the adventures at Perast and Our Lady of the Rocks, you will head south for 20 minutes until you reach Kotor. Kotor is one of the most popular and sought-after tourist destinations in Montenegro due to its beauty and plethora of things to do and see. It is a small medieval town that is packed with stunning historic architecture and breathtaking views. Despite Kotors small size, there are a lot of things to do here, so making time for everything could be a challenge, but with proper planning, all can be experienced.
The number one thing you need to do in
Kotor
is hike the
San Giovanni Fortress
. The hike is not an easy thing to do but very worth it. The journey consists of a is grueling 1300 steps up the steep mountainside on cobblestone paths and takes around 50 minutes each way. Make sure you go when the sun isn't at its hottest, bring water, and wear grippy shoes. The hike leads you along the stone city walls to the top of the fortress, which was built between the 9th century and the 14th century. The view from the top is incredible. You get a panoramic view of the whole city of Kotor, the surrounding lush mountains, and the Bay of Kotor. From the top you can see why this fortress was constructed back in the day; you can see enemies arrive from miles away.
Another stunning attraction in Kotor is the Kotor Old Town, which is a UNESCO World Cultural Site. The Old Town is an area full of white stone buildings, historical monuments, and a new surprise around every corner. Taking some time to explore the Old Town is a must; it almost feels like you've stepped back in time. There is so much to do in this small area like exploring the streets with no direction, viewing one of the many palaces, checking out the museum or checking out some of the many shops. The old town is the perfect place to get lost in and lose track of time in the beauty and magic it holds. One of the other great attractions in the old town are the churches.
There are quite a few churches and cathedrals in Kotor Old Town dating back to the 15th century that you must check out. The two I suggest are Sveti Nikola and Sveti Luka. Sveti Nikola is one of the more famous churches in Kotor due to its two towering bell towers. This church is a Serbian Orthodox church that is free to enter, and it is home to various Serbian icons for you to view. Sveti Luka is the oldest church in Kotor and was built in 1195! This church is free to enter, and some of the original frescos are still viewable.
And if you're looking for an affordable place to stay, check out the
best hostels in Kotor here
.
Day 2: Popular Cities
Tivat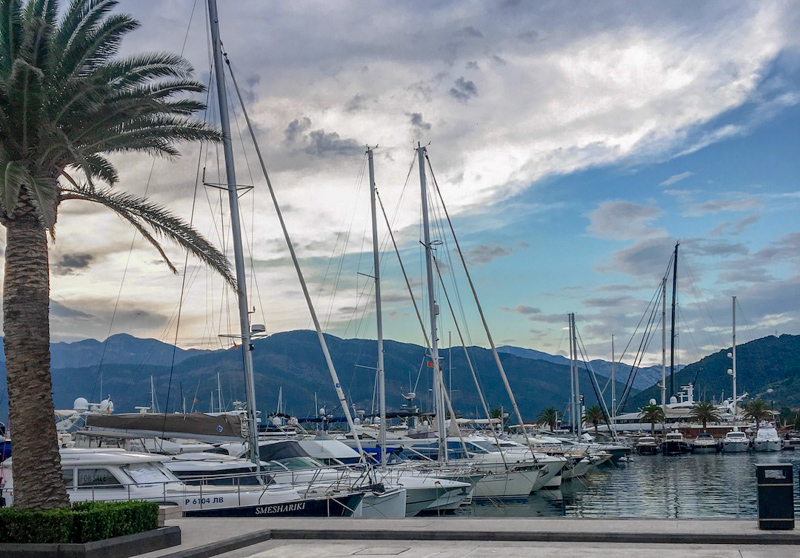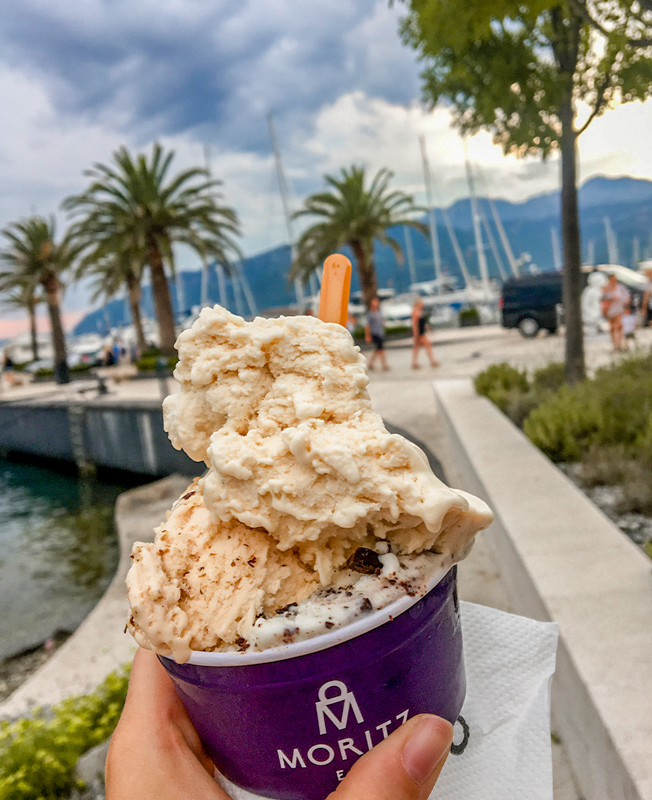 Tivat is located 20 minutes from Kotor, so you can either decide to stay the night in Kotor or Tivat depending on your preferences. Due to Kotor's high tourist appeal, it can be more expensive to stay in Kotor than Tivat.
Tivat is another stunning coastal town located along the Bay of Kotor. However, Tivat is quite different than the other cities along this route as it has been remodeled and transformed into a higher end and modern town. Here you will find luxury shops, classy restaurants and the Tivat Marina that is packed with beautiful yachts. This town almost feels like a different world compared to other cities in Montenegro, but it is interesting to see the contrast.
This is a fascinating place to spend the morning walking around and exploring. Feel free to take some time to walk along the long promenade that lines the Bay and admire the beauty of the surroundings. Or take some early morning gelato from Moritz, the world-famous ice cream store. Since you will be in Tivat in the morning, this is the best time to check out some shops and even pick up a souvenir, because fewer people will be out. More so, this is the perfect time to eat at one of the many restaurants and admire the yachts from afar.
Porto Montenegro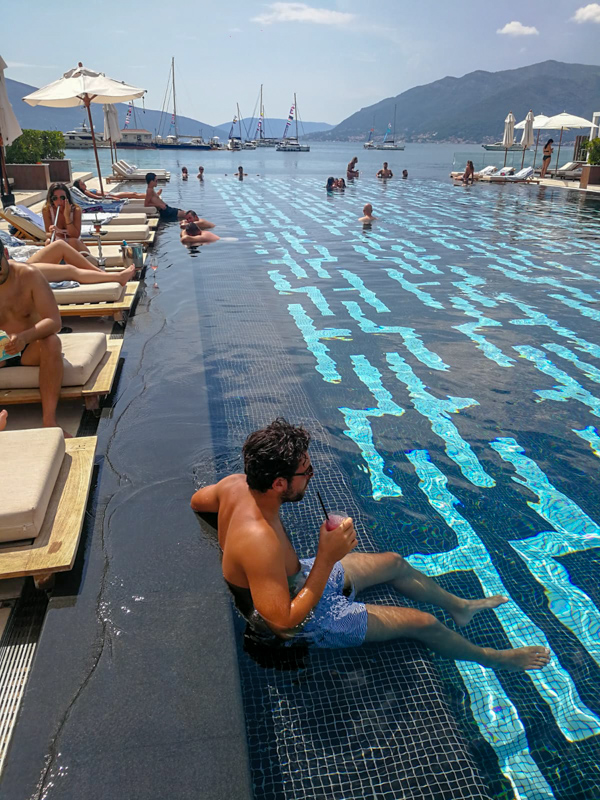 The best part of Tivat is Porto Montenegro, which is a fancy and exclusive pool club that overlooks the Bay of Kotor. Spending a few hours here in the morning is an excellent way to start your day. The pool club is very luxurious, with comfortable chairs, an infinity pool, and delicious cocktails and snacks. The day beds cost 40 euros, but they are very worth the money, and anyways you deserve it after the previous days long hours of driving and exploring.
Spending some time in the morning to lay out on the sun bed and soak in the sun offers the perfect opportunity to reflect on the previous day's explorations and to prepare for the upcoming day. Also, there is nothing better than enjoying the morning sun while looking out over the beautiful waters and the surrounding mountains.
Budva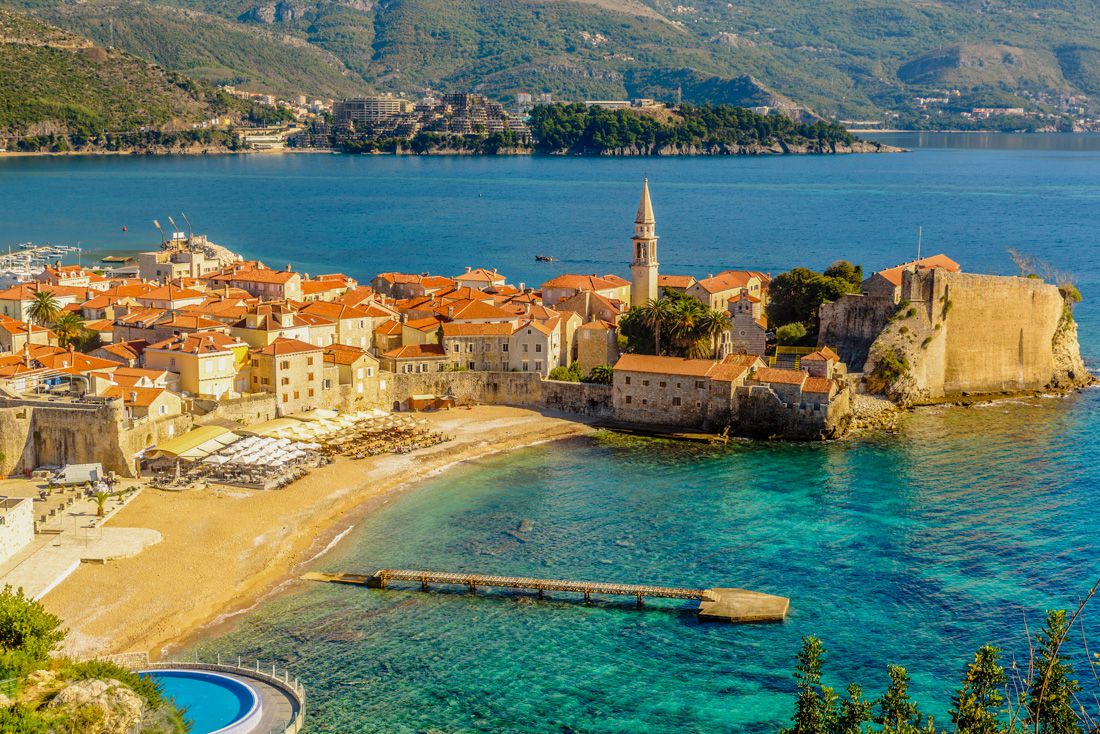 After a morning full of relaxation and taking in the beautiful Tivat, it is time to drive 35 minutes to
Budva
. Here you will find another stunning city, but this time located along the Adriatic Sea. Budva is a relatively popular tourist destination due to its rich history, beautiful buildings, and many beaches. This city has a ton of attractions and things to do, so much so that you could easily spend a few days here. For cheap accommodations, see our
list of the best hostels in Budva here
.
One of the most popular things to do in Budva is to go to one of the many beaches. There are so many different options of beaches ranging from party beaches to relaxing beaches to sporty beaches. There is an option for a beach day to please everyone. Some of the most notable beaches are Mogren Beach and Becici Beach. Mogren beach is a sandy beach with vivid blue waters, and towering mountains surround it. While Becici beach is just as beautiful but less busy and it offers adventurous water sports!
If you have extra time, you can make the short 15-minute drive to Sveti Stefan, which is a small island connected to the mainland via a narrow path. The mainland region and island of Sveti Stefan are both beautiful and have the iconic orange-roofed houses. Sveti Stefan also has a beach which is one of the most famous in Montenegro due to its stunning beauty.
In addition to spending time at the beach, exploring Budva's Old Town is a must. This old town is another stone walled area that is full of twists and turns. It feels like you are inside an ancient fortress. Budva's old town is also full of tasty restaurant's serving local favorites and local shops. The old town in Budva is filled with charm and will leave you in awe of medieval architects.
Another great thing about Budva is its famous nightlife scene during the summer months. Budva has the most renowned nightlife scene out of all the other cities in Montenegro and is a great place to let loose once the sun goes down. There is a plethora of casinos and clubs that are always packed with people wanting to have a good time. One club in Budva - called Top Hill - holds 3,000 people and hosts famous DJ's and performers throughout the summer months. Heading out after hours is a great way to experience the Montenegrin nightlife, even if it is just for one drink at a bar or to dance somewhere sober! Everyone is welcome.