What sets them apart?
The number one thing that makes this hostel special is its unique and very cool interior design. From the common areas to the outdoor space, and especially the bunk beds, this hostel was obviously designed by artistic minds with a flare for ingenious cool stuff. Furthermore, this hostel has plenty of amenities, modern comforts, and an on-site bar and restaurant. They also have activities for guests such as live music and happy hours.
Hostel Personality
Who's staying here?
As this hostel is very close to the University, plenty of students and budget travelers are staying here. The on-site bar and restaurant makes for a nice place to hang out, too.
Insider Tip
Inquire about how to use the bed lights, they have a funky switch.
JO&JOE Paris - Gentilly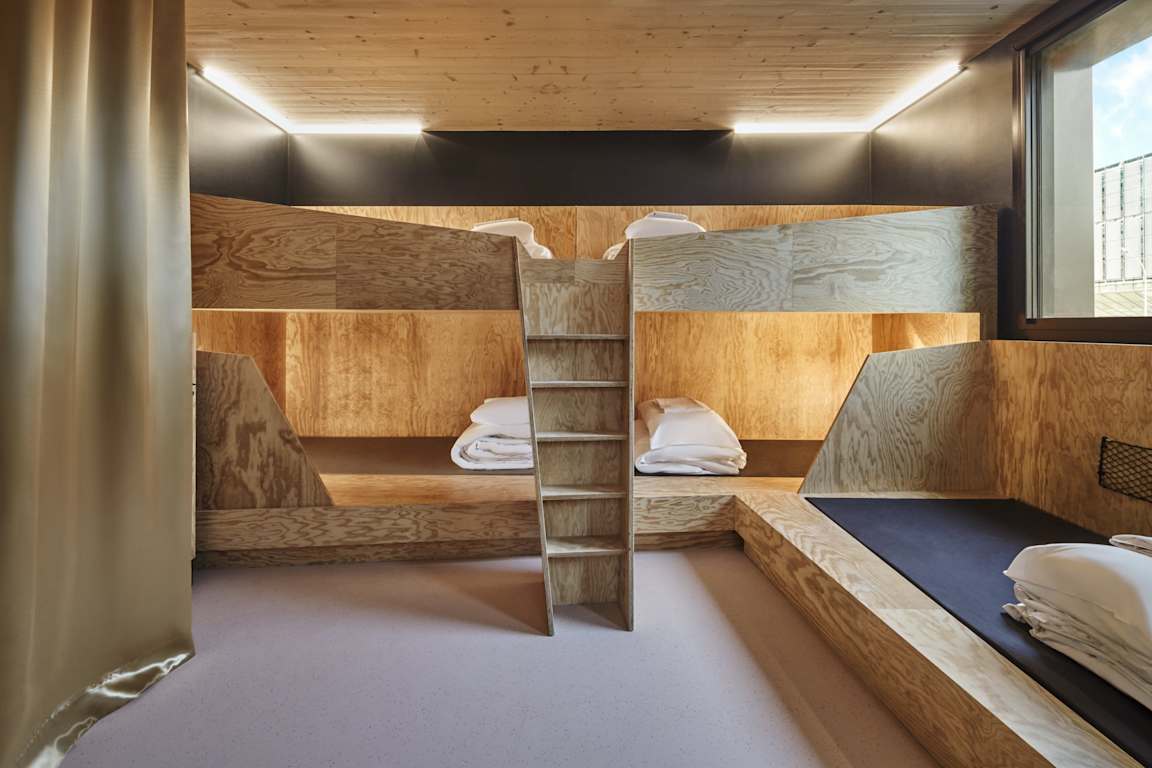 This hostel, designed by famous architects, has plenty of great amenities, a fun interior design, a nice outdoor seating area, and good prices. The hostel staff keeps everyone entertained by scheduling activities such as happy hours, live music, and other events through the week. And since this hostel is close to the University, plenty of younger travelers are often around, and other visitors come in just to eat at the restaurant, too.
The Facilities
Dorms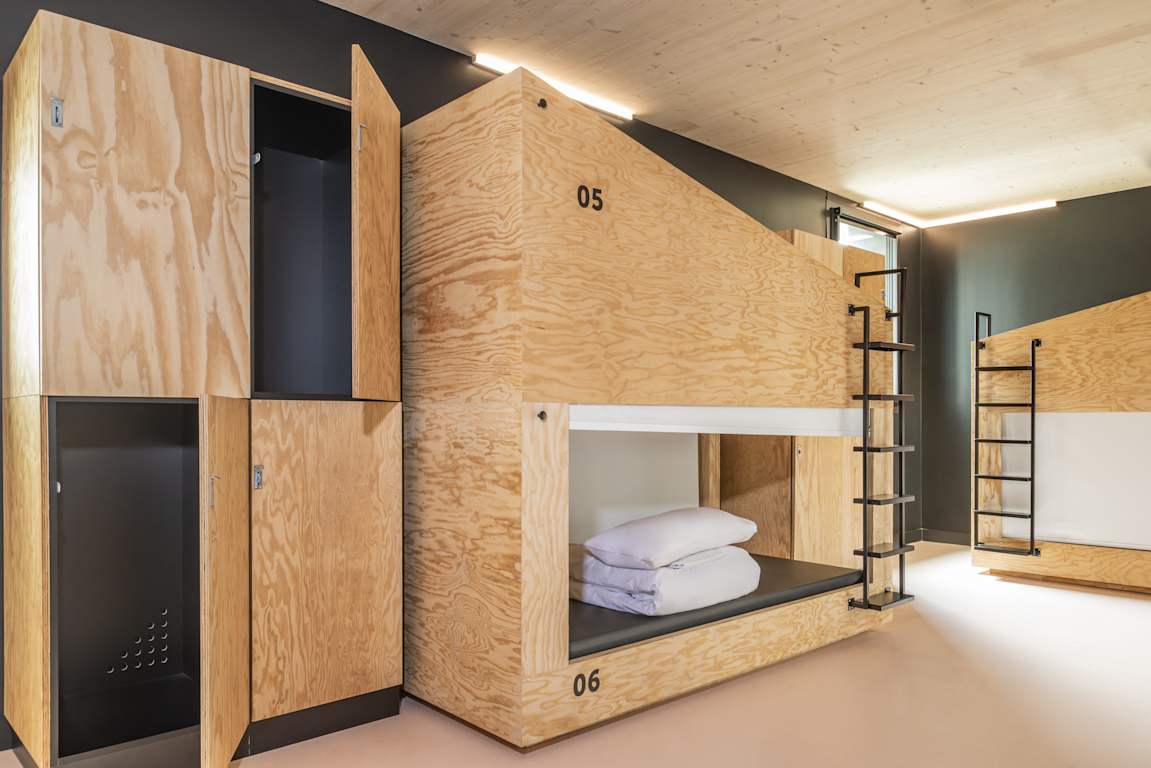 Perhaps the highlight of this hostel are the very interesting (and comfortable) dorm rooms with their custom-built bunk beds. The beds are angular, made of wood, and provide plenty of space. They are more comfortable than they look, as the large black mattress is quite soft. They are equipped with
curtains
, lights, and plugs, too.
The dorm rooms also have storage lockers for your stuff. Also, some rooms have ensuite bathrooms, but in the larger rooms this doesn't make much difference. Rooms come in sizes from 4 beds up to 12 beds. An
all-female
dorm option is also provided.
Private Rooms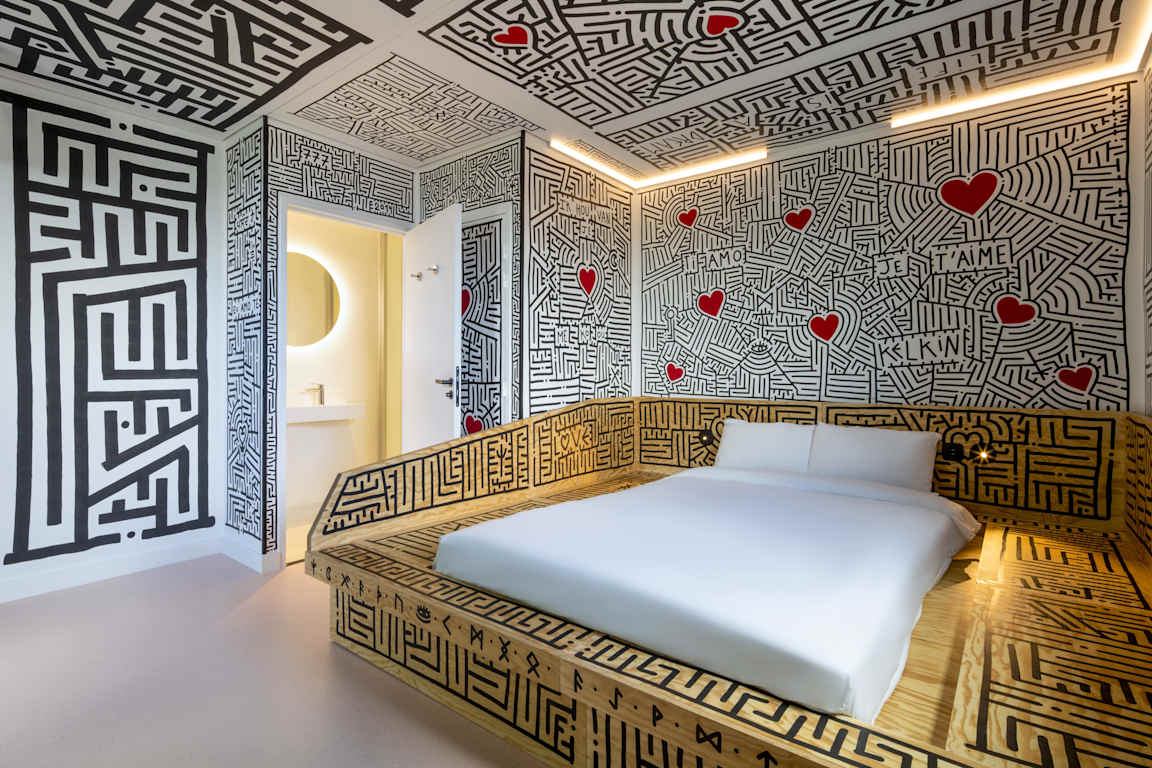 Private rooms are just as interesting as the dorms, and the beds are custom made, too. The art on the walls is also fascinating. Rooms come in a variety of sizes, the most common being the typical double bed room which is great for a couple. Other private rooms are nice options for a group of friends, and are essentially bunk bed dorm rooms that can become private rooms. Ensuite bathrooms can be found in all of the rooms.
Some of the single private rooms are not full-sized rooms, but rather a bunk bed area that can be closed off with a locked door. This provides more privacy than a typical bunk bed, but don't expect a room to yourself if you book this option. If you do prefer a room to yourself, then they are also available, so choose the right option when booking.
Bathrooms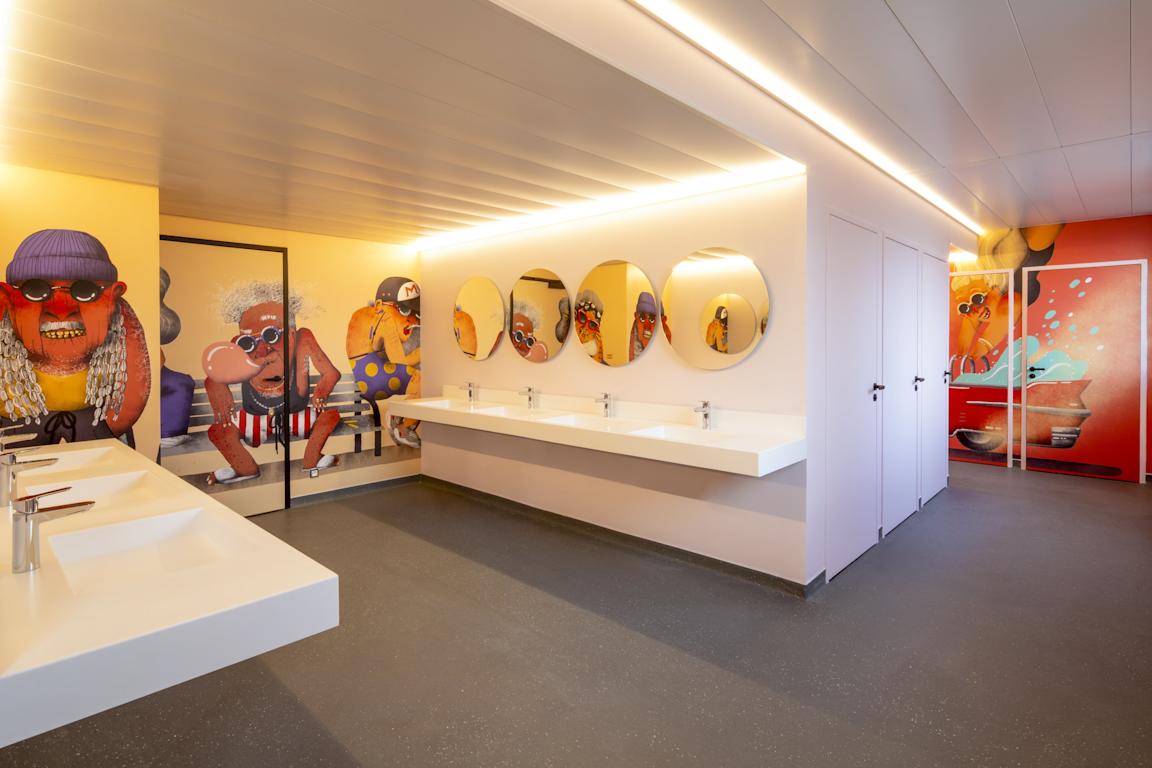 As this is a relatively new building, the bathrooms are modern, clean, and well designed. Plenty of fun and interesting artwork can be found on the walls, too. Hot water is plentiful, and other amenities such as hairdryers and towels can be obtained from the front desk. Some rooms have ensuite bathrooms, while other rooms utilize the large hallway bathrooms.
Bar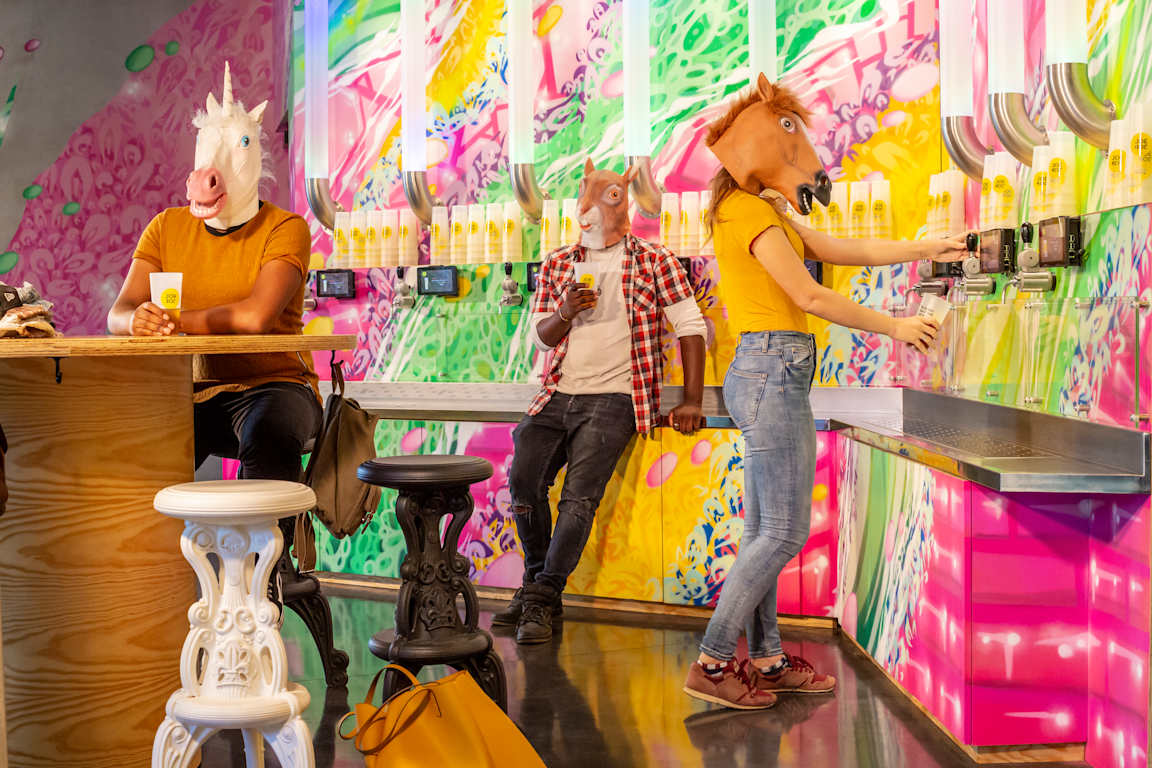 The bar area hosts regular happy hours and live music on some evenings. The modern drink dispensing machines add to the eclectic atmosphere full of colorful decorations, interesting custom-built tables, and other assorted oddities. Otherwise, you'll find plenty of guests around to talk to.
Restaurant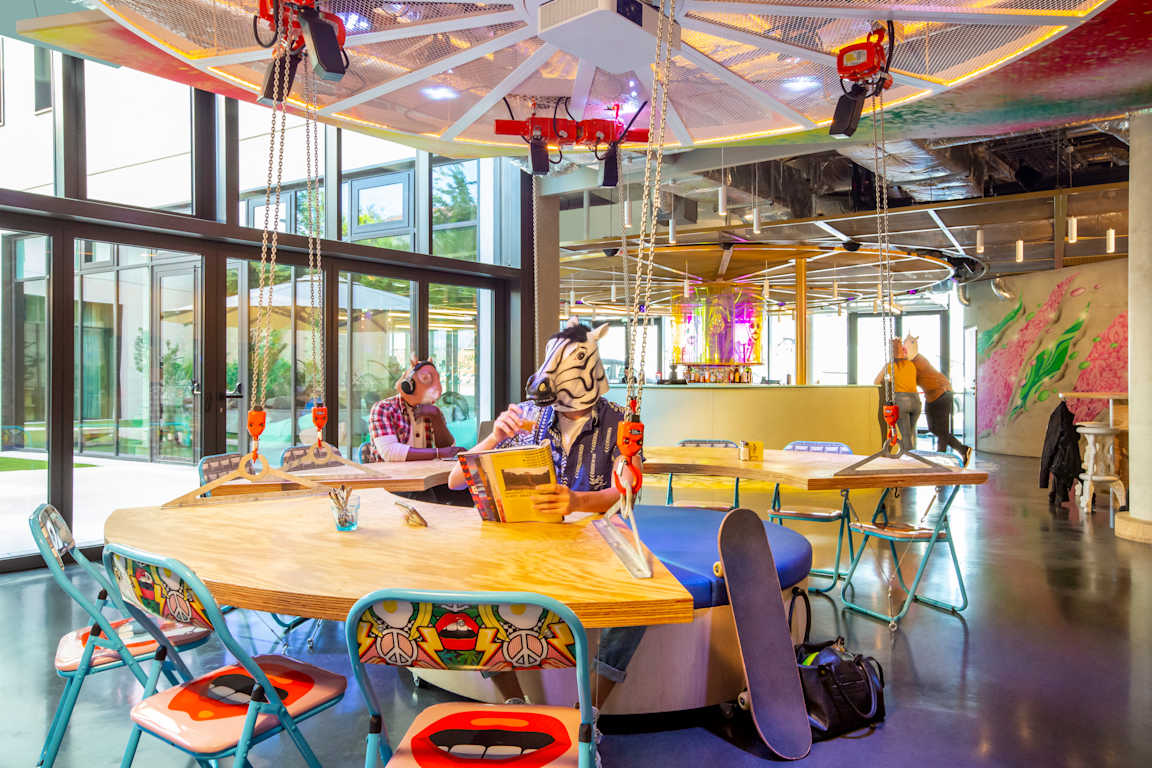 The on-site cafe and restaurant serves meals, as well as a nice breakfast. And once again, the style is fun and vibrant.
Common Areas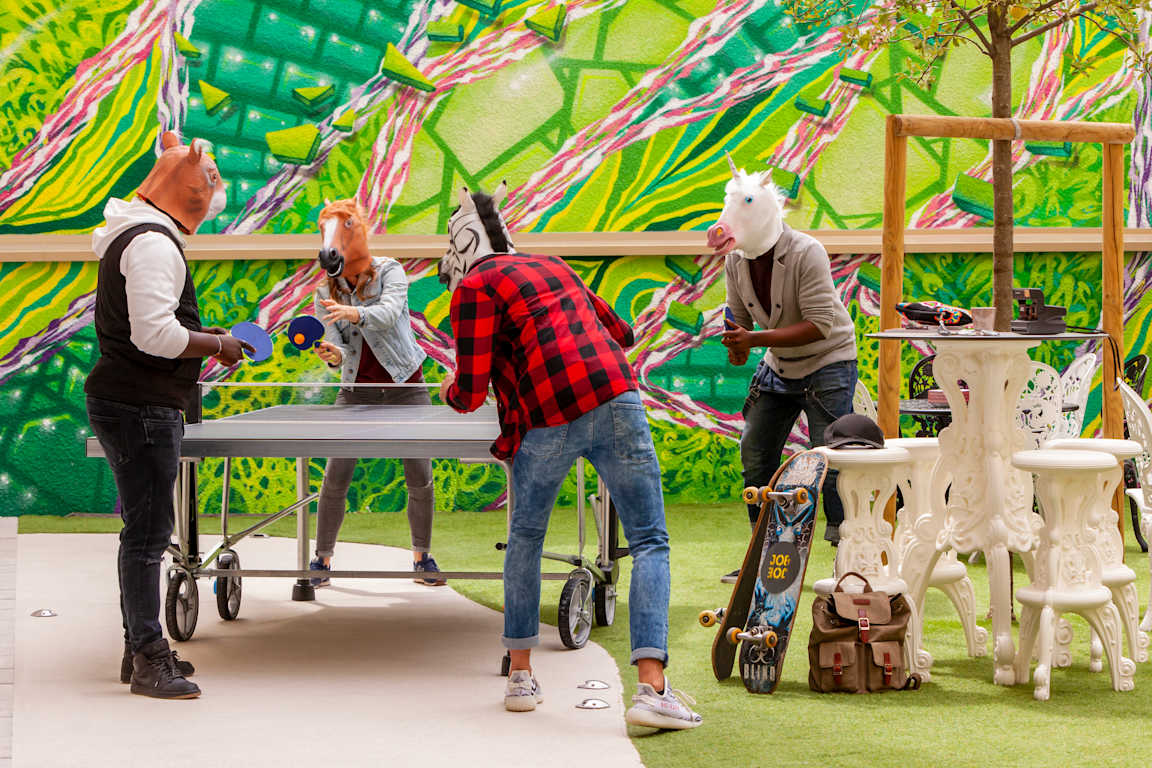 In addition to all of the other common space, the hostel also has a few hang-out areas with foosball, ping pong, and lounge seating. The entire ground floor is made up of the restaurant, bar, and lounge area, so there is space for everyone.
Outdoor Space
The outdoor area is a nice place to sit, relax, mingle with fellow guests, or plan your excursions into Paris. On warmer days this is also a terrific area to have a meal.
The Location
Gentilly
This neighborhood on the southern side of central Paris is home to the University of Paris. It is home to many students, and plenty of restaurants, bars, shops, and residences can be found here.
What's Nearby?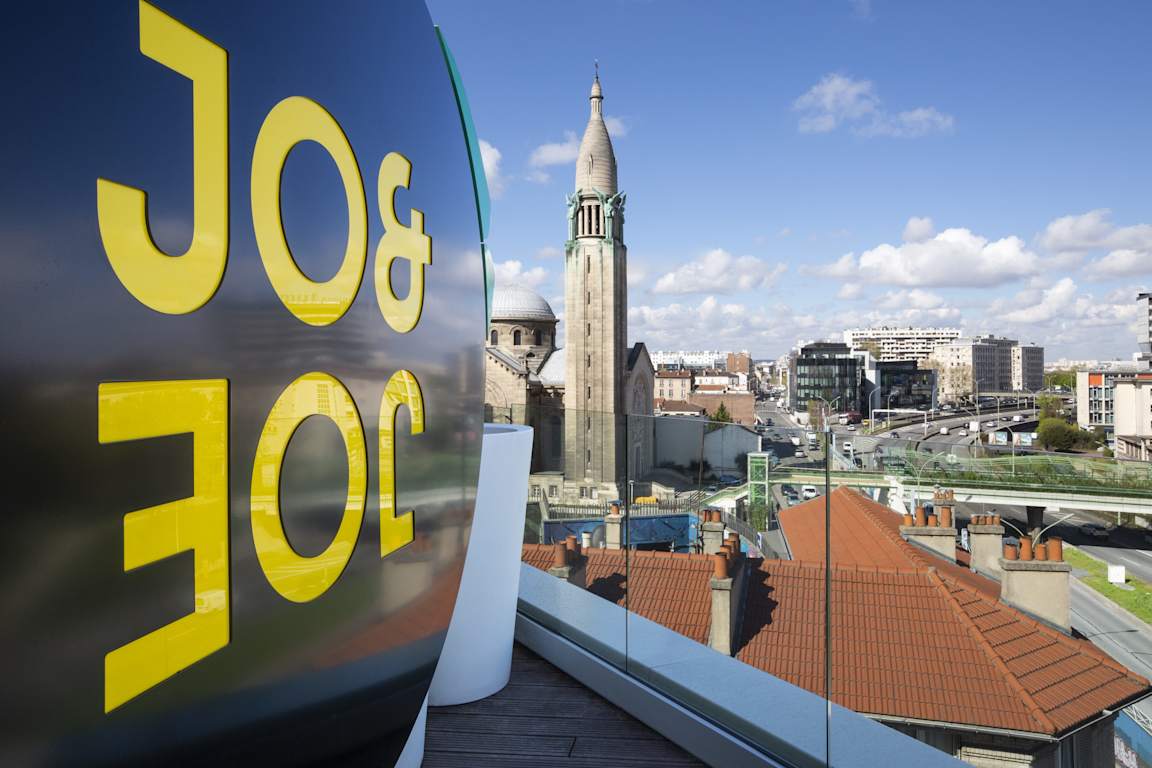 Located right near the University, plenty of shops, restaurants, bars, and parks can be found nearby. While you're not in the center of the city here, this is a nice residential urban neighborhood to base yourself.
Nearby Transportation
This hostel is located very close to the Gentilly RER train station. It's only 2 blocks away, and it can whisk you into central Paris in a matter of minutes. It's also a convenient ride to both airports.
Activities
Small groups or solo travelers will always find something to do here, as the hostel organizes happy hours, breakfast, live music, and DJs throughout the week.
Amenities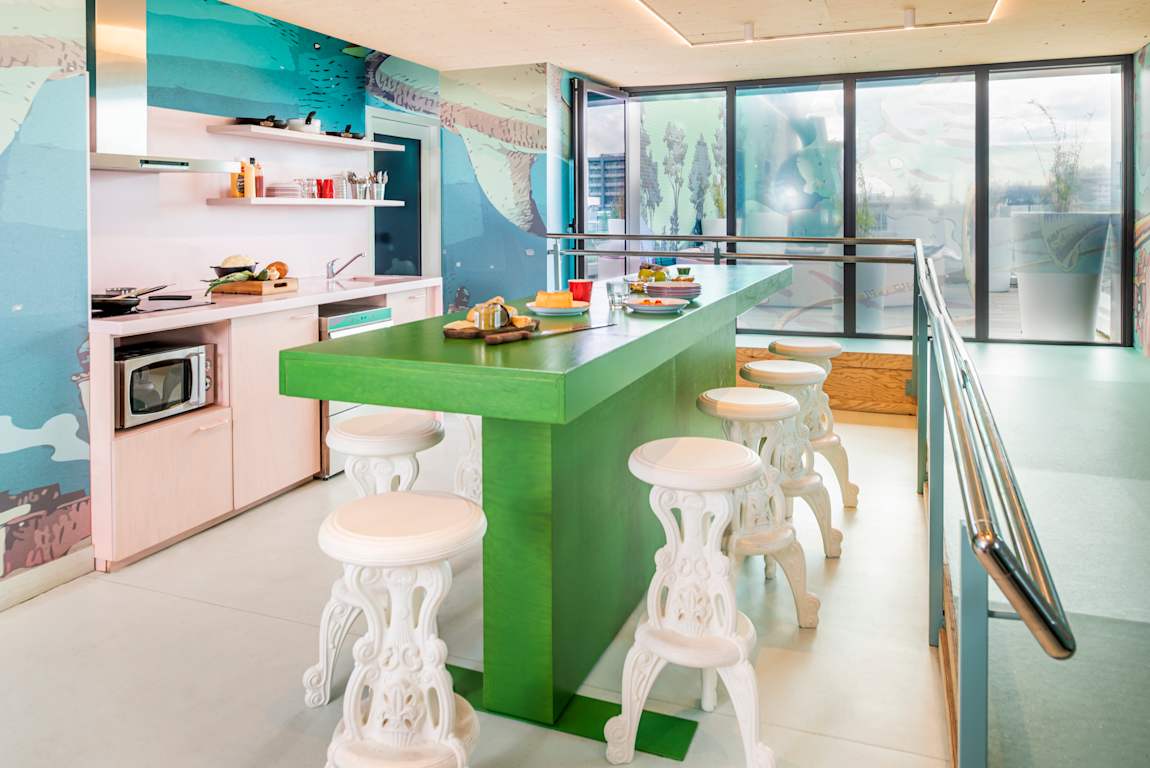 Plenty of nice amenities can be found here. Wi-Fi, TV's, a kitchen, towels, hairdryers, lockers, laundry, parking, key-card access, elevators, and more are on the list. As this is a fairly new hostel, you'll find plenty of stuff you need here.
Staff
The staff is friendly and keeps this medium-sized hostel running smoothly. They can help with information about the city or anything else you might need.
Heads Up
The location of this hostel is probably it's biggest weakness, as it's not close to the city center. They also charge small fees for the rentals of towels and other needed items if you don't bring your own, but this is common with hostels in Paris.
JO&JOE Paris - Gentilly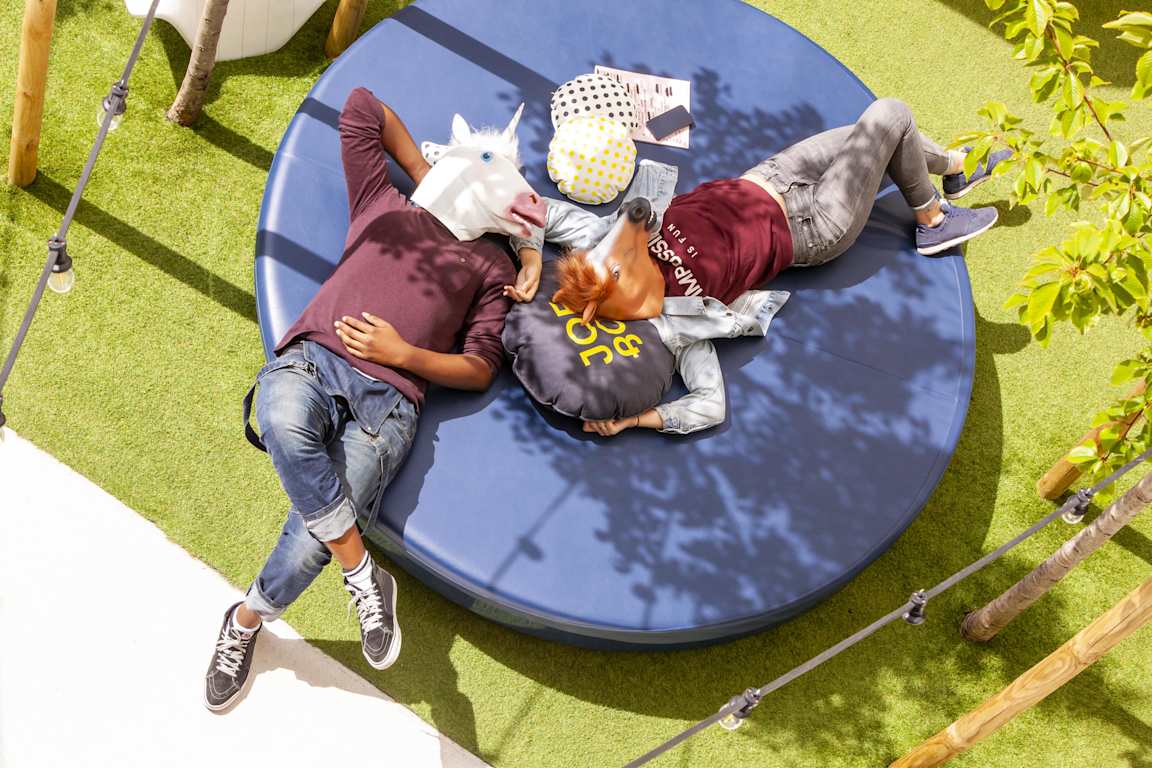 Do you have a favorite hostel that you would like to review? Let us know!