I had a wonderful experience at MIJE Forcy! The staff was very friendly and my room was very nice. It was in a great location, and I had a beautiful view! The security was good too. The breakfast was very nice. I definitely recommend! - American Girl
What sets them apart?
With a fantastic location just a few minutes' walk from Notre Dame in the heart of the city, this hostel is perfectly positioned to let guests explore Paris. Spread out over 3 buildings, the MIJE hostel sits in Marais and offers both dorms and private rooms that are modern, clean, and comfortable.
Hostel Personality
Who's staying here?
Budget travelers, younger couples, and backpackers make up most of the guests. This hostel is best for people who want to explore Paris as opposed to meeting up with other travelers, as it can be fairly quiet.

This hostel is also terrific for school groups or other organized groups.
Insider Tip
This hostel is spread across three different buildings, all within a few minutes' walk from each other. You'll be told where to go upon check in.
MIJE Marais
A charming hostel with plenty of Parisian character in the shared spaces, but with modern and clean rooms, this place offers a nice and quiet stay for anyone on a budget looking to explore Paris. Breakfast is included, and the cafe/restaurant serves meals, too. With a great location in the Marais near everything in the center of town, this is an excellent base to explore the city.
The Facilities
Dorms
Dorms come in sizes from 4 beds up to 10 beds. Some of the rooms have ensuite bathrooms with sinks and showers so that you don't have to go down the halls. Keep in mind that since this hostel is spread across 3 different buildings, the style of the room that you get might be different from what others have experienced. However, the bunks are modern and clean, with a simple and modern decor. All-female rooms are available, too.
Private Rooms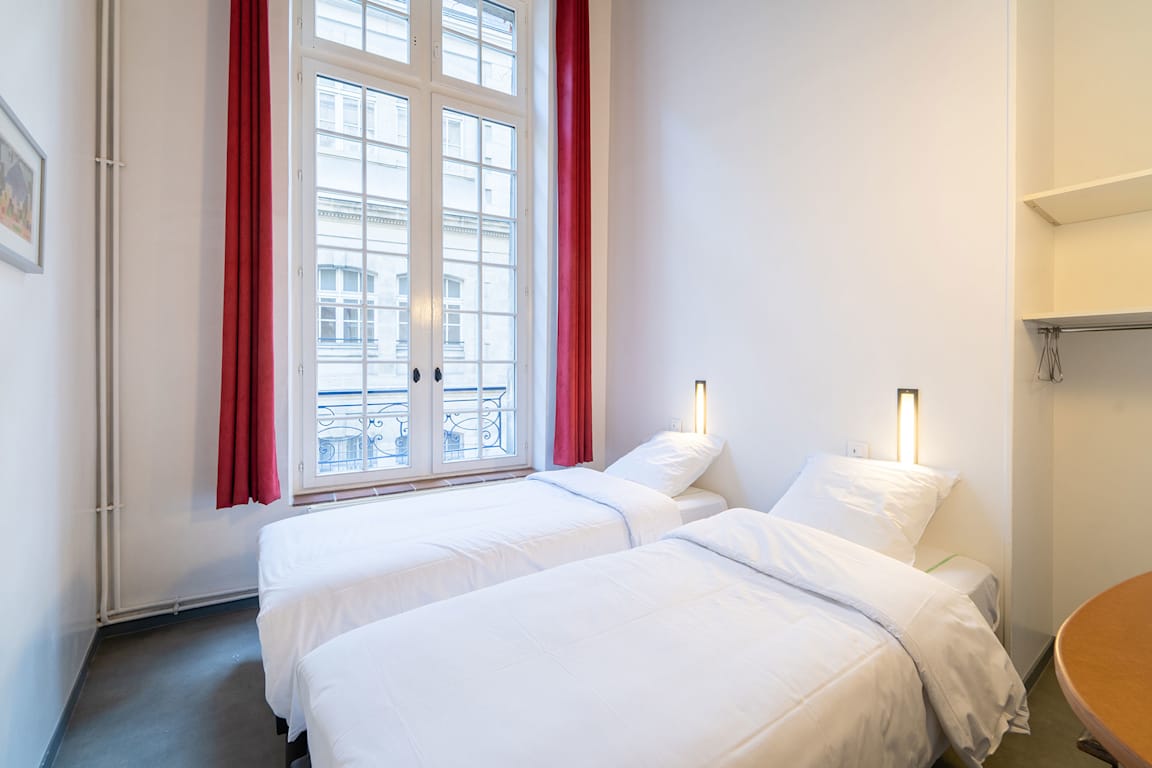 Private rooms come in a few different sizes here. It's possible to get a small dorm room for a small group a friends, or you can have a twin room with just a couple of beds.
Bathrooms
Bathrooms are modern and clean, and have plenty of hot water. For many rooms, the shower and sink are ensuite, but the toilets are on the hallways.
Restaurant
The restaurant serves a free breakfast every morning for guests. In addition to that, they also serve meals throughout the day. The dining area is large and makes for a great place to meet other guests.
Common Areas
The common areas of this hostel are quite charming, as the buildings themselves are older and have a historic Parisian atmosphere.
Outdoor Space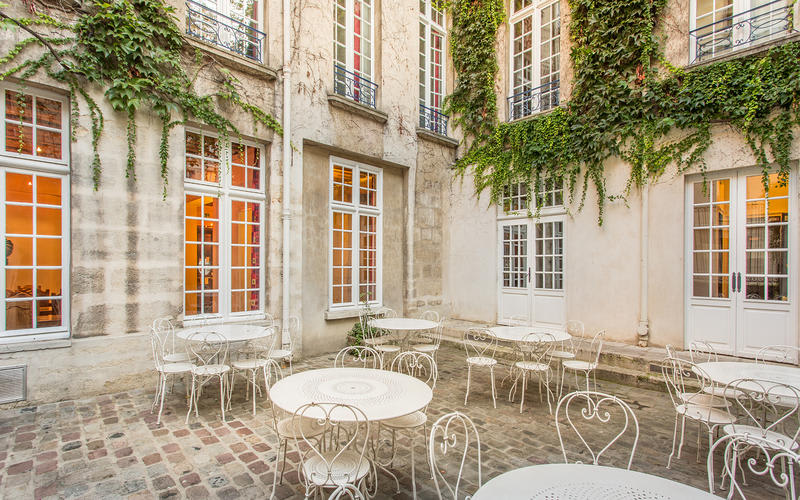 An outdoor patio area has tables and chairs. During warmer months, this spot is a great place to have a meal, read a book, or plan your adventures around Paris with some new friends.
The Location
Marais / 3rd Arr.
In the heart of Paris, on the north side of the river, this centrally located neighborhood is full of Parisian charm, cafes, restaurants, and access to the entire city within minutes.
What's Nearby?
Since the Marais sits right in the middle of the city, you can walk everywhere. Notre Dame, the Louvre, the Bastille, the Gothic Quarter, and plenty of museums are nearby. Shops, restaurants, cathedrals, cafes, and more can be found around the hostel simply by walking around the neighborhood.
Nearby Transportation
As this hostel is located in the center of Paris, it's quite easy to walk to many places around town. However, multiple metro stations are nearby, as are bus stations. The nearest metro stations are Saint-Paul (line 1) and Pont Marie (line 7). From these stations you can connect to any other line fairly quickly, although other metro stations are also within an easy walk, too.
The Gare de Lyon train station is only a few stops away, or a long walk.
Amenities
Standard hostel amenities can be found here, including Wi-Fi (in the lobby), breakfast, laundry, luggage storage, a tour and travel desk, key-card access, and more. Note that a kitchen for self-catering is not available, but they do have an affordable restaurant.
Staff
The staff is friendly and helpful, and does their best to keep everything clean and running smoothly.
Heads Up
This is a large hostel, and some guests have said that the staff sometimes feels a little overwhelmed. Also, some of the rooms don't have enough plugs for everyone. Otherwise, many guests have expressed that they were surprised to be taken to another building. Keep in mind that this hostel spans three buildings across several blocks of the city.
MIJE Marais
Do you have a favorite hostel that you would like to review? Let us know!