It was a great experience! It was a very hip place and they offered a free walking tour (which allowed us to make friends)! - American Girl
What sets them apart?
Located not far from Wenceslas Square on the border of new town and old town, this hostel is very social, has plenty of activities for guests, and a nice set of amenities.
Hostel Personality
Who's staying here?
Mostly young budget travelers stay here such as solo travelers, backpackers, long term gap year travelers, students, and younger couples.
Insider Tip
Join the group activities if you want to make some friends!
Ahoy! NewTown
With a good location, plenty of activities including group dinners and walking tours, and a nice list of amenities, this hostel is a good choice for budget travelers. They have a variety of room types and sizes, plus some very comfortable common spaces and a cheap breakfast. The cafe area provides some nice meals and drinks, too. The outdoor patio and comfortable lounge are fun areas to meet up with new friends. Their shared kitchen is also large and well stocked! Overall it's modern, well run, and in a good location!
The Facilities
Dorms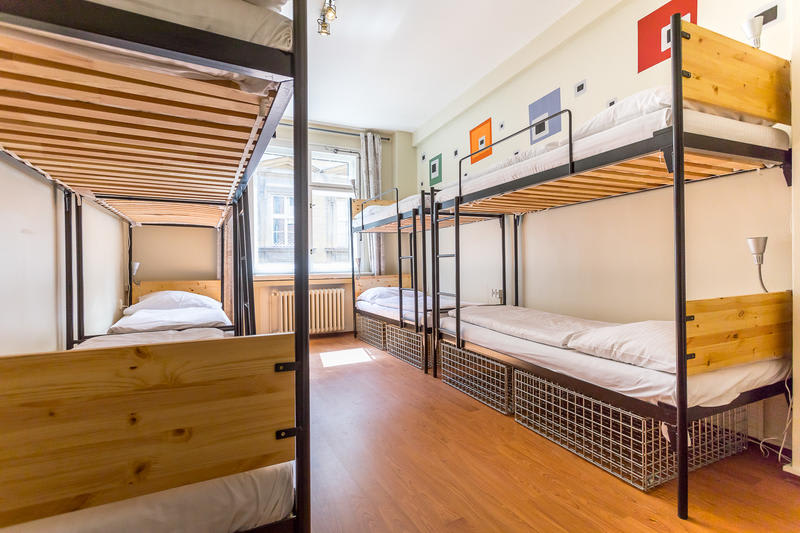 Dorms at the Ahoy New Town hostel are modern, spacious, well lit, and nicely furbished. The bunks have lockers under the beds which are large enough to hold your luggage. An all-female room is available, and rooms come in sizes from 4 to 8 beds. Beds have plugs and lights, too. The hallway bathrooms are also nice.
Private Rooms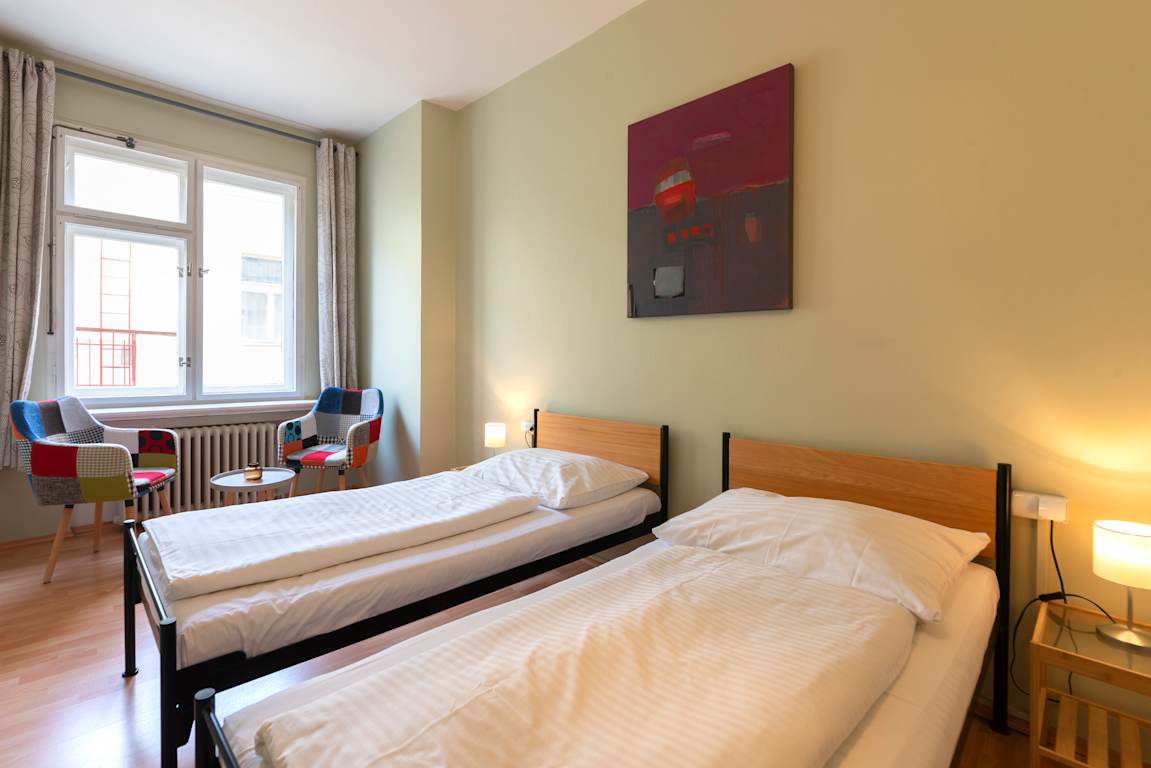 Private rooms at the Ahoy New Town hostel are comfortable and feel like budget hotel rooms. They use the hallway shared bathrooms, but include some nice furniture. Some also have balconies with nice views over the charming streets below. Doubles, twin doubles, and 4-person rooms are available.
Bathrooms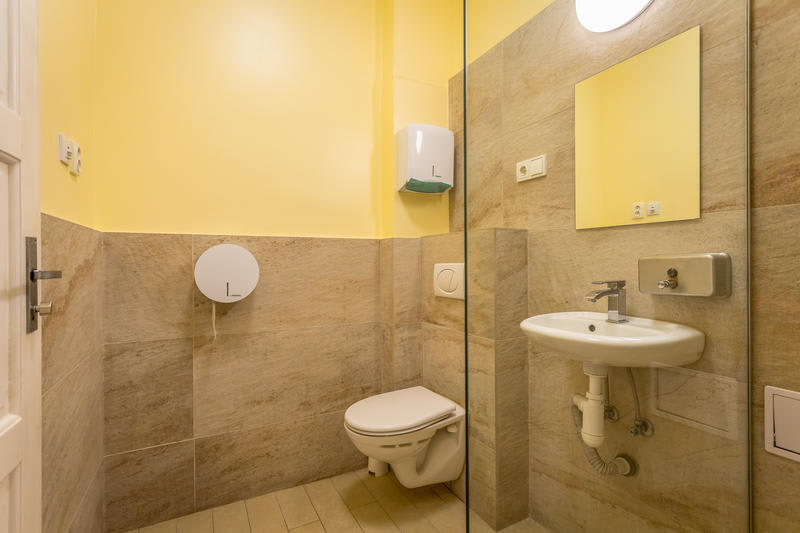 The bathrooms here are modern, renovated, and have plenty of space. Hot water is usually available, and the pressure is good. There's no "history" in these bathrooms, which is great. Towels and hairdryers can be rented from the front desk.
Restaurant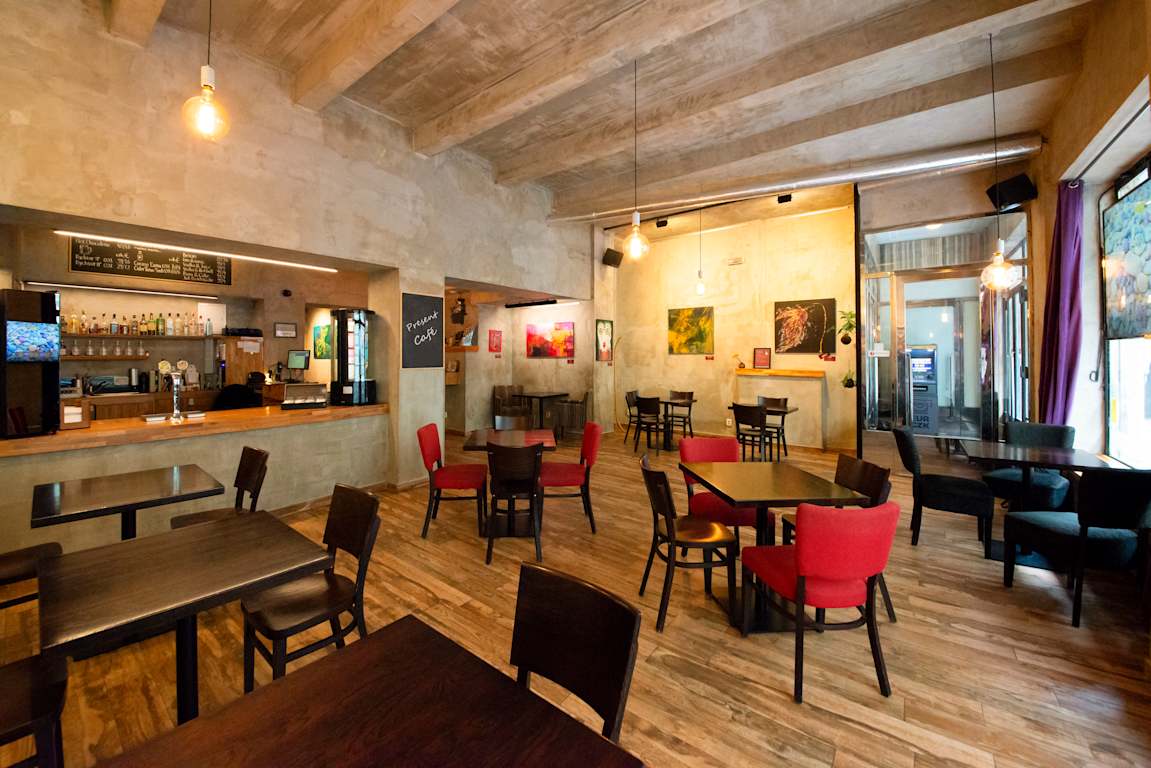 The cafe and bar at the Ahoy New Town is a good place to grab a meal (including their affordable breakfast) or a casual beer and chat with friends. They serve a good selection of delicious meals if you don't want to head out into the town.
Common Areas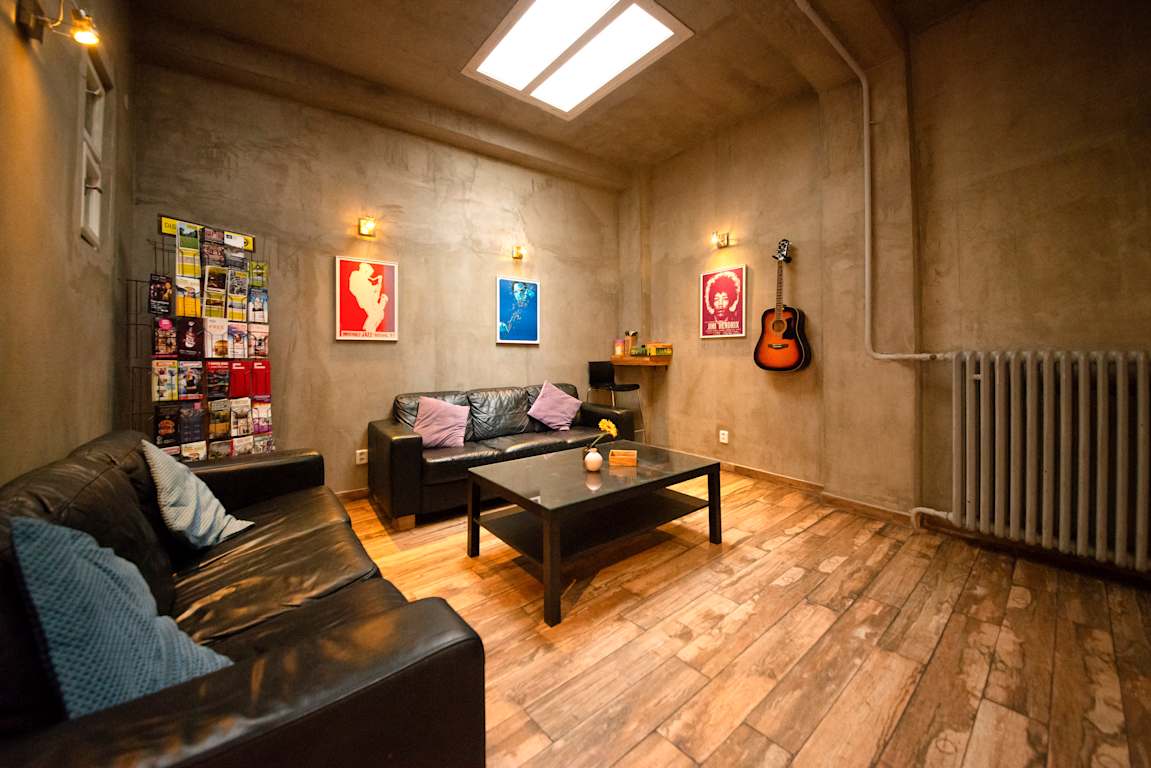 The main common room here, other than the cafe area, is a nice lounge with comfortable sofas and a guitar. This is a nice spot to plan your adventures in Prague or relax on the internet. Otherwise, the spacious communal kitchen is a fantastic spot to cook your own meals and chat with guests during meal times. The kitchen is fully stocked and feels like a large industrial grade kitchen.
Outdoor Space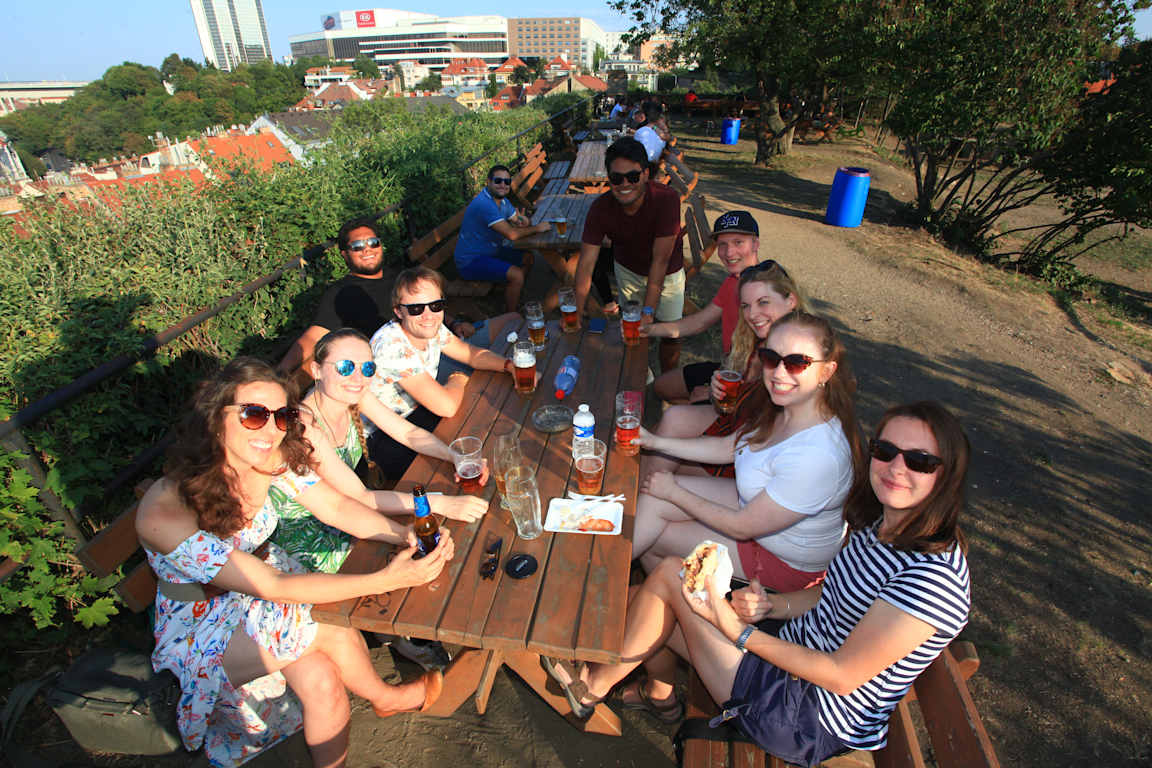 The nice patio of the hostel has some picnic tables. During the warmer months, this is a nice spot to have a beer, eat a meal, or just chat with your new friends from the hostel.
The Location
New Town
What's Nearby?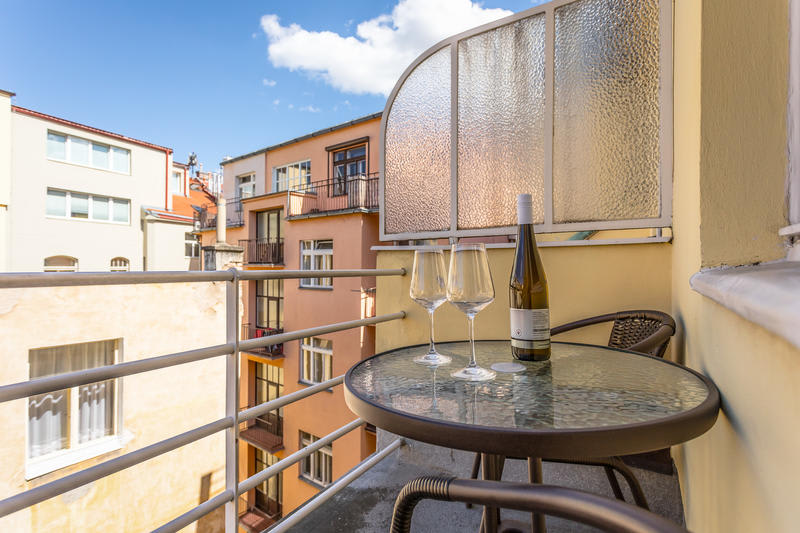 Located not far from Wenceslas Square and the main train staiton, this hostel sits on the border of old town and new town. Just a short walk north will take you into the old town area where you can find all of the historic sites. Near the hostel are plenty of shops, restaurants, theaters, museums, and bars. This hostel is perfectly situated to take advantage of the touristy and non-touristy areas of central Prague.
Nearby Transportation
Several tram stops are just a few blocks away in several directions. On the tram you can zip around old or new Prague in a matter of minutes. Also nearby are few different metro stations on 2 different lines. Using the metro system, it's possible to reach other neighborhoods around Prague or get out of the city.
Activities
With group dinners, tours, organized breakfasts, pub crawls, and more, the Ahoy New Town hostel puts on plenty of events for guests so that they can get to know one another and enjoy Prague. If you can't find something to do at this hostel, then you're trying hard to avoid people. You'll definitely make some new friends at this very social hostel.
Amenities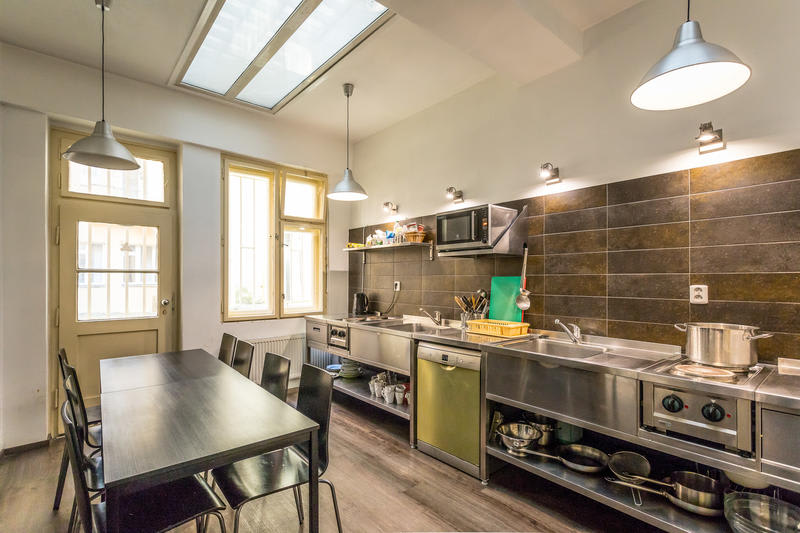 In addition to the fantastic community kitchen, the Ahoy! New Town also offers Wi-Fi, laundry, luggage storage, bike rental, 24 hour reception, a pool table and board games, tours, and more.
Staff
The staff is friendly and professional, and will help you out with your questions about Prague. They also keep the hostel fun by providing plenty of activities at the hostel and in the cafe and bar. They work hard to keep the hostel clean, too.
Heads Up
Some guests say that the walls are thin and that the doors slam a little loud.
Ahoy! NewTown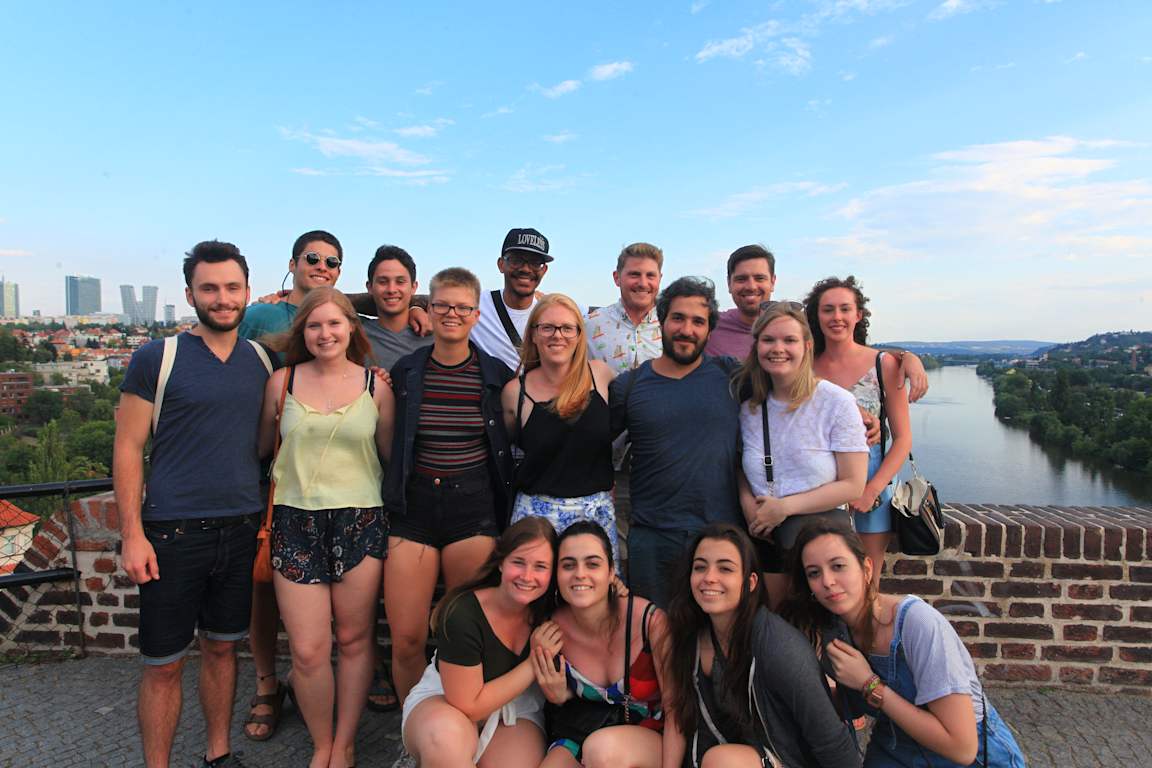 Do you have a favorite hostel that you would like to review? Let us know!