Serbia On a Budget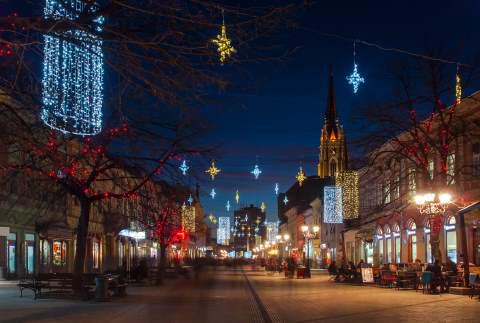 Serbia is a fascinating country in the Balkan region. It is one of six republics that came from the former Yugoslavia. While you can visit Serbia most times of the year, the summer months offer the best weather and more activities and festivals. Most travelers head to the capital city of Belgrade, but you don't have to venture too far away to see some of the country's wonderful national parks and small towns.
Serbia has been slower to gain popularity among travelers than some of its nearby neighbors, but that isn't for a lack of cultural and historical sites. In Serbia you can still catch a glimpse of traditional life at a crosswords of cultures and ethnicity without the abundance of crowds you might find in other nearby countries.
Belgrade is the city to visit if you're hoping to do some shopping. The downtown area is filled with high end shops selling anything from cloths to designer goods. Once you're outside of the capital city you'll find that most things are much cheaper in price.
Food in Serbia is quite reasonably priced, in part because there are local "fast food" options everywhere. Burek, or pastry filled with meats or cheeses, is probably the most budget friendly option. You'll also find countless fast food grills that offer everything from Serbian style burgers to meat snacks. Almost all food has some form of meat or cheese in it, so as a vegetarian you will likely struggle to find food.
Transportation in Serbia is relatively straight forward. If you're hoping to save money you should opt for the bus instead of the train. Buses are generally cheaper and they are more abundant here. You are likely to at least a couple of bus trips during your stay in Serbia.
Although Serbia hasn't yet become a hotspot in Europe, it has much to offer the travelers who take the time to experience this fascinating country. Allow yourself plenty of time and make sure you venture outside the Belgrade and you're likely to catch a rare glimpse at a European country not yet influenced by the tourism industry.
Related:
Looking for a party in
Croatia
?
Traveling alone to
Split
or
Dubrovnik
?
Find a
Contiki tour
to Europe.
Top Tourist Attractions
Skadarlija:
This neighborhood is made up of an old, vintage street which is the main Bohemian area in the country of Serbia. Located in Belgrade, it is lined with interesting shops and restaurants and has an interesting ambiance worth experiencing.
Kalemegdan Fortress:
This is a fort in Belgrade that has been built and rebuilt over 2000 years by the Celts, Romans, Byzantins, Serbs, Austrians and Turks. It has both the fortress and a park area and sits in near the point where the River Sava and Danube River meet.
Novi Sad:
Novi Sad is an enjoyable city worth exploring with its main site being Petrovaradin Fortress. It's the second largest city in the country, and probably the second most popular city amongst travelers.
Popular Foods
Cevapi:
This is a popular Serbian dish made with mixed, minced, and grilled meat and served in the typical kabob style. It's often accompanied by rice and a flatbread. The meal is often considered to by the national dish of Serbia, but you will find comparable dishes in other nearby countries.
Gibanica:
This is a phillo pastry pie filled with spinach and cheese. It's often made with white cheese which is layered between the pastry dough. There are comparable dishes in neighboring countries as well as some countries in the Middle East. It's most often served in the home as a snack option between meals.
Prebranac:
This is one of the country's few vegetarian dishes. It's made from a mixture of beans and vegetables and served in a casserole style dish. It's comparable to baked beans, but instead made with lima beans which are cooked with onions and Hungarian paprika.