Hostels for backpackers, solo travelers, couples, families, and groups
Seville is a great destination in Europe if you're traveling on a budget. It's popular with backpackers and young independent travelers, so there's no shortage of hostels to choose from, and so many of them are very social. Lots of hostels organize all kinds of events including walking tours, pub crawls, and dinner events. If you're an independent traveler that wants to meet others, then you've come to the right place.
How much do hostels in Seville cost?
The average price for a dorm bed in a hostel in Seville is $19 (with a range from $11 to $29). Also, the average price for a private room in a hostel in Seville is $53 (with a range from $28 to $94). While quality usually increases as you pay more money for a bed or a room, this is not always the case. So, make sure you read the reviews from other visitors, check out the photos, and see the location before you make a reservation.
Contents
Let's get started!
Best Overall Hostels in Seville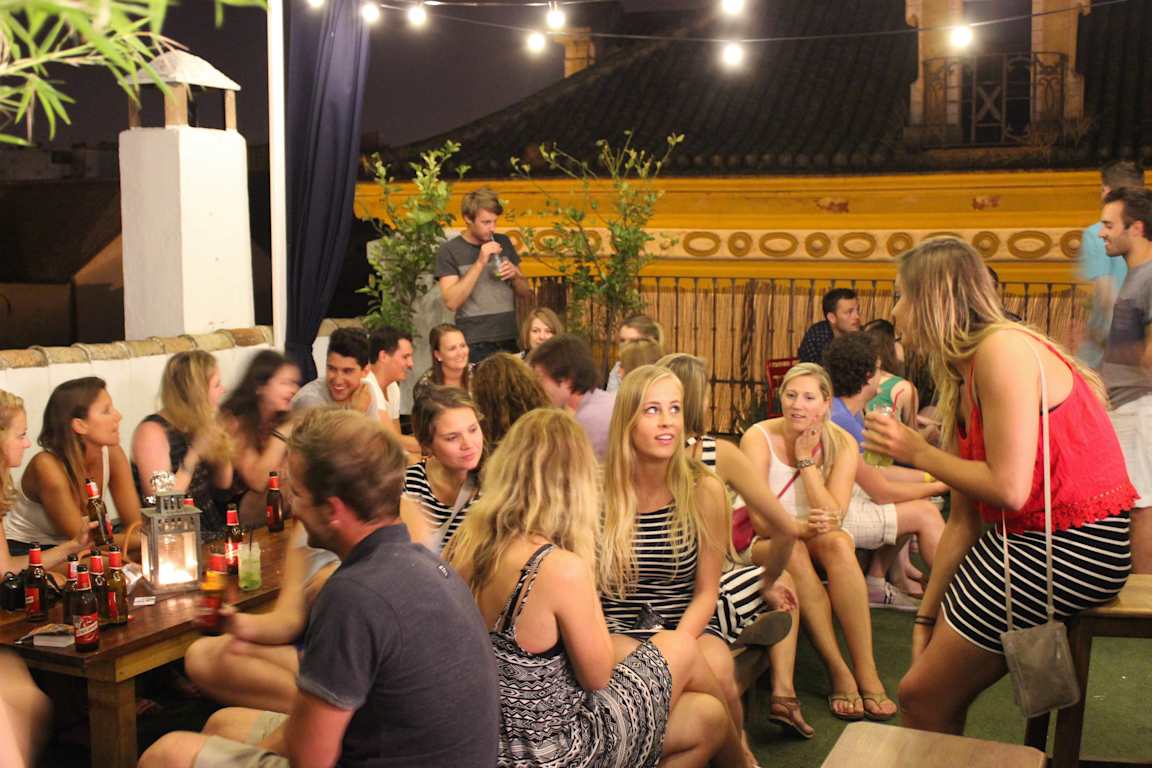 Who should stay here:
Solo travelers and small groups of friends looking to meet other travelers
Location:
Next to La Maestranza Bullring and 650 feet from the cathedral
Amenities:
A lounge, board games, free wi-fi, a shared kitchen, a rooftop garden, security lockers, organized activities
Personality:
A small but social and fun hostel
Heads up:
It can get a bit loud and the price is higher than some other hostels
This hostel offers a great atmosphere that's social and fun, but also has a relaxed and chill vibe. There are family style dinners on the rooftop terrace, organized activities, walking tours and more. The hostel was started by two friends and travel buddies from the UK and it offers the quintessential backpacker vibe. It's a welcoming and inclusive environment where you'll quickly feel like you're among friends.
If you're looking to get away from the corporate chain hostels that have spread throughout Europe, then this is a good option. It's run by travelers, for travelers. The staff is friendly and eager to help you with any travel advice you might need. They keep the atmosphere fun, but chill, so everyone will have a good time during their stay here.
One guest said "Everything about this place is perfect. I would recommend it to everyone. The rooftop creates an incredible, extremely fun vibe that is like nothing i have ever seen before. The staff are beyond friendly and interesting to talk to, plus, the rooms are pretty good and spacious too.".
Another fantastic hostel that fits in this category is
Triana Backpackers
.
The Best Party Hostels in Seville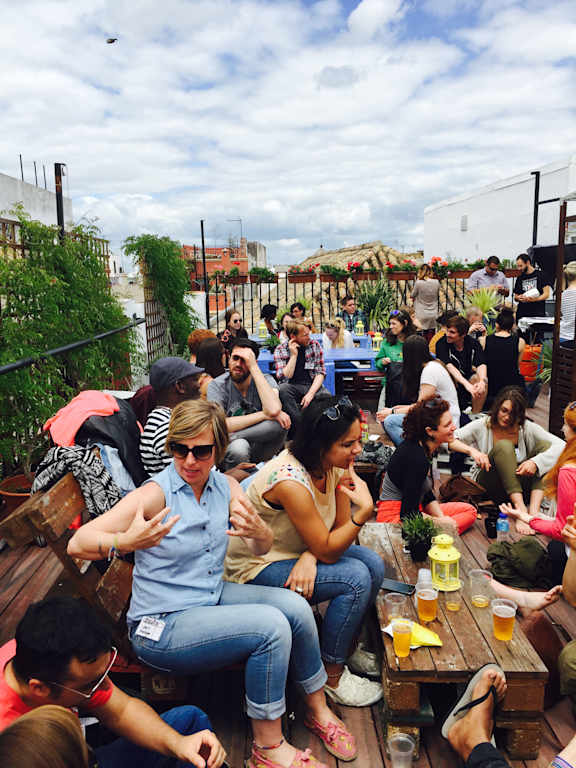 Who should stay here:
Young backpackers looking to party hard.
Location:
In the center of town very close to the Cathedral, the Alcazar Palace, the Alfalfa, and the Alameda
Amenities:
A rooftop terrace, an on-site bar, a pool, free walking tours, dancing lessons, cooking lessons, pub crawls, tapas tastings, barbecues, live music, breakfast (for a fee), wi-fi, and travel information
Personality:
Party!
Heads up:
It's a party hostel, so expect everything that comes with that such as noise.
One guest said, "This hostel was PERFECT. The rooms are VERY spacious the bathrooms are VERY spacious and clean and the beds are comfy. The atmosphere on the rooftop/bar/pool area is awesome, the way it's laid out is perfect for socialising - if you are travelling alone you will definitely make friends here instantly."
Oasis Backpackers' Palace Sevilla is a party hostel for the young and young at heart. If you're headed to Seville to have fun, meet other young backpackers, and drink and dance late into the night, then there is no better place. The on-site bar and pool make for a great place to hang out. The hostel stays busy and attracts a crowd of lively young travelers, so whether you're traveling alone or with friends, you'll soon have a group to hang out with.
The hostel's location is central and convenient for seeing the sights and experiencing the nightlife. The hostel has a wide range of dorms to choose from including 4, 6, 8, 10, 12, and 14 bed rooms as well as double private rooms, so there's something for every price range and travel style.
Other recommended party hostels:
-
Oasis Backpackers' Hostel Sevilla
Best Hostels for Solo Travelers in Seville
Who should stay here:
Solo travelers, backpackers, and small groups
Location:
On San Andres Square, a ten minute walk from the cathedral and the Alcazar Palace.
Amenities:
Free family style dinners, walking tours, pub crawls, on-site bar, shared kitchen, security lockers, laundry service, and free wi-fi
Personality:
This is a friendly hostel with a lot of social activities.
Heads up:
This hostel can be noisy and it's a bit more expensive than most, but they door offer a lot of free amenities.
This hostel is super friendly with staff that will go out of their way to help you out. You'll meet other guests at the free group dinners every night and the social vibe is welcoming and fun. If you're traveling alone, this is the perfect place to meet other backpackers and it won't be long before you feel like you're with family.
The amenities are great, with everything from free group tours to organized activities. The dorms are comfortable and secure and this is a great place to stay, whether you're staying at your very first hostel, or are an experienced traveler.
One guest said "This is a fantastic hostel and was one of the best I have been to as a solo female traveler. This hostel is in a wonderful location for seeing Sevilla, has the friendliest staff, and feels like a home away from home as it's easy to meet people with the family style dinners. The daily tours offered are wonderful and there are fun activities to do each day. If you're coming to Sevilla, stay here and definitely stay more than one night!".
Who should stay here:
Solo travelers, backpackers, and small groups
Location:
Centrally located walking distance to the cathedral, the Torre del Oro, the Real Alcazar, Barrio de Santa Cruz and Plaza de Toros
Amenities:
On-site bar, on-site pool, family style dinners (for a fee), a shared kitchen, free wi-fi, and free walking tours
Personality:
A laid back, social hostel
Heads up:
The kitchen is a bit small and the price is a bit higher than some other hostels.
If you're traveling alone and looking for a fun and comfortable place to spend a few nights, then Oasis Backpackers' Hostel is a great option. The amenities are awesome, with everything including a small pool. The staff are wonderful and can give you all kinds of tips on where to go and what to see in Seville. There's a roof top terrace where you can hang out with other travelers and grab a drink.
The location is perfect, near all types of public transportation. The guests are staff are diverse and come from all over the world. The perfect time to meet them is during one of their nightly homecooked meals, which are filling and reasonably priced. If you prefer to prepare your own food, there's a small kitchen as well.
Whether you've come to Seville for the nightlife, or want to soak up the historic sites, this is a great place to stay.
One guest said "Staff is SUPER nice and welcoming. They have a little living room in the lobby and a big rooftop with a pool, bar and part of the eating area. The kitchen is really small but for 1 at a time is fine. Rooms are clean with personal bathrooms and location is right next to the Metropol and 3 blocks from the city center."
Hostels with the Best Location in Seville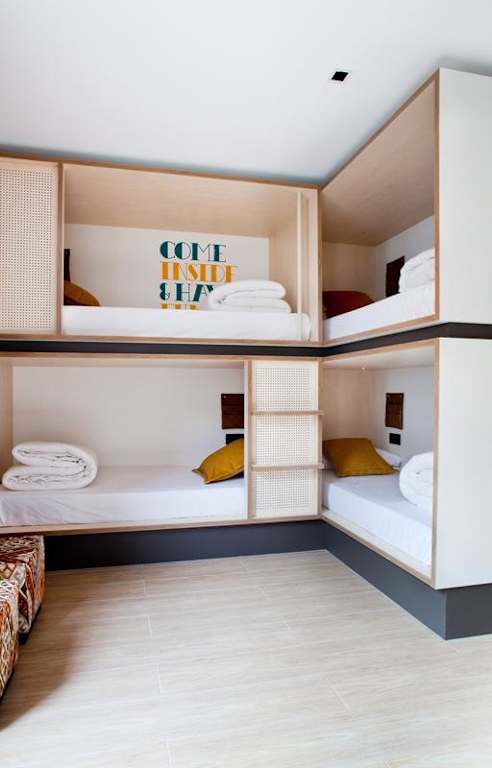 Who should stay here:
Couples and backpackers who want to be close to everything
Location:
In the center of Sevilla near many monuments, bars, and restaurants
Amenities:
Laundry facilities, bicycle parking, and a shared kitchen
Personality:
This hostel has a hotel vibe and is all about location.
Heads up:
Wi-fi doesn't work in the rooms and it can be a bit difficult to meet people.
This hostel is all about location. It's near the most popular monuments and there are great restaurants and bars nearby. The hostel itself is comfortable and you'll appreciate the convenience and price.
Despite being centrally located near everything, it's still a quiet setting because it sits on a quiet side street. The building is solid and locks out most noises so you can be assured a great night's sleep. You can also enjoy hanging out at the quaint outside seating area.
If you're looking for a comfortable and efficient visit to Seville, then this hostel is one of the best.
One guest said "Great hostel couldn't ask for more, amazing location beside all the tourist locations and not to far away from El Pasaje Sevilla which has the best food ever. 10/10 one of the best hostels I've stayed at.".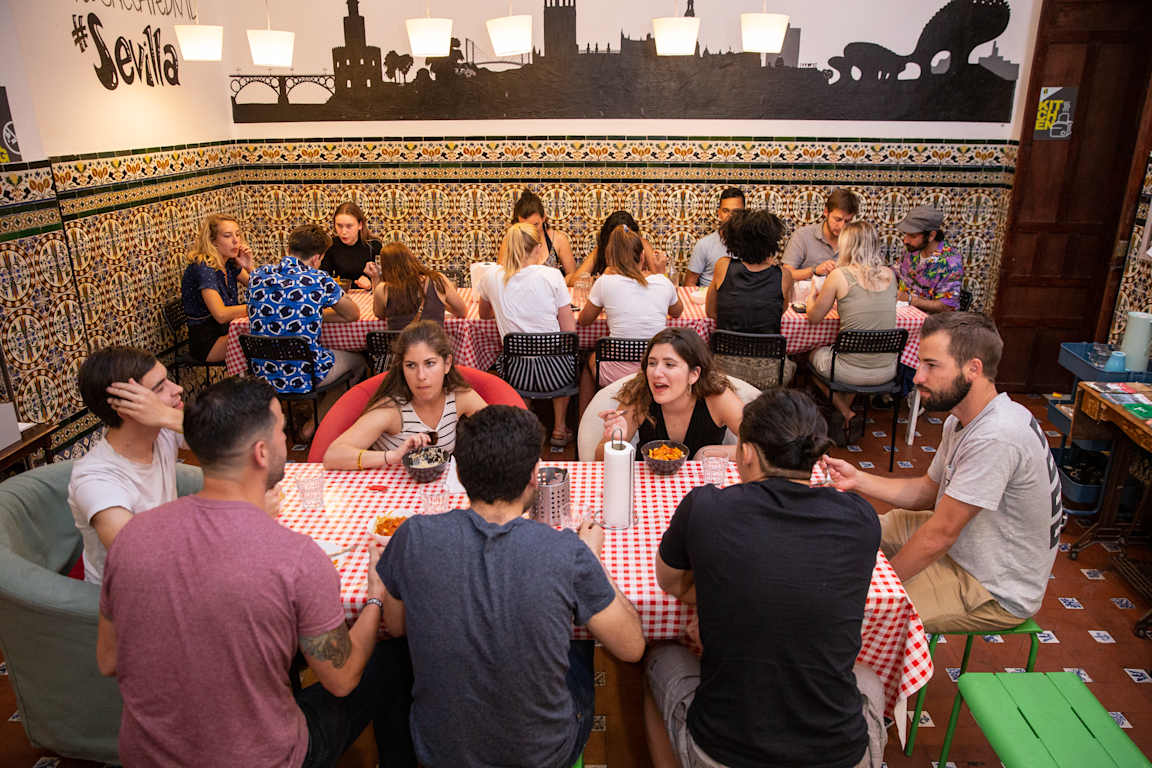 Who should stay here:
Solo travelers, small groups, backpackers, and anyone looking to socialize.
Location:
In the Santa Cruz neighborhood, a minutes walk from the Cathedral and Alcazar.
Amenities:
Organized activities, free dinners, free wi-fi, a shared kitchen, laundry facilities, an outdoor terrace, security lockers, and free luggage storage.
Personality:
A social hostel where it's easy to meet other backpackers.
Heads up:
The building is older and the facilities are a bit dated.
This is one of two of the Hostel One brand hostels in Seville. It's location in the Santa Cruz neighborhood can't be beat and you can reach the Cathedral, the Giralda tower, and the Alcazar in under a minutes walk. The neighborhood is filled with restaurants and tapas bars, and you'll enjoy walking around this beautiful part of the city.
This is a social hostel with regular activities including pub crawls, walking tours, and family style dinners every night. It's a popular hostel, so you'll always find people hanging around looking to make friends. Whether you're traveling alone or with a group of friends, this hostel's location, social atmosphere, and bargain prices make it a great choice.
One guest said "I loved staying here. The rooftop was amazing and the daily events, free dinner, and bar crawl made it so easy to meet people. The volunteers were super nice and helpful!".
Also recommended is
Hostel One Centro
for it's great location. See the review above under
Hostels for Solo Travelers
.
Cheap Hostels in Seville


Who should stay here: Backpackers who want to save money in a comfortable hostel
Location: In the city center 600 meters from the cathedral
Amenities: Organized tours, shared kitchen, a full breakfast (for a fee), on-site bar, and various group activities
Personality: A busy hostel with lots of people coming and going
Heads up: It's a bit loud and there could be more bathrooms.


This hostel is affordable and well located, making it a great option for anybody who wants to save some money. The staff are both locals and backpackers who know the city well, so they can offer you all kinds of insider tips including the best, most affordable local restaurants. There are also a variety of themed tours available including tapas tours, bike tours, and walking tours.

The rooms are basic but comfortable and there's a filling breakfast available in the morning. If you want to meet other guests there are several common areas available both inside and outside. This hostel gives you great bang for your buck!

One guest said "Hostel was clean and modern and staff friendly. Good facilities including lovely roof terrace. Good location only 10 min walk to many main sights. Enjoyed the walking tour too! ".


Local Hostels

Who should stay here: Budget travelers who want a quiet and convenient environment
Location: In the historic center of Seville, near the bus and train stations
Amenities: An interior patio, a sun terrace, a shared kitchen, wi-fi, and security lockers
Personality: A quiet hostel
Heads up: The kitchen is a bit small and it can be hard to meet people.



One guest said, "Beautiful relaxing space with great dorm rooms with everything you could need!"

This hostel offers a quiet environment in a good location. There are 20 rooms in total that include 4, 6, 8, and 10 bed dorms. The prices are reasonable and the staff can help with any arrangements you might need. The facilities are modern and the beds are comfortable.

If you're looking for a quiet place to sleep that won't break the bank, then this hostel is a good option.


Hostels for Couples in Seville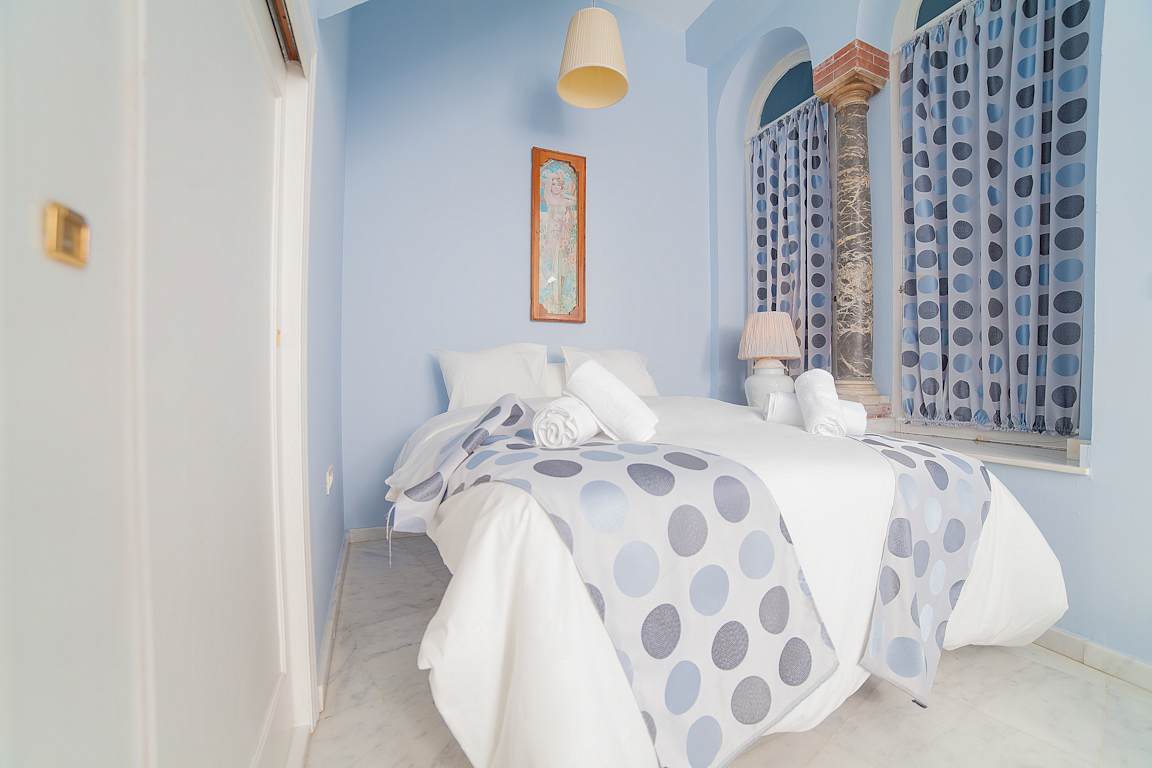 Who should stay here: Couples or backpackers who want affordability in a good location.
Location: In the heart of Seville and a 7 minute walk from Los Reales Alcazeres and the Cathedral. It's also near the bus station and Plaza de Armas Square
Amenities: A washing machine, a shared kitchen, outdoor terraces, and a living room
Personality: A friendly and peaceful hostel.
Heads up: The beds are a bit squeaky and noisy and the location can be a bit loud so bring ear plugs.

One guest said "The staff was very nice and helpful .The location is perfect for anyone wanting to explore the centre of Sevilla ."



This hostel is conveniently located near many sights and attractions in the heart of Seville. It's a comfortable and clean place to stay at a reasonable price. There are affordable private rooms that give couples a little space and room of their own, but a shared bathroom helps keeps the price affordable. There are also dorms that sleep either 4, 5, or 6 people.

The hostel itself is quaint and comfortable, but it's central location means there can be outside noise so bring ear plugs if you want to sleep solidly.

Coulples should also check out For You Hostel and Toc Hostel, both reviewed above.

Happy Travels!
If you're interested in more accommodation options in Seville, you should also see Seville Hostels Near the Cathedral and Affordable, Quiet, and Safe Hostels in Seville, Spain for Females.