The Best Cheap Day Trips from Bangkok, Thailand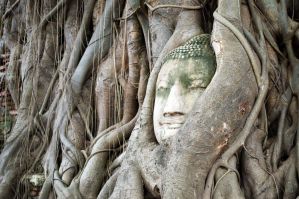 Bangkok is a large hub of Thai culture, so why not get out into the countryside and see where all of that amazing culture comes from? So many different options are available from markets to historical ruins, and natural scenery to cultural villages. Every person can find something that matches their interest, and it's all not far from Bangkok. Also, many of the destinations can be combined into a single tour. Or if you want to spend more than one day in a location, that can be arranged as well. It's really up to you, so check out all of your options and then book your amazing Thailand adventure.
Visiting the floating markets, which are active in various locations around the country, is one of the highlights of visiting Thailand. And one of the largest and most active of the floating markets is near Bangkok in Damnoen Saduak. A series of canals runs through this town creating road-like waterways for the locals to zip around in their small boats, trading goods such as food, fruit, clothing, tools, and more. Visiting these markets can be quite easy with a day tour from Bangkok, where you will be picked up at your hotel and taken around the markets. You can also hop in one of the smaller boats to get an up close look at the action. Bring your camera! And buy food or souvenirs at the market if you like, too.
Approximate Price:
$
36.00
About 50 miles north of Bangkok lies the ancient capital of the kingdom of Siam at Ayutthaya. Now the UNESCO heritage site is full of beautiful temple ruins, archaeological wonders, and amazing artwork. Guides will lead you through the sprawling temple sites and the ancient palace, along with other notable historical areas. This is a great day trip to take from Bangkok if you don't have time to spend the night in the area.
After lunch a riverboat will take you all the way back to Bangkok via the Chao Phraya River. Along the way you'll view the beautiful countryside, traditional villages, and riverside temples.
Approximate Price:
$
57.00
Getting out of the city and into the countryside of Thailand is a must-do. So, why not check out a traditional village and see some of the local culture while you're away. This tour takes you to a village on the Nakhon Chaisri River where you will see local villagers creating artwork such as pottery, silk clothing, mat weaving, fruit carving, doll making, and more. You will also visit gardens with elephants, tour local markets, watch traditional sword fighting demonstrations, experience thai boxing, enter traditional homes, and view dancing and singing shows.
Approximate Price:
$
40.00
Get a close up view of the jungle by swinging and zooming through the trees like the local wildlife. This tour takes you to the Flight of the Gibbon treetop adventure, one of the largest canopy ziplines in the world. The course is very safe and you'll be with guides and safety professionals the entire time during the 2 miles of ziplines.
After coming down from the course, have a Thai lunch before heading to the nearby Khao Kheow Open Zoo. Here, a slow tram takes you between the animal exhibits where you can view beautiful birds, native elephants, wild cats, and hundreds more exotic species.
Approximate Price:
$
94.00
During World War II, the Japanese army attempted to construct a railway from Thailand into Burma to connect Bangkok to Yangoon in support of their invasion of the region. To construct the railway, they forced more than 180,000 Southeast Asians along with 60,000 allied prisoners of war into working on the railway with harsh and dangerous working conditions, little food and water, and rampant disease. Hundreds of thousands died during the construction of the railway and the bridge that spans the Kwai River, giving this section of track the nickname "The Death Railway".
This day-long tour from Bangkok gives you a thorough viewing of the infamous bridge, the Death Railway, a P.O.W. cemetery, and the local jungle environment. It's a must-see for any WWII scholar or anyone who wishes to learn more about the history and politics of the region.
Approximate Price:
$
56.00
If you're short on time, why not combine a trip to the River Kwai with a boat ride through the famous floating markets of Damnoen Suduak. This is a great option for those that are passing through Bangkok quickly and need to be more efficient with their time. You'll still get to see the highlights of both locations and have a great time, as well as eat some yummy food!
Approximate Price:
$
69.00
Share This Article