Cheap Day Trips from Hong Kong (Macau, Shenzhen, and Guangzhou)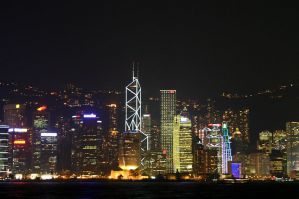 Hong Kong welcomes you with an iconic skyline, a legendary kitchen, and lush, protected nature where rare birds and colorful traditions thrive. You may find yourself swaying along on a historic double-decker tram, cheering with the hordes at the city-center horse races, or simply gazing out at the glorious harbor. Escape the city limits on one of the world's smoothest transport systems and spend your day wandering in a Song-dynasty village, hiking on a deserted island or kayaking among volcanic sea arches. The city also offers a plethora of shopping opportunities. Every budget, need, and whim is catered to by an impressive assortment of venues. It is also one of the world's top culinary capitals. So deep is the city's love of food and so broad its culinary repertoire that whatever your gastronomic desires, Hong Kong will find a way to sate them. Underneath the glass and steel of Hong Kong's commercial persona is a dynamic cultural landscape where its Chinese roots, colonial connections, with options like indie music by the harbor or Chinese opera in a bamboo theatre, plus thousands of shows staged year-round at the city's many museums and concert halls. With so much to see and do, Hong Kong is a great place to experience, and there are several options for exciting activities and tours in or near the city.
Your friendly guide and expert driver will collect you from your Hong Kong hotel and transport you to the express ferry that will take you across Hong Kong Harbor to the shores of Lantau Island. Head to Cheung Sha Beach - the longest beach in the area - on a comfortable coach bus, then tour the fishing village of Tai O, where you'll see traditional stilted home and learn more about daily local life. This Lantau Island Giant Buddha Day Trip from Hong Kong will then take you to the top of Ngong Ping Plateau where you'll see the Tian Tan Buddha at Po Lin Monastery.
This famous statue stretches more than 111 feet (34 meters) high and is the largest seated, outdoor bronze Buddha on earth. Take a tour of Big Buddha and the Po Lin Monastery and wander through the halls of the Giant Buddha Exhibition. Enjoy the quiet contemplation of the Wisdom Path, where ancient prayers are written on wooden columns that represent infinity.
Savor a typical vegetarian meal at the monastery before venturing on to an optional cultural village tour. This magnificent day ends as you travel from the mountain top by Ngong Ping 260 sky rail cable car to the Ngong Ping Plateau. The 25-minute trip offers up some of the most spectacular natural views and is not to be missed. Once you've arrived at Tung Chung Village you'll make your way back to Hong Kong Island or Kowloon by coach bus.
Approximate Price:
$
134.00
Meet your driver at your Hong Kong hotel and make your way to the ferry terminal, where you'll board a jetfoil or catamaran for a 60-minute ride across the open sea. Your full day of sightseeing kicks off when you step ashore the former Portuguese colony of Macau. Take a scenic drive through the Guia Circuit and see where the famed Macau Grand Prix is held each year. The tight corners and quick elevation gains make this street circuit one of the most challenging on earth. Pay a visit to Kun Iam Temple, where a young Marco Polo studied Buddhism. Listen in as your expert guide explains the significance of a bronze figure of Kum Iam - the goddess of Mercy. After you've taken in the temple, head to the top of the 11th tallest tower on earth. Entry to the observation deck is optional (own expense) but the views are worth it, so be sure to carry your camera. Next venture into Macau's historical center where A-Ma Temple, a UNESCO World Heritage Site, was built in 1488. You'll learn about classical Chinese architecture and explore the grounds before enjoying an international buffet lunch at a local restaurant. Make one last historical stop at the Ruins of St Paul - an ancient complex that used to be the site of the Cathedral of St Paul and St Paul's College. Built in the 16th century by Christian exiles, a trip to the top of the ruin's 66 steps offers up incredible views of the stone carvings and structural remnants around the site. Finally, head to the Macau Casino for one last adventure and place your bets in the premiere card room. Play a hand or simply take in all of the excitement before heading back to Hong Kong by catamaran or jetfoil and returning to your hotel.
Approximate Price:
$
136.00
Your friendly local guide will collect you from your Hong Kong hotel and transport you by train to the city of Shenzhen where your sightseeing and shopping tour kicks off. The tour starts in Shenzhen with a visit to Lichi Park. This lively park is a popular place for the locals to gather for morning exercise. The tour will then makes its way to the Meridian View Centre, the observatory deck of Shun Hing Square, one of the highest buildings in Shenzhen. Get some great views of the city and bordering Hong Kong while enjoying some light refreshments. Follow your guide through the Chinese Arts and Craft Center and learn how these life-size sculptures were unearthed from a mausoleum in Xi'an. Built in the likeness of Emperor Qin's army, these incredible statues were buried to guard his empire in the afterlife. Then, it's time for Chinese time. Afterwards, take to the streets with full bellies and spend some free time exploring the 1,500 shops that line Lo Wu Commercial Shopping Mall's halls. Whether its watches, handbags, electronics or shoes, you're bound to find what you're looking for during your 2.5 hours of exploring. At the end of your shopping spree, head back to Hong Kong in a first-class train and enjoy drop-off service at your hotel of choice.
Approximate Price:
$
118.00
Kick off your full-day mainland China trip with hotel pickup in Hong Kong or Kowloon. Spend 50-minutes aboard a local catamaran and coach bus as you make your way to Shekou Industrial Zone. This area once served as a base for foreign oil workers and is widely recognized as China's first Special Economic Zone. Weekday trips will include a visit to a local kindergarten to meet some children and see how Chinese schools operate. Depart the school and head towards Shenzhen Safari Park to meet cute and cuddly pandas up close. Stationed along Xili Lake, this park is home to numerous species of protected animals, including Asian elephants, Siberian tigers and red-crowned cranes. If time permits, make a stop at a local market to see how locals go about their daily lives. Purchase items and interact with mainland residents during this lively visit. Next it's on to the Exhibition Hall in Shekou, where your guide will lead you past Qin Dynasty terracotta warriors and horses that were discovered in Xian. Learn about their historical significance as you wander the halls of this impressive museum lined with bronze artifacts, sculptures, and other artifacts that date back to the 3rd century. Continue on to Guangzhou: China's third largest city. Enjoy a typical lunch at a local restaurant and then venture out on a sightseeing tour of this urban landscape. Learn about the politics, culture and traditions that drive this city once known as Canton, and pay a visit to several key destinations, like the Six Banyan Tree Temple. End your day with a return trip to Hong Kong and an express train to Kowloon Station, followed by a Hong Kong island transfer. A friendly driver will insure you arrive safely at your hotel after a memorable day touring mainland China.
Approximate Price:
$
226.00
Share This Article