Cheap Angkor Wat Tours and Activities in Siem Reap, Cambodia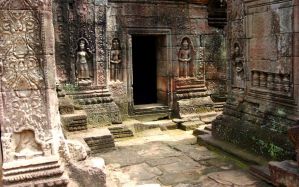 Angkor Wat is a temple complex in Cambodia and the largest religious monument in the world. Angkor Wat is the ultimate expression of Khmer genius - an awe-inspiring temple that is stunning for both its grand scale and its incredible detail. A visit to Cambodia's World Heritage Temples of Angkor complex is understandably high on the list for many travelers. Angkor Wat was built by Suryavarman II and is the earthly representation of Mt Meru, the Mt Olympus of the Hindu faith and the abode of ancient gods. The temple is the heart and soul of Cambodia and a source of fierce national pride. Unlike the other Angkor monuments, it was never abandoned to the elements and has been in virtually continuous use since it was built. With so much history and culture, Abgkor Wat is a great place to experience, and there are several options for exciting tours to get the most out of your visit to the area.
The ancient crumbling structures that make up the Angkor temple complex rank among the world's most impressive and iconic ruins. Spend the day exploring this vast landscape just outside the town of Siem Reap on this Angkor Wat Ancient Temples Full-Day Tour. Venture into the ceremonial structures, which are tucked amid towering trees and quiet clearings. Built between the 9th and 13th centuries by the Khmer Empire, they remain today as a reminder to the nation's regal past. Enjoy private transportation from your hotel to the Roluos Temple Group, where you'll see the oldest remaining structures in the complex. Savor a typical lunch in Siem Reap and then take a two-and-a-half-hour tour through the iconic Angkor Wat. End this memorable day with a climb to the top of Phnom Bakheng, where you'll enjoy epic sunset views of Angkor Wat and the vast Cambodian countryside.
Approximate Price:
$
75.00
Greet your guide in a central Siem Reap location and travel through the outskirts of the city to the glittering Tonle Sap Lake. Climb aboard your awaiting boat and cruise over the shimmering surface; see floating fishing villages in which schools, shops and hospitals function together and gasp as you sail past farms of fearsome crocodiles. Allow your guide to direct your attention to rare and endangered water birds and hear of how the lake's water changes direction twice a year. See half of Cambodia's fish supply flounder beneath the surface and then return to dry land and venture to a provincial nearby village for a culturally enriching experience. Chat with locals, sample local Cambodian delicacies and visit a Buddhist temple to absorb the sacred atmosphere. Return to your remork and head back to a central city location, where the tour concludes.
Approximate Price:
$
40.00
Share This Article