The Best Cheap Day Trips from Bangkok, Thailand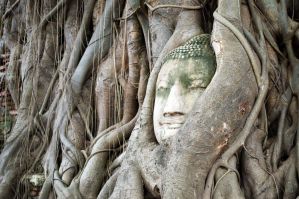 Bangkok is a large hub of Thai culture, so why not get out into the countryside and see where all of that amazing culture comes from? So many different options are available from markets to historical ruins, and natural scenery to cultural villages. Every person can find something that matches their interest, and it's all not far from Bangkok. Also, many of the destinations can be combined into a single tour. Or if you want to spend more than one day in a location, that can be arranged as well. It's really up to you, so check out all of your options and then book your amazing Thailand adventure.
The ancient temples at Ayutthaya are a must-see for any visitor to Thailand. This day-long tour with a private driver will take you to the 14th-century ruins of the capital of the kingdom of Siam, where you will visit temples, the summer palace, and other amazing sights of the complex and other nearby areas. You'll have a chance to explore and take plenty of photos. Lunch is on your own, so you can keep the price as affordable as you need.
Approximate Price:
$
109.56
This 8-hour tour from Bangkok combines the best aspects of a trip to the temples of Ayutthaya with a visit to one of the famous nearby floating markets. This 8-hour trip will take you to various temples as well as a floating market in a comfortable vehicle with a tour guide. To keep costs low, lunch is not provided, but all entrance fees are covered by the price of the tour. If you're looking for a more efficient trip due to lack of time in the area, this is a great choice!
Approximate Price:
$
40.69
If you're an avid bicyclist, this is definitely the trip for you! This trip is also recommended for those that do not have much experience on a bike, too. This 4-hour bike ride includes a stop at a local floating market on the weekends, as well as an old temple. Plenty of jungle scenery is to be found as you ride through jungle canopies, along canals, by local villages and schools, and around farms and orchards.
The ride actually starts in Bangkok, and after a ferry ride across the river, your adventure will begin! The ride is almost entirely flat due to the topography of the region, so anyone who can ride a bike can participate. A guide is provided, as are water and snacks.
Approximate Price:
$
51.65
Khao Yai National Park is a UNESCO World Heritage site full of stunningly beautiful landscapes and wildlife. On this day-long trip from Bangkok, you will be driven in a comfortable vehicle with a tour guide from your hotel and whisked up to the park. A park ranger guide is included while at the park, as are rain jackets, lunch, and all entrance fees.
The first item on the agenda is to hike through a section of the park where you can observe local species and take in the scenery. Plenty of photo opportunities will be available! Next, you will have a traditional Thai lunch. Previous visitors have said the food is terrific! After lunch, you will tour the many exhibits at the visitors center for a little while, where you can learn more about the park's diverse species of animals and vegetation. Finally, you'll head to Haew Suwat Waterfall. This scenic spot was made famous by The Beach, the film starring Leonardo DiCaprio.
Approximate Price:
$
184.92
Pattaya is a beach town not far from Bangkok. If you're short on time and don't want to miss a beach experience in Thailand, then this day trip is for you. A private air-conditioned vehicle will pick you up at your hotel and take you 2.5 hours to Pattaya.
First, you will visit Khao Chi Chan, the large sculpted Buddha on the side of a cliff. Then, you will visit the viewpoint at Khao Phra Tam Nak. From here you can take in the surrounding area and get a great view of the city and the bay. Finally, you will spend a few hours enjoying the beach. Nearby are plenty of restaurants, bars, and shops for you to browse through, too. Lunch is on your own, so you can decide how much to spend. The trip then departs at 3 pm to return you to Bangkok by 6 pm.
Approximate Price:
$
112.69
Dream World is an amusement park in Bangkok that features roller coasters, water rides, and other fun activities. This tour includes a skip-the-line entrance ticket, transportation from your downtown hotel or nearby meeting point, and an optional ticket for a buffet lunch and entrance to the Snow Town attraction.
Approximate Price:
$
31.66
Share This Article